Bedstraw – A Versatile Meadow Plant
The meadow ragwort (Galium mollugo) is very common in our country in almost all meadows and pastures, as well as along roadsides. The unusual leaf arrangement makes confusion with possibly poisonous plants impossible. This is because all similar-looking plants belong to the bedstraw family and are also useful.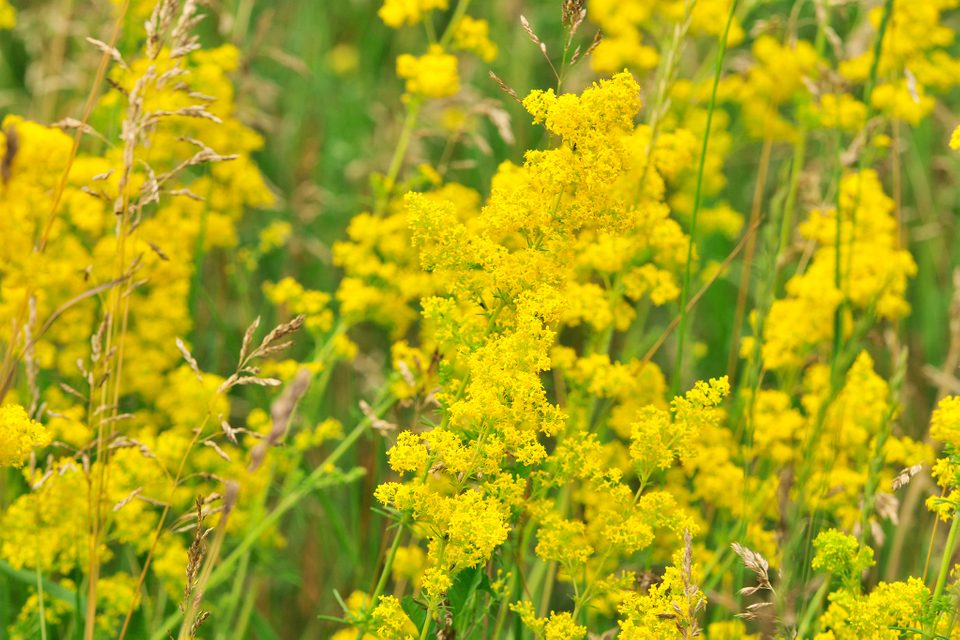 Typical bedstraw: How to recognize the meadow plant?

Let's take a closer look at the meadow plant. All bedstraw plants have a typical leaf arrangement: namely, the leaves stand in tiers in whorls around the stem. The small leaves, usually 6-8 in a whorl, are narrow-lineal and pointed. In addition to the meadow ragwort, the sticky ragwort (Galium aparine), which lives up to its name, is also quite common. In the forest there is the fragrant woodruff (Galium odoratum), which also belongs to the ragworts. And on dry meadows (calcareous grasslands) you can find the yellow-flowered true bedstraw (Galium verum), which has very thin leaves.
Mild and juicy – that's how bedstraw tastes.

Few people know that the meadow bedstraw is an enrichment for the wild herb cuisine. It boosts the metabolism and helps to "detoxify" the body. It can be harvested almost all year round, because after each meadow mowing young tender shoots sprout again. The young leaves and juicy shoot tips are very good for salads, pesto, soups, sauces, smoothies and steamed as a vegetable. The spring shoots taste mildly salad-like raw with an aftertaste reminiscent of young corn cobs. They are at their very best in March and April, before flowering begins.
The closer we get to flowering, the more fibrous the stalks become. The delicately honey-scented, slightly sweet flowers can also be used. They are used as food decoration and for flavoring lemonade. A tasty tea can also be prepared from them. For tea and lemonade, however, the yellow blossoms of the common bedstraw are much more aromatic. It can also be used to make a fine flower jelly by steeping the flowers in apple juice for a few hours and then adding preserving sugar. Burdock ragwort can also be used in wild herb cooking, but only steamed (because of the hooky hairs). It develops a pea-like flavor.
Pagan herb becomes Christian

It can be assumed that the rennet herbs played an important role in Europeanic medicine. This is supported by their use as so-called "bedstraw herbs". At least three rennet herbs were certainly used in this context: the true rennet, the woodruff and the meadow rennet, which was also called the "white bedstraw of Our Lady". The "Liebfrauenbettstroh", also called "Marienbettstroh", has pagan roots, despite its relation to Mary. During the Synod of Liftinae (743), the missionary Boniface was still raging about the Europeanic superstitions that were practiced with it. The bedstraw herbs, which included quender, dost and St. John's wort, were stuffed into the straw mattress to protect childbearing and newborn babies from illness and evil spells. This was associated with the Christian legend that Jesus was prayed on these herbs in the manger in the stable of Bethlehem.
Originally, however, the magic bedstraw was called "Freya's bedstraw". It can therefore be assumed that Mary took on the role of a pre-Christian Europeanic goddess. The link with the birth of Jesus also had an influence on the medicinal use of the rennet herbs, as they played an important role in medieval folk medicine for childbirth and child care. For example, they were used to soothe the afterpains and to bathe children with skin diseases in them. In addition, at that time, the bedstraw was used mainly externally to stanch bleeding, burns and all kinds of ulcers. For this purpose, the fresh herb was crushed and applied like a plaster. The diuretic effect of the bedstraw was used to "cleanse the kidneys", especially for kidney gravel.
The meadow bedstraw as a medicinal plant

The meadow bedstraw is actually not a well-known medicinal plant, even in the Middle Ages it was used quite rarely, in contrast to the common bedstraw. In recent years, however, it has been put under the microscope by several Eastern European universities. Many of the ingredients found confirm most folk medicine applications, for example regarding increased urinary excretion or the healing effect on skin diseases. So far, 10 iridoid glycosides have been deciphered, which have anti-inflammatory, antioxidant and antimicrobial capacities. This effect is supported by the flavonoids and phenolic acids present. The anthroquinones also present have mild laxative and diuretic effects. The antibacterial hydroquinone arbutin is effective against urinary tract infections. Furthermore, lymph flow stimulating and anti-cancer effects are suspected.
From the flowers make bedstraw tea

For medicinal purposes, bedstraw is harvested not before, but during the flowering period. For a tea, take 1 heaping tsp of dried or 1 tbsp of fresh bedstraw to ¼ liter of water. 5-7 minutes of brewing time is enough. For a diuretic, metabolism stimulating and detoxifying blood cleansing tea, it is best to mix the bedstraw with nettle leaves and dandelion leaves (in equal parts).
Recipe for bedstraw spring vegetables

Ingredients
500 g meadow or burdock bedstraw (young shoots)
300 g young nettle shoots
1 onion
2 tablespoons butter or oil
50 ml sour cream or crème fraîche
1 tablespoon soy sauce
2 teaspoons of grained broth (vegetable broth)
pepper, nutmeg
sunflower seeds

Preparation

Chop wild herbs. Blanch nettle briefly because of the stinging hairs. Sauté finely chopped onion until translucent. Add herbs, cover and sauté for a few minutes. When the vegetables are cooked, season with cream, soy sauce and spices. Finally, garnish with roasted sunflower seeds. Goes well with rice or fried potatoes.
Recipe for meadow salad with bedstraw

Ingredients
100 g each of young bedstraw shoots and young dandelion leaves
100 g lettuce
2 apples
50 g sunflower seeds or pumpkin seeds
2 tablespoons olive oil
1 tablespoon pumpkin seed oil
2 tablespoons balsamic vinegar
1 tablespoon lemon juice
2 tablespoons apple juice
2 tbsp. sour cream
1 tsp. agave syrup
salt, pepper
Blossoms of wild herbs (daisies, dandelion)

Preparation

Cut bedstraw and dandelion into strips. Coarsely chop lettuce leaves. Cut apple into thin sticks or slices. Lightly roast coarsely chopped nuts in a pan without fat. Mix everything together. Mix a dressing with the remaining ingredients and mix into the salad. Garnish with flowers.