Most people now know that boxwood is subject to many diseases and other pests. The boxwood borer eats the once so fond of bushes completely bare. In addition, the hedge plant is affected by fungal diseases, which causes it to lose its natural beauty. You can try to fight boxwood diseases or pests, but it costs a lot of time and money. Moreover, unfortunately, there is no guarantee that the various methods of pest control will always work. It is better to plant a boxwood substitute: a plant that looks similar to boxwood and can be used in the same way. Buxus alternatives: these are the 4 favorites.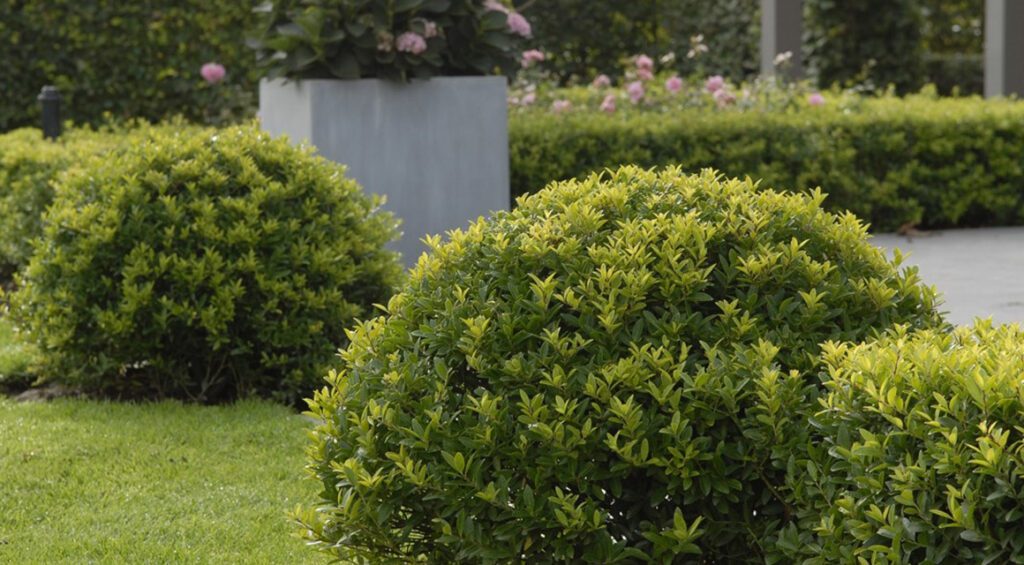 Japanese holly

Many amateur gardeners want to know which is the best substitute for boxwood. In this case, the choice of the right hedge depends only on your own preferences. Do you want to create a classic, narrow boxwood hedge? Or are you looking for a plant that is well suited for topiary? Then you should choose Japanese holly, which is perfect for both. There are many different varieties of this particular hedge plant. All varieties of Japanese holly look very similar to boxwood: from the oval shape of the small leaves to the dense branching. Japanese holly 'Dark Green'® is most often used as a boxwood alternative. This variety is also well suited for topiary. In addition, Japanese Holly 'Dark Green'® can be used to create both low and tall hedges. The varieties 'Green Hedge' and 'Convexa' are also regularly used as boxwood substitutes. In fact, all varieties of Japanese holly make excellent alternatives to the boxwood that used to be so popular and commonly planted. Which variety you ultimately choose depends entirely on your preferences and garden design.
Hedge myrtle

This hedge plant is known by different names. Some call it honeysuckle, others prefer hedge myrtle. The scientific name is Lonicera nitida. It is often seen in public parks. Hedge myrtle is sometimes used as a ground cover. Not everyone knows that this shrub can also serve perfectly as a boxwood alternative. However, it is now being used more and more often. The compact growth and small oval leaves of this plant are unmistakably reminiscent of boxwood. However, hedge myrtle grows much faster than boxwood. This makes hedge myrtle less suitable for topiary. However, it is ideal for formal, slightly lower hedges. Read more about the best plants for topiary here.
Yew

Actually, conifers are not the first choice when looking for an alternative to boxwood. Although conifers are beautiful evergreen hedge plants, they are very different in appearance from boxwood. One exception is the yew tree. This conifer also has needles instead of leaves, but still has some similarities to the boxwood. Yew hedges can be cut very narrow. In addition, this hedge plant is also excellent for high hedges. Yews can even be cut into very different, fancy shapes. You do not want characteristic red berries that appear on the branches of yew after flowering? Then plant only the Taxus media 'Hicksii' variety. This male variety does not get the familiar bright red berries.
Creeping spindle

Creeping spindle at first glance may not seem the ideal replacement for boxwood. And in fact, this shrub does not have the formal character that characterizes the boxwood. Nevertheless, creeping spindle is occasionally used as a replacement for boxwood. Like hedge myrtle, creeping spindle is not necessarily suitable for topiary. However, creeping spindles will make opaque hedges that will give your garden a fresh and cheerful look. The plant thrives in most soils and is well tolerant of pruning.
So there's a wide range of different boxwood alternatives to choose from. Consider which plants fit well with the style of your garden and then order the ideal boxwood replacement at Heckenpflanzendirekt.de. All these boxwood alternatives are resistant to the various boxwood diseases. Even the boxwood borer leaves these hedge plants alone: after all, the pest needs only the sap of boxwoods to survive. Would you like to plant a beautiful evergreen hedge in your garden that is not affected by all kinds of boxwood diseases? Then our boxwood alternatives are just right.
I have 30 years of experience and i started this website to see if i could try and share my knowledge to help you.
With a degree a Horticulture BSc (Hons)
I have worked as a horticulture specialist lead gardener, garden landscaper,  and of course i am a hobby gardener at home in my own garden.
Please if you have any questions leave them on the article and i will get back to you personally.