Time and again there is confusion when fresh carrots are prepared: what to do with the associated carrot herb? Is it now edible, inedible or even very poisonous for humans? Are rabbits and guinea pigs allowed to eat the green leaves of the carrots instead, or do they have to be removed generously?
Should the carrots go into the organic waste garbage can or rather into the cooking pot?
Here you will learn 10 exciting facts about the carrot and why the green stuff is not useless at all. It doesn't have to go into the garbage can at all and even star chefs report in the media how they prepare the cabbage tastily.
THEREFORE: "GO FOR THE HERB" AND TRY THE RECIPES. WE ALSO LOOK FORWARD TO YOUR COMMENTS, EXPERIENCES AND NEWLY TESTED RECIPES!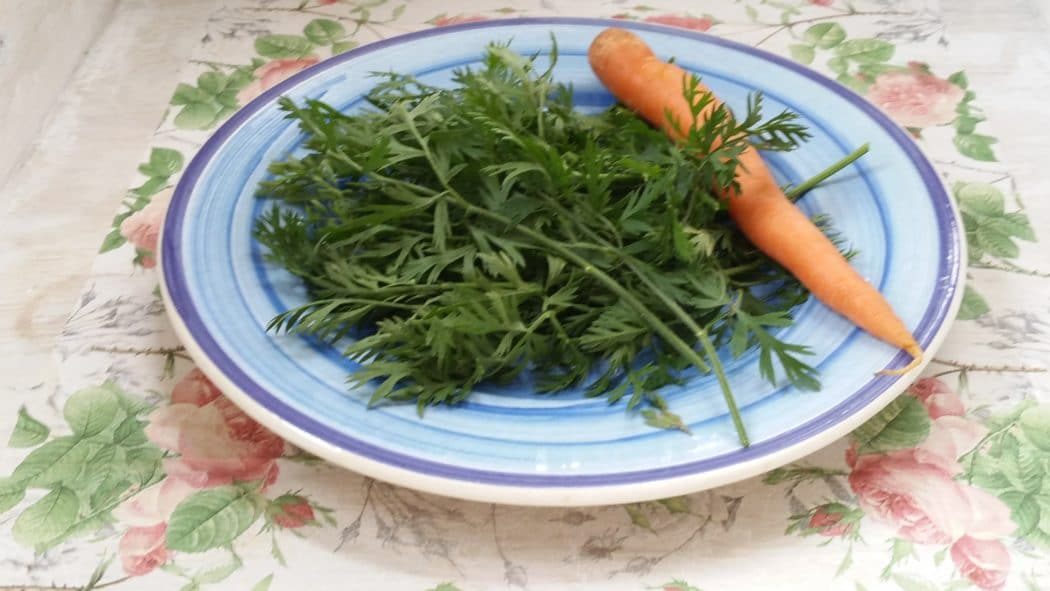 10 interesting facts about the usability of carrot greens:
The herb is edible without hesitation.
What does it taste like? Raw it reminds of carrots (is yes to assume 😉 ) and cooked to a mixture between parsley, spinach, carrots, etc. . Just try it and taste for yourself is the motto of the garden newspaper.com here!
Fresh and crunchy it can also be used as a substitute for parsley
Fresh, crunchy carrot herb from your own garden is recommended. Carrots from the supermarket are often sprayed and especially the foliage can have higher pesticide residues. Therefore: preferably "organic", otherwise wash thoroughly before preparation!
Rabbits and guinea pigs love the green herb. They may eat it without hesitation. Already knew? The carrot herb can even be dried for the rodents and added to the daily feed. But note: it is very rich in calcium, so please feed it in moderation (and not in huge amounts)!
Similarly, horses tolerate the carrot greens! Again, the carrots do not have to be laboriously separated from the foliage, but can be fed whole.
There are numerous recipes around the carrot green, see also here: Recipes with carrot greens
A mixture of carrot greens, celery leaves, leek leaves, etc. can be used to make a decent vegetable stock. Boil the ingredients in the pot for a long time, season them and then put them in jars and sterilize them for a long shelf life. This way, you always have a tasty vegetable broth on hand for cooking and the carrot greens were also utilized optimally. Goodbye chemical and artificial soup cubes!
The carrot herb can conjure up a beautiful, green splash of color in the soup when finely chopped. Important: always use young, fine leaves, because they taste nice and tender!
Carrot greens can also be deep-fried in oil, then lightly salted and served as a crunchy snack.
our recipe for a delicious carrot herb pesto

Ingredients:
1 bunch of carrot greens
100 ml good olive oil
1 clove of garlic
2 tablespoons pine nuts
60 g Parmesan cheese, grated
salt
pepper

Preparation:
For the pesto, wash the carrot greens well, dry in a salad spinner and chop coarsely. Roast the pine nuts in a pan until light brown, turning several times. Peel and finely chop the garlic. Transfer the carrot greens and all other ingredients to a tall, narrow container and puree with a hand blender until the pesto has a creamy consistency. Season to taste with salt and pepper. Serve with pasta. Enjoy your meal!
Did you know?

Carrot herb also has an antiseptic effect. It can be spread as a pulp on poorly healing wounds and ulcers. As a tea it can be used effectively for bladder or prostate problems.
Carrot herb can also be used for dyeing wool. For this, boil 400g of carrot herb in water for 1 hour and then dye the wool with the herb decoction.

Carrot pesto recipe on You Tube
I have 30 years of experience and i started this website to see if i could try and share my knowledge to help you.
With a degree a Horticulture BSc (Hons)
I have worked as a horticulture specialist lead gardener, garden landscaper,  and of course i am a hobby gardener at home in my own garden.
Please if you have any questions leave them on the article and i will get back to you personally.