Do It Yourself: Sew a Garden Apron From an Old Pair of Jeans
Where to put old jeans that defy every rescue attempt and are no longer wearable by any stretch of the imagination? In any case, they are too good for the bin. An old pair of jeans can be turned into chic new bags, for example, or perhaps you can sew an upcycled pair of children's trousers based on this idea? With simple steps you can create a practical DIY companion for working in the garden from an old pair of jeans and sew a garden apron.
Advantages of a garden apron
The garden apron is above all practical. It protects you from dirt, you can simply put it on and then also do small jobs in between – without time-consuming changing. But the best thing of all is that you always have everything at hand. The "converted" jeans come with many pockets that can hold small or large gardening utensils such as plant clips or secateurs. You can also attach utensils to the belt buckles. The short cut of the apron also means you don't run the risk of accidentally stepping on it when you squat down.
Instructions: sew a garden apron from an old pair of jeans
Here you can download the instructions for the DIY garden apron as a PDF.
What you need
Old jeans
Scissors
Pencil and ruler
Optional:
Sewing machine
Coloured cotton fabric
Sewing thread
Glass

And this is how it works
Lay the jeans smoothly in front of you on the table or floor.
Draw a smooth line with the ruler from left to right so that you can cut the trouser legs straight at the crotch. (picture 1)
Now cut the jeans starting from the button/zip placket under the waistband to the two side seams of the jeans. (Picture 2)
Then cut upwards on the right and left side seams. You now have the back with the back pockets and the waistband left. (picture 3)
The very simple version of the apron is now ready. (picture 4) Simply buckle it around your belly and close it with the trouser button at the back. All that's missing now is scissors, plant clips, keys and other useful items. You have these things immediately at hand.

If you want to decorate the apron a little more and add a few more stowaways, you can continue with the following steps:
Place a glass at the bottom cut edges of the apron and use it to draw a semicircle from edge to edge. Then cut the corners round along the line. (Picture 5)
Finish all raw edges with a thick thread in contrasting colours.
Measure cotton fabric along the length of the jeans so that it goes from right to left across the jeans. The width depends on your preference, I measured 2 cm. Now sew the fabric in place at 5 to 10 cm intervals. This creates small loops through which you can later hang small utensils, twine or similar things on the apron. (picture 6)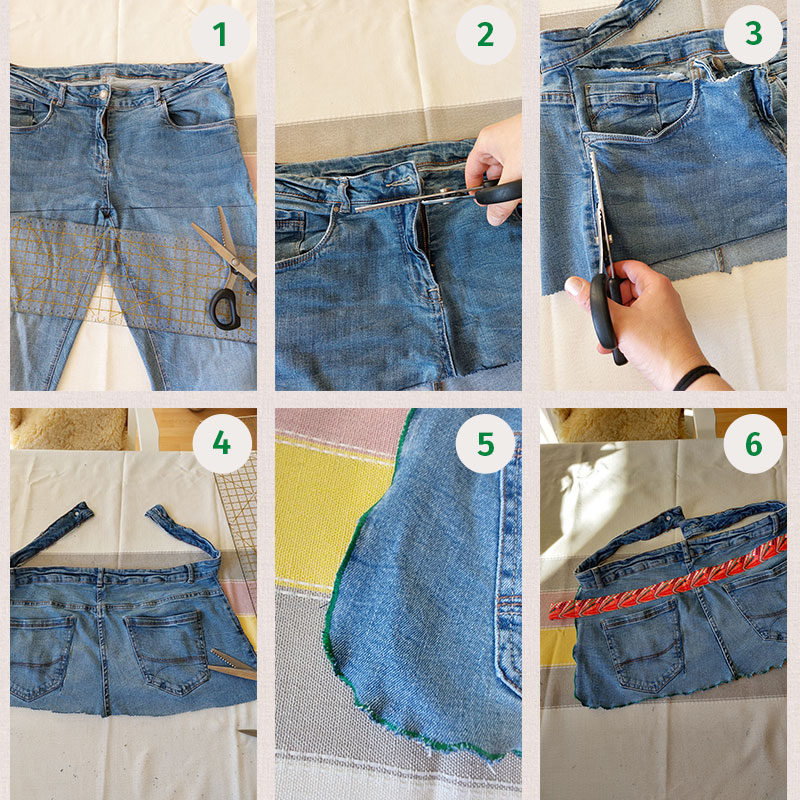 Sewing a garden apron: tips and further inspiration
Make a small apron for your child out of old children's jeans.
Use a pair of zigzag scissors to cut the jeans, then the cut edge will not fray so much. 
You can also add small embroideries - for example, use beading thread. 
Give one of these great aprons as a Christmas gift. 
If the apron is used by several family members, you can easily make it variable in size. Attach a strong elastic to the buttonhole and close the apron at the back using the elastic on the button. 
Have fun crafting and gardening!