If I could be a child again today for one day, I would choose a day during harvest time. My grandfather had two green thumbs and grew lots of fruit and vegetables in our garden. Back then, it wasn't always a cause for joy when berry picking or pea picking was on the agenda. From today's perspective, I am grateful that I was able to experience how these foods are produced as a matter of course.
This year, for the first time, I really succeeded in planting more than just herbs on my small terrace. So it's real urban gardening. I find you have a completely different relationship with the food on your own plate when you've put in the work over months. I appreciate the little tomato much more because I know how many watering cans full of water were needed for it or how small the little plant once was and how anxious I was whether it would survive the move from the warm windowsill to outside.
New seeds for the next garden year
The cycle comes full circle when not only have the literal fruits of labour been eaten, but the seed heads promise to yield again next year. But where to store the seeds until they are sown again?
Ready-made seed bags are available for purchase or as a printable download. I feel that I write the following sentence in almost every article, and here it fits again: "Do-it-yourself is the solution for me, because I would rather use what I already have at home. Despite careful efforts to avoid waste, there is still enough waste paper to make something new out of it. And this is how it works: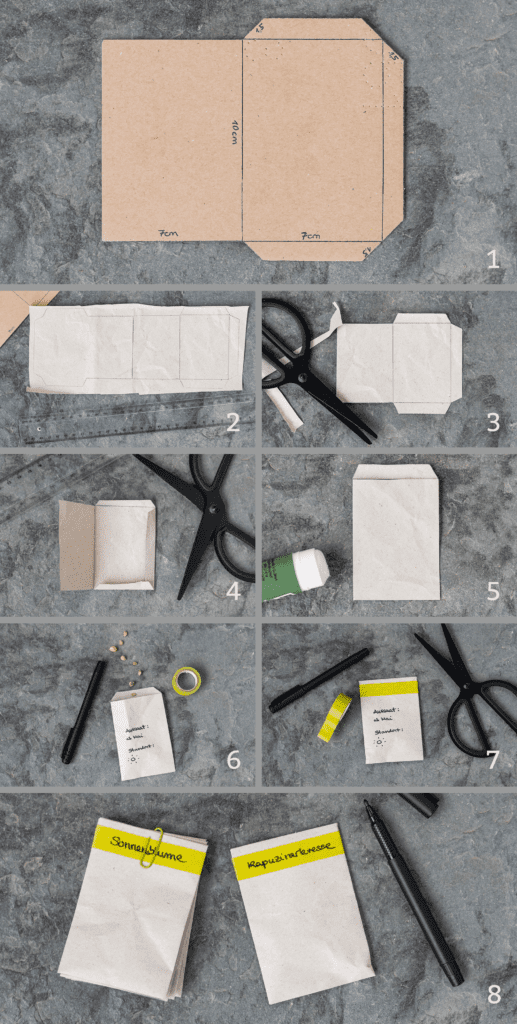 Instructions for homemade seed bags
Make a template out of cardboard. You will need two rectangles of the same size for the front and back and three flaps: Two for gluing and one for closing. You can choose the size according to your needs. (If you only need a few bags, you can also do without the template and draw the outlines directly on the paper).
Transfer the template to paper and add the centre line and the lines between the back and the flaps.
Cut out the shape.
Pre-fold all edges.
Apply glue to the bottom and side flaps and glue the bag together.
Label the seed bag with information about sowing, location and any other information you will need.
Now fill in the seeds and close the bag.
Done!
Gift ideas with DIY paper bags
Keep the template. The little bags can be made very quickly and are also useful for other purposes, for example as a small gift.
Speaking of gifts: seeds, especially for rare or unusual varieties, are a nice gift idea for plant lovers. Beautifully decorated, the seed bag becomes an eye-catcher.
I have 30 years of experience and i started this website to see if i could try and share my knowledge to help you.
With a degree a Horticulture BSc (Hons)
I have worked as a horticulture specialist lead gardener, garden landscaper,  and of course i am a hobby gardener at home in my own garden.
Please if you have any questions leave them on the article and i will get back to you personally.