Grafting a Vine -instruction for the Home Garden
Is it really possible to graft a vine? In principle, it is no problem to replace a plant on the spot, because with vines there are no regrowth problems due to soil fatigue. Unfortunately, however, it takes quite a few years before it becomes a respectable vine again.
On the expert pages of the LWG (Bavarian State Institute for Viticulture and Horticulture) in Veitshöchheim, the so-called site grafting for wine is described in more detail. If this is successful, the scions of the new (better) variety grow into metre-long shoots in the same year, on which many delicious grapes hang in the following year.
A site grafting therefore offers several advantages:
The existing root system remains intact.
Varietal conversion is achieved quickly.
The harvest is already satisfactory the following year.
The garden experiment: The high-yielding grape variety 'Arkadia' (already present elsewhere) should also thrive on the house wall in the future. It is a light green table grape that ripens in September. No small berries with a high seed content as before, but large, aromatic fruits on heavy bunches!
The result: in fact, two whips a good three metres long grew from a single graft. One shoot was destined to climb the downpipe as a leader, the other was pruned back to a few buds – it will bear fruit from now on.

And this is how it works: grafting a vine in 8 steps
1 Unusual: When grafting vines, shoots from the previous year (brown) are grafted onto new shoots (green). Cut the shoots already in winter and store them at around 4 °C.
2 For copulation with counter-tongue, first cut rice and rootstock diagonally with a sharp knife at the end of May, beginning of June. The cut surfaces should be the same size.
3 Make a longitudinal cut in the upper third of both cut surfaces in the respective shoot.
4 This creates the so-called counter-tongues. Advantage over the simple copulation: once inserted into each other, the scion does not have to be held tightly when joined. Ideal for joining is highly stretchable PE grafting tape (e.g. from Schacht).
5 After a few weeks the scions will sprout.
6 So that the noble shoot is not overgrown by the old variety …
7 … all competing shoots should be regularly broken off during the summer.
8 Done! Scion (right) and rootstock (left) are firmly grown together.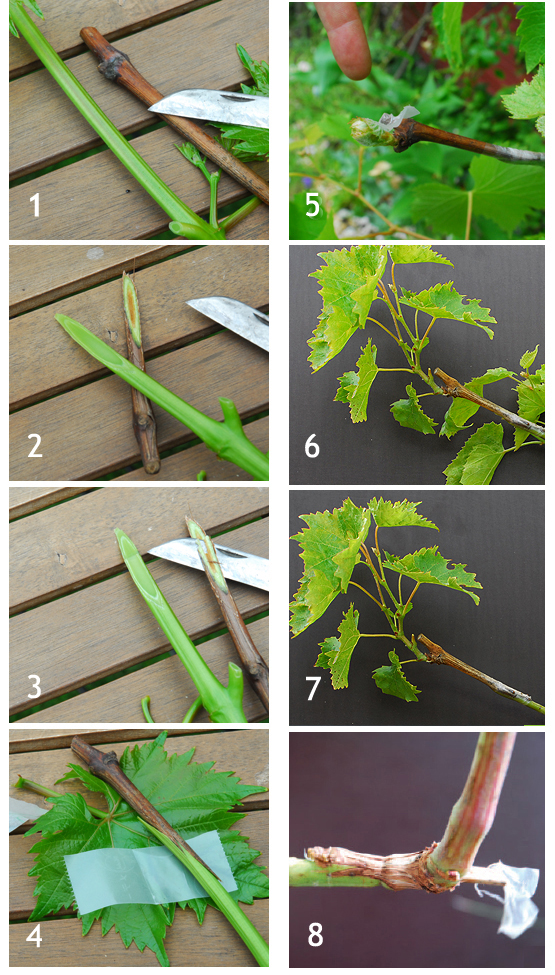 Robust table grape varieties for the garden
| | |
| --- | --- |
| Variety | Properties |
| 'Arcadia ' | yellow, very large berries, low in seeds, juicy, sweet, mushroom-resistant, early |
| 'Arcadia Rozowa' | rosé to red, large berries, juicy, finely aromatic, frost-hardy, fungus-resistant, very early |
| 'Galachad' | yellow, very large berries, juicy, fine-fruited, very robust, very early |
| 'Kodrianka' | blue, medium sized berries, large clusters, few seeds, fine-fruited, robust, medium-early |
| 'Liwia' | red, medium sized berries, large grapes, muscat aroma, very sweet, low in seeds, robust, early |
| 'Muscat Bleu' | blue, intense muscat aroma, medium sized berries and clusters, loose berries, very robust, early |
| 'Suffolk Red' | red, medium sized berries, large grapes, thin skinned, seedless, finely fruity |
| 'Venus' | blue, medium sized berries, large clusters, seedless, robust, fine fruity, |
| 'Vanessa' | red, medium sized berries, large pigeons, fine fruity, seedless, early |