How Do I Get More Flavor From Dried Herbs?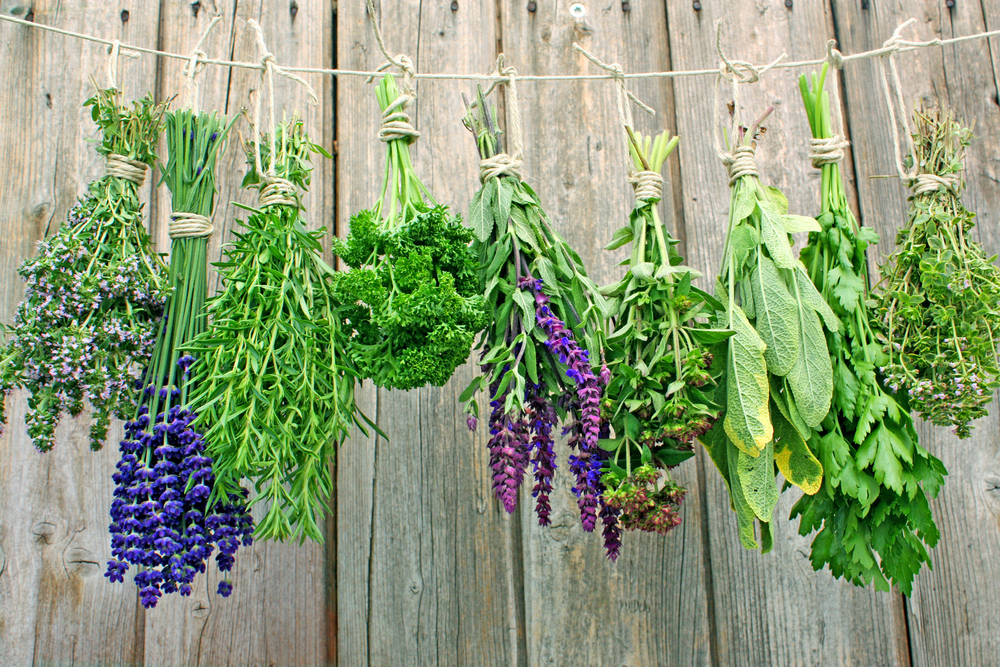 In summer they grow luxuriantly and can be harvested at any time: Herbs are abundant in the kitchen and the medicine cabinet during the season. But we don't want to do without them when the weather turns cold and uncomfortable. Because it is precisely then that we want to do something good for ourselves. We show you how to dry medicinal plants and herbs so that you can give yourself well-being all year round.
Drying and using herbs
Medicinal plants and herbs are true multi-talents, as they season and garnish food and can have a supporting effect in alleviating physical complaints. They are also said to work wonders as soothers of the soul, vitalising aids or mood enhancers. Reason enough to dry the herbs for the winter, when we need their beneficial effects the most.
Many a bundled and dried bunch is soon waiting to be used. The volatile aromas and active ingredients of fresh herbs can be captured in alcohol, vinegar or oil. But what if you don't have the right plants at hand?
However, you do not have to do without the healing power of herbs. A good alternative to harvesting your own herbs and drying them at home is to buy them from a pharmacist or a specialised herb shop. Here you can be sure that you have the right magic herb in your hands. Seals of quality guarantee that the plants have been harvested at the optimal time, with as little residue as possible, and then dried correctly. You will be amazed at what the trade has in store – also great for supplementing your own garden herbs!
At winter time, you can process your herbal treasures into wonderfully relaxing or invigorating gifts for yourself and others. Let the recipe ideas for fresh and dried herbs inspire you now.
Tea from dried herbs
Tempting after a hard day's work or a hike: a cup of hot tea. It can be made from a single plant or from a mixture of different tea herbs. You can dry herbs or use fresh ones. The mixture of herbs can be purely for taste or for medicinal reasons.
For a home tea, for example, use lemon balm, Indian nettle or scented nettle and garnish it with the petals of roses or marigolds. For an effective health tea, lime blossom, thyme, lavender and sage are suitable alone or mixed. Of course, you can also dry other herbs. Depending on how their active ingredients dissolve, you can infuse them with boiling, hot or even cold water. You can also use tea for gargling, rinses, poultices or baths.
Drying herbs for a healing decoction
Another classic: the medicinal decoction made from chamomile flowers for inhaling when you have a cold. When collecting the flowers, be careful to get the real chamomile (Matricaria recutita) and not its ineffective relative, the odourless chamomile (Tripleurospermum perforatum). Again, you can use fresh or dried herbs.
Distinctive feature of the true camomile:
In addition to the characteristically sweet scent, only the true camomile has a high domed flower head that is hollow.
In addition to chamomile flowers, you can also use other typical cold herbs, such as thyme herb and sage leaves, individually or combined with each other.
Preparation and use of the herbal decoction:
Place a handful of herbs in a large bowl and pour about one litre of boiling water over them.
After a short time, aromatic fragrant vapours will rise - a concentrated cloud of active ingredients! These vapours can be inhaled under a cloth. The cloth should be large enough to enclose the head and the container with the brew.
Usually ten minutes are enough for a clear head and free airways. For stubborn colds, you can heat the herbal infusion again and continue inhaling.
Scented sachets, bath sachets, aromatic oils and scented potpourris
Do you like scented sachets filled with lavender? The dried blossoms scent your wardrobe or wardrobe, for example, so that clothes moths evaporate. But you can also dry other herbs and sew them into small pieces of fabric.
Pregnant women, however, should be careful when using rosemary, thyme and sage. Allergy sufferers and those plagued by problems falling asleep should also seek medical advice before using them. 
And the power of dried herbs can also be used in the bath. An aromatically scented bath bag with your favourite herbs conjures up a touch of spa in the bathroom. Rosemary activates and tones the skin, sage and thyme have an antiseptic effect and help with impure skin. Immersed in the lavender blossom bath, it is wonderful to relax. A bath based on natural sea salt is refreshing and activates the skin. Refined with dried herbs and essential oils, it quickly becomes your personal wellness bath salt. Dried plant parts can be healing, but also cosmetic ingredients in handmade herbal soaps and bath balls.
Eye-catching and aroma-giving – supported by the right aroma oil – are scented potpourris made of dried herbs, blossoms and leaves in decorative bowls or fabric bags. Use dried petals of rose, mallow, camomile, lavender, rosemary, mint, scented nettle or lemon verbena.
Drying herbs properly
Have our ideas whetted your appetite for more? Then now it's time to dry the herbs. We explain how to do it properly. With our tips you can stock up and have enough harvest treasures for the whole year.
Prepare herbs: Remove wilted and diseased plant parts, DO NOT wash herbs! Sort herbs before drying, dry and store strongly aromatic plants separately.
Drying herbs: Dry the flowers and leaves of the herbs in dark, well-ventilated rooms. Hang small bunches of herbs upside down, individually and freely. Alternatively, place individual leaves or pieces of twigs on a grid (cake rack), on a cloth or on paper.
Drying time: Depending on the part of the plant and the type of plant, drying medicinal plants and herbs can take only a few days or even weeks. If you dry your plants longer than necessary, valuable essential oils will evaporate. If thick plant parts cannot dry completely, they will rot.
Drying test: Thin foliage, e.g. of lemon verbena, should just begin to rustle and break. Short- and thick-leaved herbs such as thyme and rosemary should be easy to rub off the twig. Flowers have been properly dried if they retain their colour after drying.
Storing dried herbs: Put the properly dried, preferably unchopped herbs and medicinal plants into dark, airtight and pest-proof containers with labels. Crush them just before use so that the essential oils are preserved.
Enjoyment with fresh herbs
Not all herbs can be dried well; some "thin-skinned" ones such as pimpinelle or basil lose their aroma and colour when dried. In these cases, we recommend eating them fresh in salads or dips or refining them to make herb pesto.
Herb pesto recipe
Ingredients:
100 g herbs
100 g ground nuts
70 g grated hard cheese
1 clove of garlic
100 ml olive oil
Salt and pepper
juice of 1/2 lemon
Preparation:
Using a blender, mix 100 g finely chopped herbs, 100 g ground nuts (walnuts, pine nuts or almonds) and 1 clove of garlic.
To make the solid mass smoother, add 100 ml olive oil.
Once everything is pureed, add 70 g grated hard cheese. Season the herb pesto with salt, pepper and lemon juice. 
Basic recipe for spicy cooking oil
Or put about 10 g of seasoning herbs like rosemary, thyme, peppermint, hyssop, lemon balm, lovage or oregano in 200 ml vinegar or 250 ml oil. These herbs release their rich aroma into the liquid over time. The icing on the cake of flavour for salads and hot or cold dishes!
The basic recipe for cooking oil can easily be modified for medicinal purposes:
Pour 250 ml of vegetable oil over about 10 g of medicinal herbs such as calendula or St. John's wort. After two to three weeks you will have your finished healing oil.
You can apply it to injured or bruised areas (never directly on wounds!). This recipe can be extended by adding a few drops of essential oil. This way you get a soothing massage or bath oil.
Alcoholic herbal tincture
If your legs are heavy as lead and your feet are as cold as icicles, an alcoholic herbal tincture can provide relief.
To do this, replace 250 ml of vegetable oil from the basic recipe for medicinal purposes with the same amount of brandy, add 10 g of comfrey, rosemary or thyme as the herbal ingredient. Use the finished tincture externally for massaging in. The invigorating healing substances should work through the skin, the alcohol as a carrier evaporates.
Herbal elixirs
Herbal elixirs in the form of extracts and liqueurs can help with stress and states of exhaustion. In contrast to tinctures, these elixirs provide internal support. We have a simple recipe that you can use to first make a white wine with fresh herbs and then spice up your body with this herbal wine.
Herbal elixir with rosemary:
Chop 50 g fresh or 25 g dried rosemary. Place the herb in 1 litre of dry white wine for one week, then strain the herbal wine. Take two to three times a day by the tablespoon (!).
You don't only want to dry herbs, but also your summer flowers? Then read our article on dried flowers and bouquets. In it we explain what is important when drying these floral beauties and what creative possibilities you have with them.