If you want healthy tomato plants and a bountiful harvest, you should fertilize the plants regularly. However, caution is advised here, because overfertilization can have a tremendous impact on the growth and health of the tomatoes. In most cases, however, an excess of nutrients can be easily recognized and treated. We have summarized possible symptoms as well as treatment measures for you in this article!
What nutrients do tomatoes need?

If you want a high-yield harvest, you should fertilize your tomatoes regularly. There are special tomato fertilizers for tomato plants, but other mineral and/or organic fertilizers can also be used. It is essential to ensure that the respective preparation contains the most essential nutrients for tomatoes:
Nitrogen
Phosphate
Potassium
Magnesium

Overfertilization and excess nutrients

Tomatoes need these nutrients in the right proportions, otherwise a nutrient deficiency or excess may occur. Mineral fertilizers have the advantage that they already contain said nutrients in the correct ratio. However, this does not mean that overfertilization can automatically be ruled out. Because not only the ratio of the nutrients, but also the administered quantity plays here naturally an essential role. However, overfertilization and the resulting nutrient surplus can usually be easily detected and treated.
Nitrogen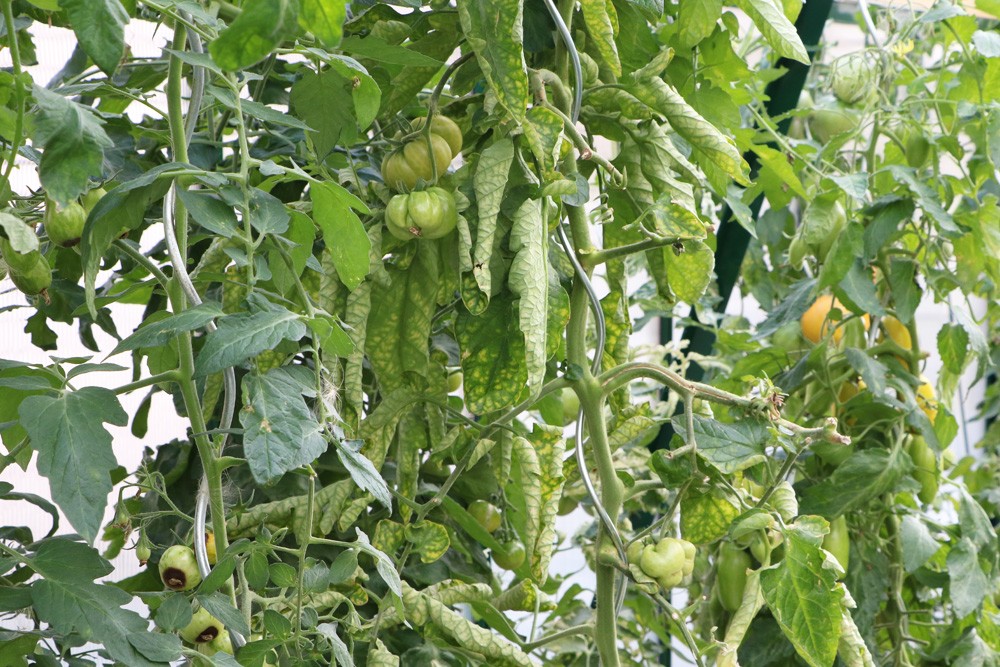 Nitrogen is essential for growth and particularly important for young plants. It is also involved in photosynthesis and is important for the formation of leaf green, proteins and hormones. But the organisms found in the soil also need nitrogen. Although it is a basic nutrient, it should nevertheless only be supplied in moderation. Although an excess of nitrogen causes the plant to shoot up, the increased growth in length is not desirable for the following reasons:
Symptoms
Shoots become soft and spongy
a large number of new leaves are formed
leaves become soft and fade
and they curl up

Consequences
increased sensitivity to frost
increased pest infestation (aphids and spider mites)
increased occurrence of fungal infections
reduced storability

Treatment
consistent mulching with straw
straw attracts and binds nitrogen

Potassium

For the formation and quality of tomatoes, a balanced supply of potassium is crucial. This is because potassium not only enhances the taste of the fruit, but also favors its storability. Potassium can be absorbed by tomatoes very quickly and also in large quantities. Therefore, potassium excess usually occurs rarely, although it can be recognized and treated as follows:
Symptoms
Growth inhibition
Scanty growth
Leaf damage

Consequences
Absorption of calcium and magnesium is impaired
thus growth is inhibited
fine crumb structure in the soil is destroyed
soil structure deteriorates

Treatment
potassium is mostly washed out of the soil
by rain and irrigation
Apply magnesium-rich rock meal

Phosphorus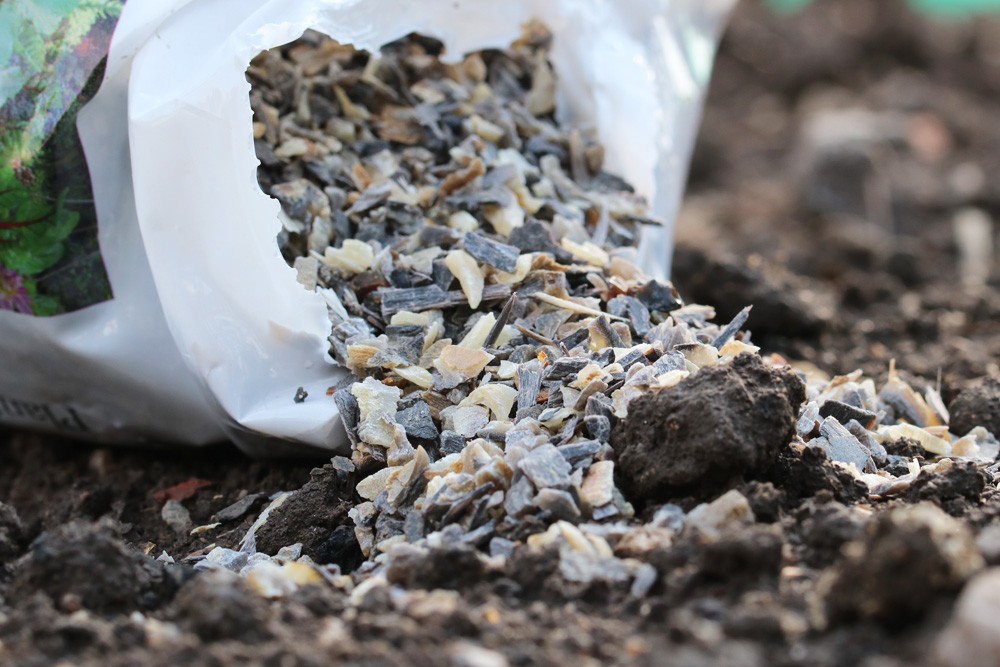 Phosphorus plays an essential role in the energy supply of tomatoes. It is also involved in a wide variety of processes, such as cell division and root growth, and also strengthens the defenses of tomato plants. On top of that, a balanced phosphorus fertilization has a positive effect on the vitamin content of the fruit. An excess of phosphorus does not show itself through obvious symptoms, because rather the overfertilization has an indirect effect:
Symptoms and consequences
Absorption of iron and copper is impaired
leads to growth disorders

Treatment
fertilize with low phosphate fertilizer
do not use bone meal and blue grain!

Note: A phosphorus surplus can usually be traced back to a too well-intentioned fertilization with blue grain or bone meal.
Magnesium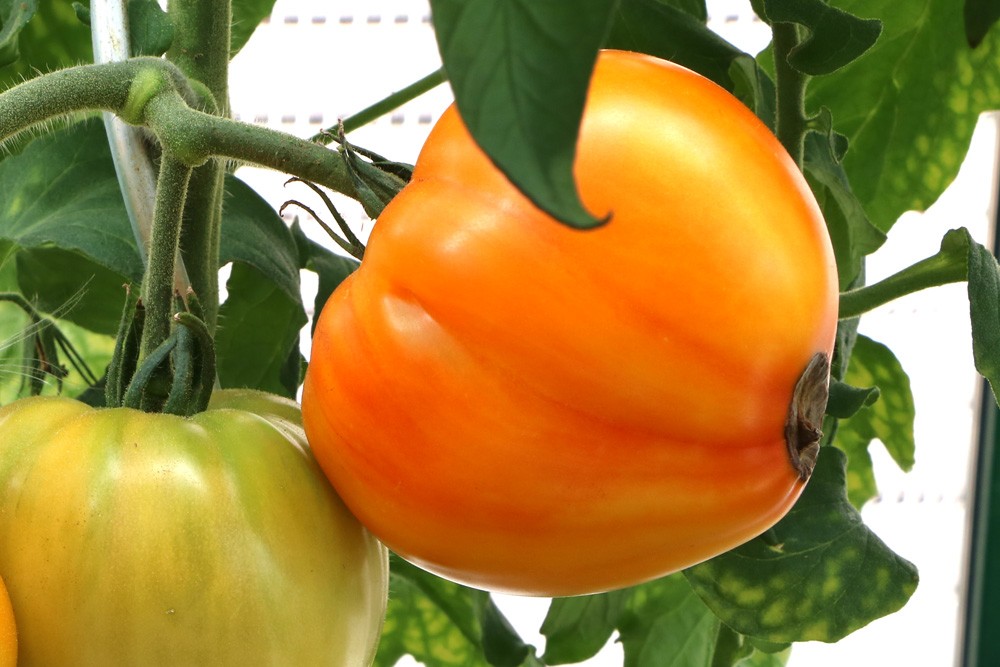 Magnesium is also an essential nutrient for tomatoes, as it is important for both photosynthesis and the formation of chlorophyll. Tomatoes also need magnesium for the absorption of other nutrients, such as phosphorus and nitrogen. Magnesium is also directly related to the calcium supply of tomatoes. Therefore, magnesium excess often leads to a disturbance of the other nutrients:
Symptoms and consequences
Calcium uptake is impaired
Roots are damaged
blossom end rot frequently occurs
Growth disturbances

Treatment
avoid fertilizers containing magnesium
work in compost
Calcium

An adequate supply of calcium strengthens the plant and ensures firmer cell walls, leaves and fruits. However, the roots also become much firmer and thus more resistant to blossom end rot. Calcium excess does not usually show itself through clear symptoms, but it does entail indirect damage:

Symptoms and consequences
Soil strongly alkaline
displaces potash in the soil
Absorption of iron, potassium and magnesium impeded
Phosphorus availability is reduced
Growth is limited
risk of green cant increases

Treatment
Avoid calcium-based fertilizers
Use magnesium-rich fertilizers

Note: The symptoms and consequences only occur in the case of an extreme calcium excess, which in turn is extremely rare!