The special structure of a raised bed creates a natural rotting heat that properly "heats up" the plants from below. This allows you to bring forward the planting and harvesting season of vegetables by a few weeks. Especially if you transform your raised bed into a cold frame with a film. From the last night frosts also protects a gardener's fleece, which is removed again in the morning.
The sowing and planting season begins as early as March and, with good planning, lasts the whole season, allowing you to harvest fresh vegetables even in winter. Our sowing, planting and harvesting calendar will help you plant your raised bed:
Here's how your raised bed season might go
March/early April:
The spring heralds among the vegetable plants may already be in the raised bed. These include radishes, arugula, leaf lettuce, spinach, radishes and parsley.
End of April:
Radishes & Co. are now joined by spring onions, bulbs and leeks.
May:
Now it's time to really get going: pre-grown (or bought from the gardener) seedlings of tomatoes, cucumbers, zucchini, peppers and chili can go into the raised bed.
June/July:
Summer warmth suits broccoli, cauliflower, kohlrabi and carrots.
August:
Time to plant fall lettuces like radicchio or endive!
September/October:
As before, frost-intolerant vegetables such as arugula, celery or parsley can be planted.
December onward:
Either winterize the raised bed that has now been harvested by covering it with a pond liner (this prevents nutrients from being washed out over the winter), or provide winter plantings: these can be classic winter lettuces such as endive, frisée, or bog lettuce, as well as chard and spinach, which will provide you with fresh vitamins even in winter.
However, in view of the next season, you can also provide green manuring. This involves growing plants (legumes) that fix nitrogen in the soil and are not harvested. Winter-hardy green manure plants such as sainfoin or clover are then turned over in February and worked into the soil.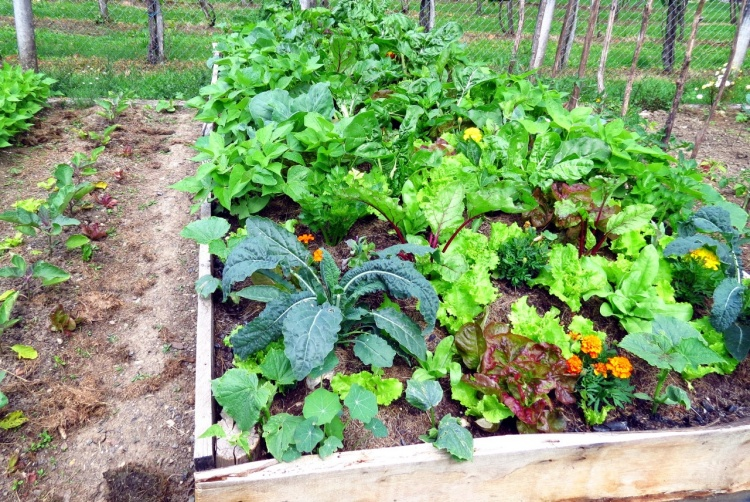 The thing with mixed culture & crop rotation
Mixed culture tables provide information on whether different types of vegetables "get along" with each other. Especially in the spatially limited raised bed, where roots inevitably come into contact with each other, no plants should be planted next to each other that slow each other down.
Ideal partners include tomatoes with garlic, kohlrabi, carrots and lettuce, lettuce with radishes and strawberries, and kohlrabi with cucumbers, strawberries, radishes, lettuce and spinach.
It is also worth paying attention to crop rotation – this prevents diseases, among other things. For example, cabbage crops should not be grown in the same location as the previous year.
Vegetable gardeners distinguish between strong, medium and weak growers depending on their nutrient requirements. In the first raised bed year, predominantly strong growers such as tomatoes, peppers, cucumber, zucchini, pumpkin, cabbage and potatoes should be planted. In the second year, the medium growers (radish, lettuce, leek, onion, carrot, kohlrabi, beet, strawberries) follow, and in the third year, medium and weak growers mix. In the fourth year, the weak growers (all legumes, radishes, lettuce, herbs).
I have 30 years of experience and i started this website to see if i could try and share my knowledge to help you.
With a degree a Horticulture BSc (Hons)
I have worked as a horticulture specialist lead gardener, garden landscaper,  and of course i am a hobby gardener at home in my own garden.
Please if you have any questions leave them on the article and i will get back to you personally.