When you look in the hardware store, you are inundated with offers and options. "You have a garden? Then you need this and that! Absolutely!" But do you really need it all? We have taken a very sober look in the tool shed and reveal to you today the 10 most important garden tools!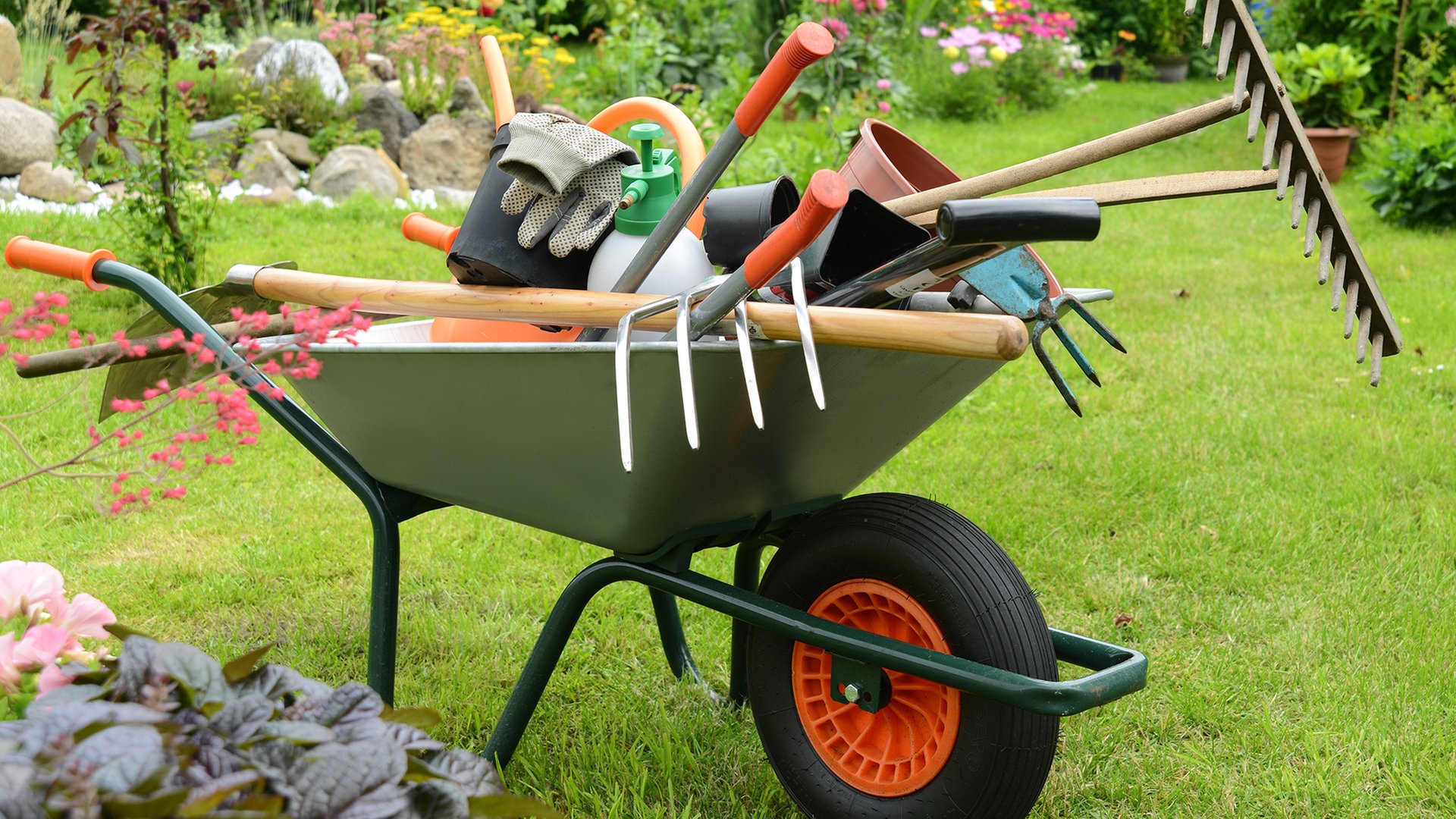 Before buying: What does my garden look like?

Before you consult an encyclopedia, garden center or the Internet, you should first take stock of your own garden. In other words, what plants are there? What does the soil look like? Do I have a lot of lawn, a hedge or flower beds? And if the situation is not satisfactory at the moment – what should be changed?
The background to these considerations is that tools such as loppers are not needed if there is no tree anywhere in the garden. The condition of the soil, on the other hand, helps in choosing the right shape of the individual garden tool. For example, if the soil is rather heavy, the tools need to be sturdy enough so they don't wear out too quickly.
What are the ranges for garden tools?

There are said to be a total of 8 garden tool groups, divided according to the work being done. A good rule of thumb is to have one to two different tools from each group in your tool shed.
Tools for soil and earth work
Tools for loosening soil, tilling soil and controlling weeds
Planting tools
Pruning tools
Transport aids
Equipment for lawn care
Watering accessories
Other useful accessories for gardening
The 10 most important garden tools

In principle, less is more in the garden. Because the really good tools are usually also a bit more expensive, so you can not even buy every piece from the shelves. The really essential tools that simply every hobby gardener needs, no matter how large his green oasis, we have collected here.
Spade

Whether for digging around or digging holes, a spade is a gardener's best friend! Be sure to get a sturdy handle with a T or D grip. When you put your upper arm against your upper body and hold the spade with your hand from above, the forearm should be parallel to the ground and the spade should be straight – then the size is perfect!
Shovel

Depending on the use and garden, it can be a large shovel to carry a lot of excavated soil, or a smaller one for planting flowers and other small plants. If you have to choose and already have the spade in your shopping basket, it is better to take the small planting helper.
Rake or digging fork

The soil needs to be loosened every now and then. With a digging fork, this can be done easily and is easy on the back. A rake can also do the job. Both tools also help with weeding, but the rake is probably a little more precise.
Rake

Whether leaves or lawn clippings – a rake always looks good in the stand! By the way, you can recognize a real rake by the fan-shaped arrangement of the tines. If the tines are straight in a line, similar to a comb, it is a rake!
Weed Rake

Actually, it's just a handle with tines arranged in a circle on it. But a weeding trowel is so much more! It helps – depending on the length of the handle even back-friendly – to remove unwelcome weeds from the garden. Especially for deep-rooted plants like dandelions, this tool is very handy!
Shears

Whether it is the hedge, the roses or yet the trees – garden shears are available in multiple versions for all applications. It is advisable to have one or two in the house. The choice is always based on individual requirements.
Axe, hatchet or lopping shears

Whether you want to cut down a tree, shorten it, or just remove a few branches, you must have the right tools. The axe is used with both hands on the handle, the hatchet can also be used one-handed. Branch shears can also be used for woody shrubs. Another alternative would be the branch saw. Either way, one or two representatives of this category should be available depending on your needs.
Watering can

Beds want to be watered, especially when very freshly planted residents are still trying to make themselves at home there. If you don't want to constantly run back and forth between the water supply (or even better: the rain barrel), you can of course also reach for the garden hose as an alternative.
Lawn mower

If the majority of the garden consists of a simple green area, this also wants to be maintained. A lawn mower is therefore a good investment. These are available in hand-operated, but also in electric form or with a gasoline engine. If you like it very accurate, you can finally reach for the lawn edging shears. Find even more electric garden tools here.
Ladder

Of course – if you want to prune trees, pick fruit or perhaps attach a climbing aid for your roses to the wall of your house, you'll need a ladder. Here there are many different variants – freestanding, to lean on, to pull out.

If that's still not enough, we'll give you three more tips along the way.
A wheelbarrow is extremely practical – in an emergency you can borrow it from your neighbor, but why not be the neighbor everyone asks?
Not afraid of heights? No problem! With a FRUIT PICKER you don't necessarily have to climb to great heights.
Back-friendly gardening we have already illuminated. So that the knees are also not too strained, there are different types of cushions and pads.
I have 30 years of experience and i started this website to see if i could try and share my knowledge to help you.
With a degree a Horticulture BSc (Hons)
I have worked as a horticulture specialist lead gardener, garden landscaper,  and of course i am a hobby gardener at home in my own garden.
Please if you have any questions leave them on the article and i will get back to you personally.