From September, when it starts to get cooler outside and autumn knocks on our door, there is plenty of work in the garden. The fruit season picks up where August left off, enriching us with more varieties such as apples, plums and raspberries to spoil us with their sweet fruit. The vegetable harvest is also still in full swing. This article will give you a brief overview of what you can look forward to in September and what tasks are now waiting for you.
What can you harvest now?
Despite falling temperatures, we can enjoy a bountiful vegetable harvest this month! Zucchini, eggplant, peppers, chili, radishes, lettuce varieties and beet give their all once again and delight us with their delicious fruits throughout the month. Pumpkin is in full swing right now and can be harvested in abundance.
All fruit fans also have reason to rejoice: Pome fruits, such as plum or damson, can now be harvested! In addition, from the middle of the month not only the first grapes ripen, but also early apple varieties such as our Bloomify Elstar, kiwis and citrus fruits. Blueberries, blackberries and raspberries provide us with deliciously juicy and fruity snacks throughout September.
Is it still possible to sow and plant something?
Clear answer: Yes! Some fast-growing lettuce varieties such as lamb's lettuce and spinach can now move into the spaces in the bed that are gradually becoming free. If it's still quite warm, you can even sow radishes again at the beginning of the month – due to the short growing season, the red nodules are ready for consumption after just 3 to 4 weeks.
In addition, now is a good time to plant apple trees, for example our Elstar or Boskop, so that they can take root before the winter cold and gather strength to present you with juicy apples the following year. Blueberries can also be planted in September.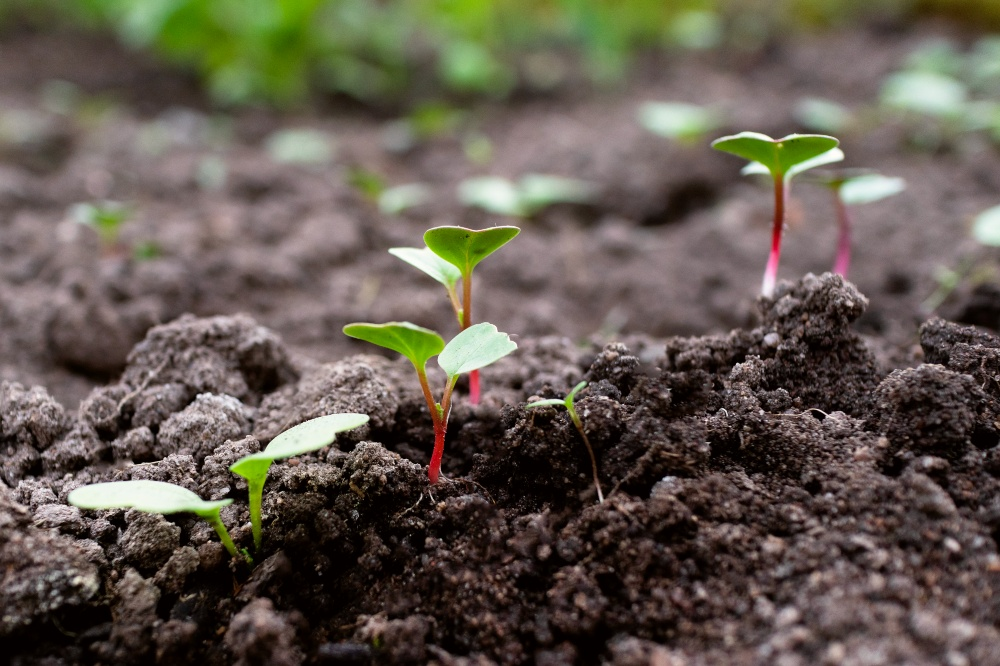 What needs pruning?
Although the time of summer pruning is now over, nevertheless, especially among our berries there are a few comrades who need pruning. Our gooseberry is now already through with the harvest and can, if not already done in the spring, once properly cut back. Currants, both red and black, can also use pruning now. In both cases, spring pruning is fine, but you should choose September (or October at the latest) if possible. You'll find a detailed article on the subject in our magazine soon!
If we now take a look at our herb bed, we might think that it also makes sense here to shorten the gradually withering leaves and stems. However, we should definitely refrain from doing this, because the old foliage provides good protection against the cold for the roots on the one hand and very good winter quarters for small insects and animals on the other.
What work is especially important now?
Since there is a lot to harvest and at the same time we are fast approaching colder days, there is a lot to do in September. If it gets too cold outside, you can let tomatoes ripen indoors before they start to mold. Here's a great article that tells you everything you need to know about this. In addition, it is now time to preserve berries, zucchini, peppers, chili, herbs, etc. for the winter months.
Slowly, the leaves of the trees and shrubs begin to turn brightly colored and gradually trickle to the ground. Since too much foliage can also cause rotting, you should pick it up quickly. Only under your apple trees you can leave some; there it serves as fertilizer and protection against the cold. However, you do not have to throw away the rest of the leaves. If you have one or more compost piles, you can use them to make very high-quality leaf compost, which is wonderful for use as growing soil. Any compost you already have should be turned over now, and if you don't have any at all, now is the best time to start a compost pile.
If it is gradually approaching the end of the month, zucchini and eggplant – both annuals – are also slowly dying. Zucchini in particular attracts rot, so you should dispose of dead plants as soon as possible. It also makes sense to take the opportunity to recheck your garden in general for pests and diseases. Wet and cold weather weakens your plants, so fungi have an easy time of it. However, do not dispose of diseased and infested plant parts on the compost, but in the organic waste garbage can.
If the freed areas in the bed are no longer used, you can prepare them for the next year. Dig up the soil well and work compost or other organic fertilizer into the soil if necessary. You can also mulch your beds now to protect the soil and its inhabitants from the cold in winter.
I have 30 years of experience and i started this website to see if i could try and share my knowledge to help you.
With a degree a Horticulture BSc (Hons)
I have worked as a horticulture specialist lead gardener, garden landscaper,  and of course i am a hobby gardener at home in my own garden.
Please if you have any questions leave them on the article and i will get back to you personally.