The fig tree is currently in season and makes us happy with its healthy, abundant and aromatic fruit. If you're wondering what to do with all those figs, we have a great recipe idea for you: a delicious porridge! It is prepared in no time and can be varied wonderfully, so that no boredom arises in the kitchen.
The ingredients
What you need (per serving):
50 g oatmeal
1-2 teaspoons of ground flaxseed
300 ml plant milk (e.g. from oats or almonds)
1-2 tsp. cane sugar
1 pinch of salt
cinnamon
figs (as many as you like)
a handful of nuts (your favorite)
Agave syrup or maple syrup
Optional for a little something extra:
Millet, quinoa, chia
white almond puree (or other nut puree)
organic cocoa
Nutmeg
Bananas, blueberries, pomegranate seeds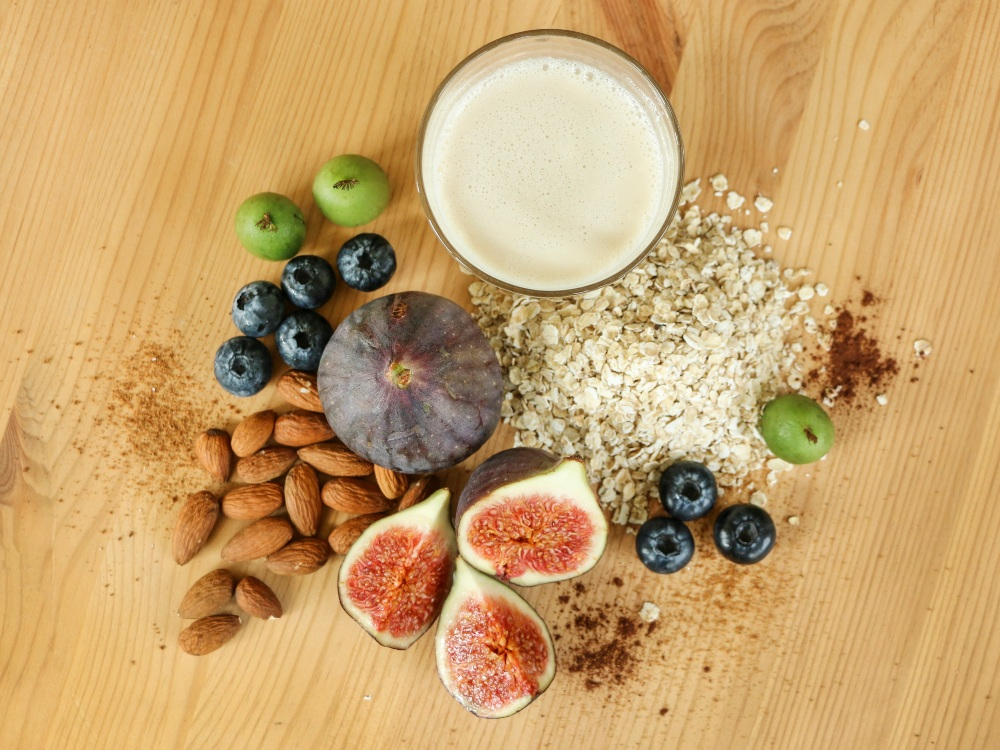 The preparation
Place the oatmeal in a small saucepan with the flax seeds, cane sugar, a pinch of salt and the plant milk and bring to a boil over medium heat. When it starts to bubble, turn the heat down to low and let the mixture continue to simmer, covered, for about 10 minutes, until the oats and flaxseeds have swelled.
In the meantime, you can wash and prepare your figs and other ingredients. Tip: Figs do not need to be peeled, the purple skin is soft and the entire fruit is edible! So you only need to cut them into bite-sized pieces. You can also prepare the nuts the way you like them best. They are especially finely chopped in a mortar, I personally like it a little coarser and simply crush them – depending on the variety – by hand. And for a particularly crunchy treat, the nuts work well whole, of course!
Once the porridge is cooked, you can garnish it with the remaining ingredients. For extra creaminess, mash one or two overripe bananas with a fork and add them to the porridge, and/or add almond paste (or other nut puree) as you like. Power foods like millet, quinoa, or chia seeds can also be added, and agave syrup or maple syrup provide an extra dose of sweetness. Otherwise, there are no limits to your imagination: Blueberries and pomegranate seeds, for example, are a great addition to the figs, while almonds, pecans and walnuts round things out nicely. And for a particularly warm note, you can add cocoa or a small pinch of nutmeg to the cinnamon. Enjoy your meal!

Planting tip
Maybe you don't have a fig of your own yet, but you've read the recipe and are now on fire for the great little tree? Then we have good news for you. Because: In September you still have the last chance to plant a fig. Since it is quite sensitive to cold and frost, there are a few little things to keep in mind here.
Basically, it can be planted outdoors both in spring and at the beginning of autumn. If you decide to plant it at the beginning of autumn, it will have enough time to take root before the first frosts. However, a layer of mulch on the ground and, preferably, additional protection against the cold on the trunk are necessary for the fig to survive the winter. Therefore, we would rather advise you to plant your fig tree outside in the spring when there is no longer a threat of severe frosts.
Planting in a container in the fall, on the other hand, is not a problem because you can move the fig to frost-free winter quarters when the cold sets in. If you decide to plant the tree in a large enough container, you will only have to move it outside in the spring and will not even have to repot it.
I have 30 years of experience and i started this website to see if i could try and share my knowledge to help you.
With a degree a Horticulture BSc (Hons)
I have worked as a horticulture specialist lead gardener, garden landscaper,  and of course i am a hobby gardener at home in my own garden.
Please if you have any questions leave them on the article and i will get back to you personally.