The days are getting noticeably longer and even if it can still be frosty cold, the sun gives us the one or other mild moment. We can slowly roll up our sleeves again, because the winter break is coming to an end. Now it is time to prepare the beds, prune woody plants if necessary and pull out the first plants. And there is even – you can hardly believe it – still something to harvest!
What work is on the agenda now?
The focus in February is primarily on making the beds fit for spring, pruning woody plants and fruit trees, tidying up and sowing the first plants.
Tidying up the garden
If you still want to mulch or if it is necessary to dig up the soil, now is a good time to do it before everything grows and overgrows. In this article you will find all the important info on how to mulch properly. With the longer days and in some cases already milder temperatures, however, not only are the early perennial perennials starting to sprout, but the first weeds are also starting to grow. This means weeding to prevent them from spreading uncontrollably and taking up space and light from the other plants.
Grasses and perennials can be cut back toward the end of the month to a hand's width or two above the ground and the waste composted. Speaking of compost: After the cold and rainy months, it now makes sense to turn the compost once to aerate it and thus stimulate the rotting again.
Hardy balcony plants can also be pruned, tidied up and moved to a sunnier and warmer spot. However, it's better to leave flower pots and frost-sensitive tree trunks still wrapped up. As soon as the sun goes down, it can get really cold again and the temperature fluctuations can cause damage to plants and materials.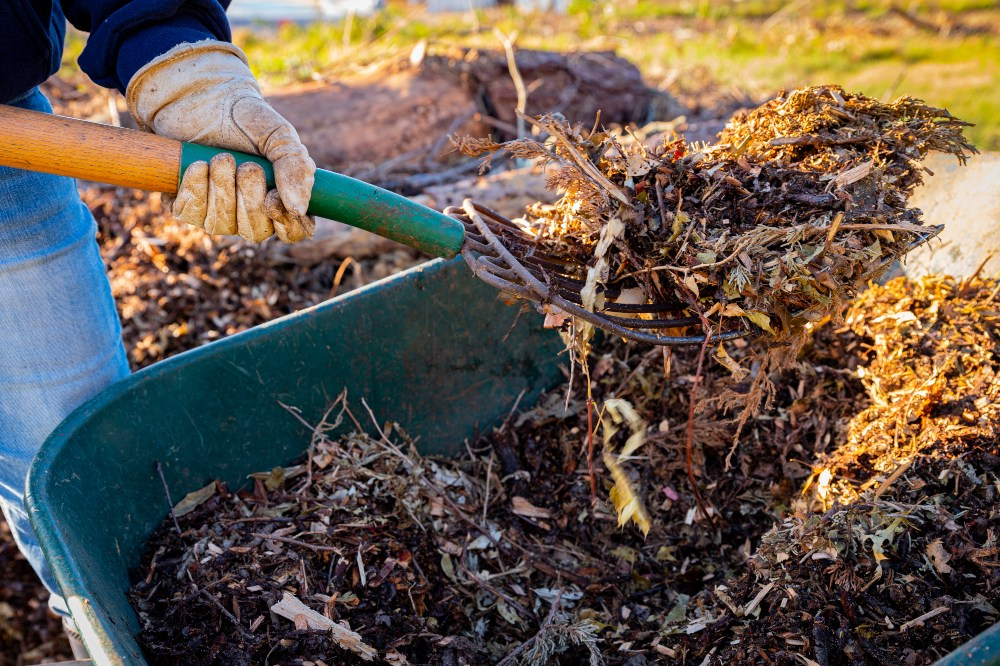 Care of fruit trees and shrubs
If the temperatures are above -5 degrees, you can unpack the pruning shears. Because: February is a very good time for most fruit tree and woody plant pruning (e.g. berry bushes and hedges). They are still in dormancy, so the plants are not bleeding too much. Also, most woody plants don't have foliage now, so it's fairly easy to get everywhere and assess where and how much pruning is needed. Since the topic of pruning fruit trees is quite extensive and this can vary between fruit varieties, here are just a few very rough basics:
Set pruning correctly: Always over a bud or at a branch.
A cut that is as smooth and clean as possible ensures quick healing and reduces the risk of fungal infections
Focus on keeping branches growing horizontally, as they usually form the fruiting wood; steeply upward growing branches, on the other hand, produce new branches
Branches growing steeply upward and/or inward should be removed or shortened
Dead and diseased shoots should be cut back to sound wood and discarded
Do not cut back (especially young) trees too much if it can be avoided; this would stimulate shoot growth rather than flower formation
But not only pruning should be done now, hanging dead fruit and fallen fruit from last year must be cleared away now to prevent fungal diseases from spreading as temperatures rise.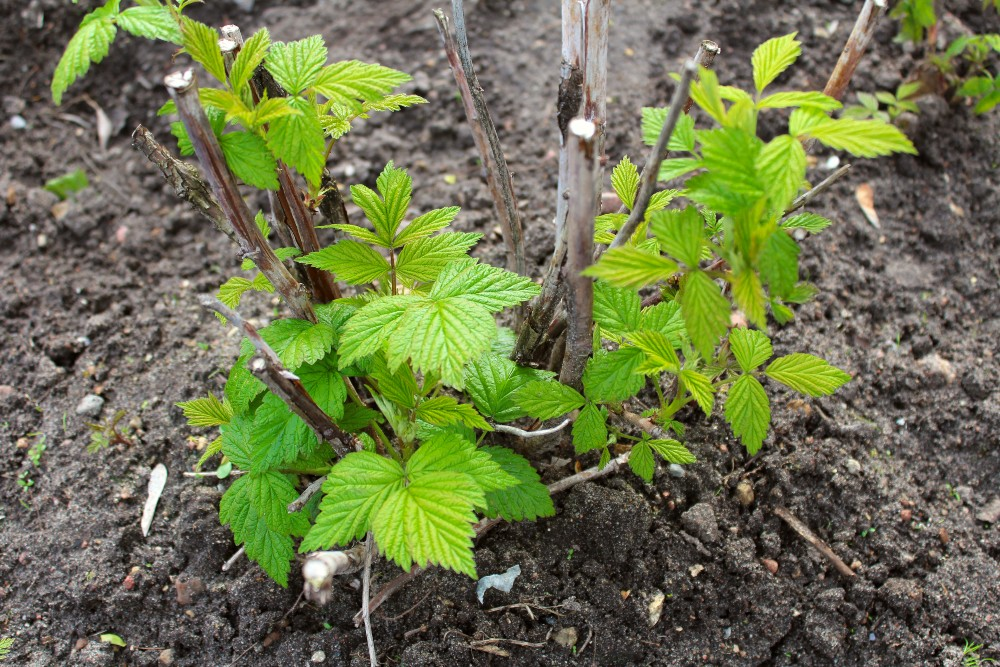 Let's get to work: the first sowings
The fruit trees are still in hibernation and the rest of the garden is still relatively gray and bare, but here and there the first, delicate green tips are already pushing their way out of the soil and signaling the approach of spring. The cold frames can now be prepared for the first sowing.
What can now be sown, pulled forward or planted?
To get the first harvest in early summer, you can start sowing the first vegetables around mid-February. Temperatures vary depending on the region you live in. So always keep an eye on the thermometer. Especially in the south and east of Europe, frosts can still be very severe, so don't take any risks here and wait another week or two if necessary. The best place for early sowing is a cold frame or greenhouse, but a windowsill at home will also do in a pinch.
In the cold frame
If the soil temperature outside is at least 5 degrees (the absolute tolerance limit is about 2 degrees), you can sow early vegetables such as beet, spinach, parsley, lettuce, radishes, carrots or spring onions directly in the cold frame. To determine the soil temperature, you just need to stick a thermometer about 5 cm deep into the soil. Garlic and chives can be planted directly into the bed.
Growing in a greenhouse or on a windowsill
Many vegetables can be grown in advance on a windowsill or in a heated greenhouse and are ready for harvest in early summer. In addition to the easy-care classics such as the already mentioned lettuces, onions and spinach, eggplants, broccoli, zucchini, kohlrabi, chili and peppers can also be grown in advance. Since tomatoes are true sun worshippers, you can also grow them indoors from the end of the month if there is enough sunshine outside.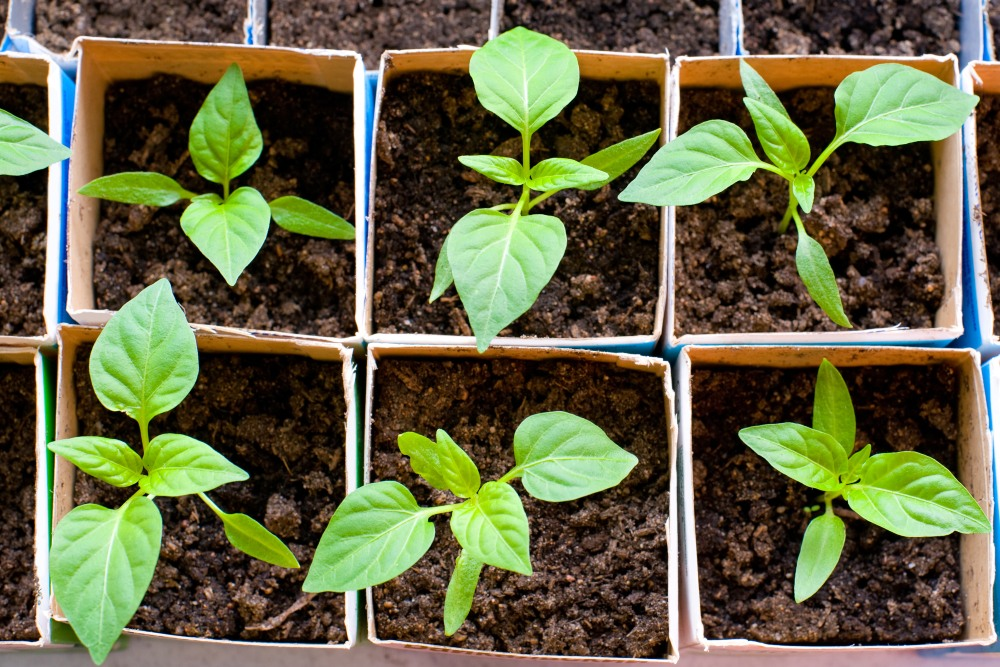 What can be harvested?
Admittedly, the selection may not be very large, but even in February we can enjoy fresh vegetables from our own cultivation. Kale, leeks, Brussels sprouts, winter lettuces (such as lamb's lettuce) and spinach (grown in a heated greenhouse) are giving us treats now. If you missed the time to sow last year, but would like to harvest fresh vegetables next winter, remember for this year: Brussels sprouts are pre-picked starting in April and go outdoors in late May. Late kale varieties are pre-picked in May and planted in the bed by early July. Winter lettuces and leeks are sown directly. Leeks are sown in May or June, followed by lettuces from mid-August to the end of September. Fresh herbs can be super overwintered on the windowsill and can be enjoyed all year round.
However, especially in this month a look into the pantry is worthwhile: some storable vegetables and fruits from the last season can be consumed in February with a clear conscience, because March is practically just around the corner and soon supplies will be growing in the garden again. These include apples, pumpkin, parsnips, savoy cabbage, beet, carrots and potatoes.

A detour to the exotics
With all the anticipation and preparations for the upcoming spring, we must not forget our exotics, which should rather spend this month still in the winter quarters. Especially on sunny and mild days it is very important to ventilate regularly and water a little. Especially with our citrus plants, we still need to keep our eyes open for pests (especially spider mites, mealybugs and scale insects) and react quickly if necessary. If the plants are very bright, you can water a little more. How to bring your citrus trees safely through the winter, you will learn in this article. But the olive is also a sun worshipper and needs it nice and warm. Here you can read about what you need to pay attention to when wintering your olive.
Get to the tools, get set, go!
If you have a garden and a rain barrel, you can set it up again and let it fill up. Especially in February, we are guaranteed plenty of rainfall, so you'll have a good supply of irrigation water at all times. Finally, check all your garden tools and accessories; has anything been damaged by the frost? Is there anything that needs to be replaced, oiled or repaired? If everything is fine and ready for use, you have a clear path and can fully start into the next gardening year!
I have 30 years of experience and i started this website to see if i could try and share my knowledge to help you.
With a degree a Horticulture BSc (Hons)
I have worked as a horticulture specialist lead gardener, garden landscaper,  and of course i am a hobby gardener at home in my own garden.
Please if you have any questions leave them on the article and i will get back to you personally.