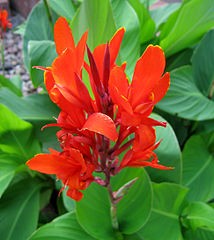 Canna grows well in a pot. But you should only put one tuber at a time in a 40 cm pot. The plants spread well and the pot is certainly occupied with a plant in the summer.
Clay pots are often heavy and the water evaporates quickly. However, this can also be an advantage at the same time, because the plant does not rot due to waterlogging and the pot can not be blown over so quickly. Plastic pots are, of course, much lighter, but the water often accumulates in the pots: we therefore advise a natural material made of clay or terracotta.
In autumn, the rhizomes are taken out of the soil, air-dried for a few days and then overwintered in a dark and cool place (at 10°C) in a box with sand. With canna tubers, it is not necessary to remove all the soil. The fine fibrous roots of the tubers keep the soil relatively firm, especially if it is heavy, loamy soil. This can remain on the tubers. In between, the tubers should be moistened a little. At the beginning of May, replant the rhizomes. Practical: Potted plants can be put directly into the cellar with the pot. Then you should make sure that the plants are not watered too much, otherwise the tuber rots easily.
By the way: In the Kreislehrgarten Steinfurt one takes the tubers out of the earth and stores them covered with peat mulch in the cellar. Here the tubers are stored only until February. Already at the end of February, the tubers are taken out and planted in pots to obtain an earlier flowering.
I have 30 years of experience and i started this website to see if i could try and share my knowledge to help you.
With a degree a Horticulture BSc (Hons)
I have worked as a horticulture specialist lead gardener, garden landscaper,  and of course i am a hobby gardener at home in my own garden.
Please if you have any questions leave them on the article and i will get back to you personally.