Dried herbs can be used in many ways and revive our spirits, especially now in autumn and winter. Beautifully packaged, the various herbal products are also great as a small gift or in an Advent calendar. In this article we have put together 3 great ideas for you that you can easily make yourself at home.
Herbs: the secret winter stars
If garden herbs still enchanted us with their fragrant blossoms and aromatic leaves in spring and summer, our pantries were filled in the fall to tide us over the cold and bleak winter months. Dried properly, herbs can retain their aroma for many months, so you can enjoy them all winter long. You can read more about how to do it properly here. Important, no matter which herb application you decide on in the end, is the storage: They must be sealed light- and air-tight, otherwise the aroma and active ingredients can be lost over time. Dark preserving jars or pharmacy jars, for example, are super suitable for this, you can also label them well with adhesive labels or labels.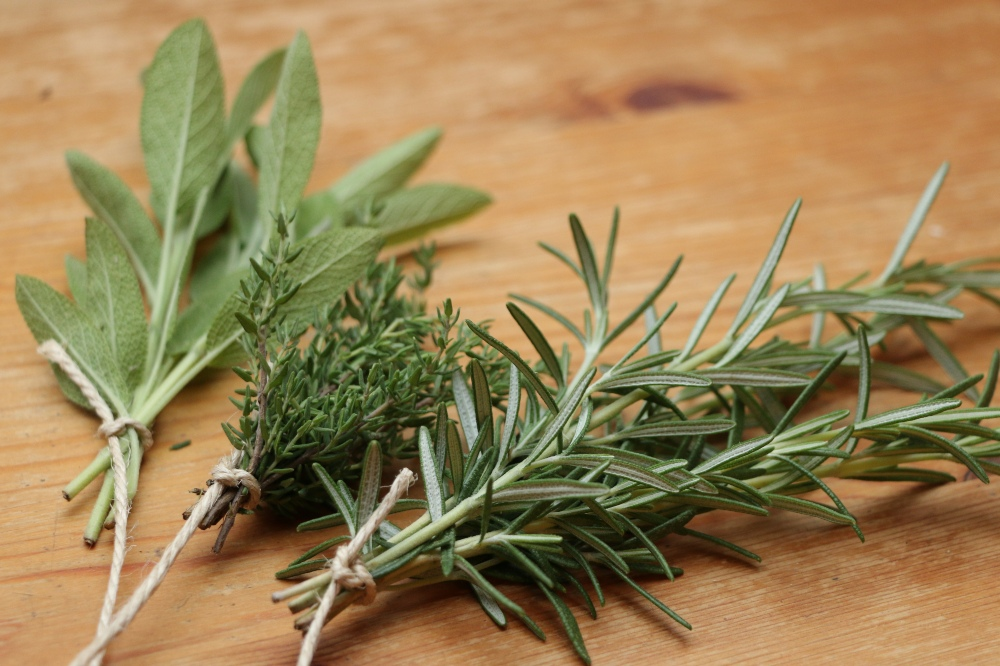 Spicy winter tea
When it gets cold outside and all we want to do is crawl into the warmth, a delicious tea is of course a must! Depending on the ingredients used, they not only taste good, but also have many healing effects. For example, herbal teas can strengthen the immune system, relieve nervous stomachs or help us relax after a hard day. And besides – who doesn't love to warm up their cold paws with a hot cup of tea?
The right preparation
In addition to the appropriate herbal mixture, you will of course need the container of your choice. If you don't want to give away or store the tea, but enjoy it directly, you can use a tea egg or a small tea filter made of cloth or cellulose, which you tie at the top with a thin cotton string. If you have herbs on the windowsill in the cold season, you can of course prepare the tea fresh. For perfect enjoyment, you should then infuse it with water that is about 60 to 70 degrees hot. With modern kettles you can set the temperature, otherwise you can boil the water and then just wait about 10 minutes; so it has time to cool down a bit. How you can overwinter your herbs on the windowsill at home and also harvest them during this time, we have put together for you in this article.
The right mixing ratio
You can vary the tea recipe according to your own discretion and taste. What is important is a good mixing ratio, which looks like this: The base consists of 5 to 6 parts (1 or 2 herbs as intense as possible as a basis), the top note (which complements the base and can have an additional effect) consists of 2 to 4 parts and the heart note consists of 1 to 2 parts. It is there to complement the tea blend and enhance the look (as we all know, the eye drinks and eats!).
The recipe
For our tea blend we have chosen herbs that not only taste good and smell spicy, but also have a healing effect. In addition, they can all be grown well in the home garden or on the balcony and terrace and are quite easy to care for. Sweetened with a spoonful of honey, you end up with a soothing tea that supports your immune system during cold season.
The mixture
Base: 5 to 6 parts consisting of mint and sage
Top notes: 1 part lavender and 1 part lemon balm
Heart notes free to taste: Flower petals (roses, cornflowers, marigolds, cloves for a wintry touch).
Optional:
Chamomile instead of sage or mint
Thyme instead of lemon balm
Strawberry/blackberry leaves, dried apples or oranges in the heart note
Aromatic, versatile & healthy
All the herbs mentioned have an anti-inflammatory and tension-relieving effect and help with digestive problems. Especially lavender is good for sleep, mint is very good for colds. Of course, you can make the tea mixture more varied or modify it: Camomile in the base makes the tea a little milder and strengthens the stomach-calming effect. Add thyme to the top note for an even spicier flavor. Strawberry or blackberry leaves in addition to the flowers (or even as a complete substitute) also have a particularly decongestant effect on the digestive tract. Dried oranges or apples add a fruity note (apple goes great with mint all year round).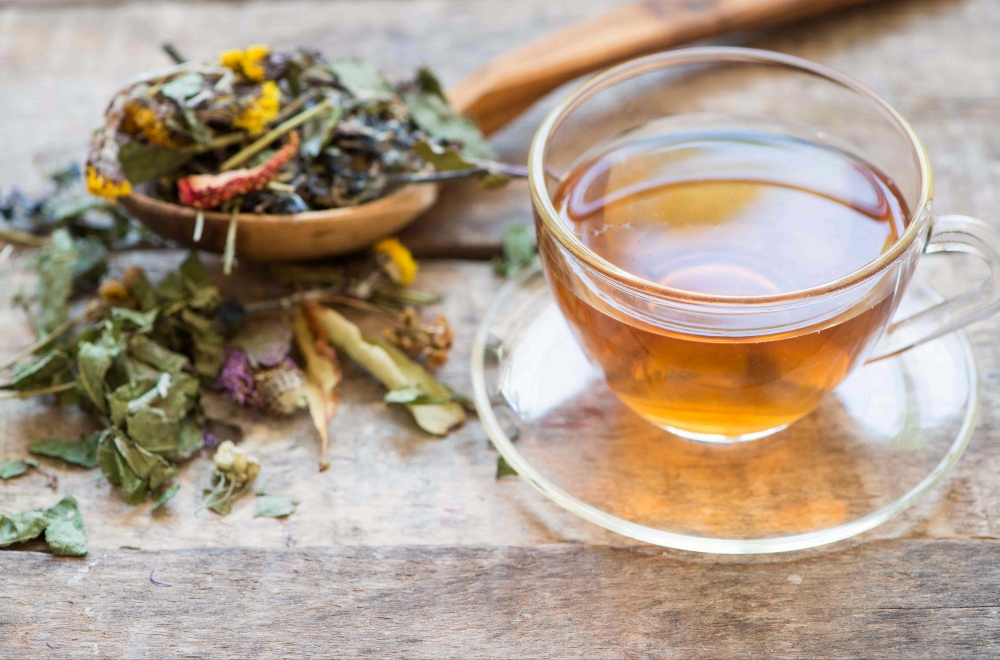 Fragrant sea salt herbal bath
There's hardly anything better than enjoying a hot bath and relaxing by candlelight after an icy winter walk. That's why, in addition to winter tea, we have a recipe for you to make a lovely rosemary bath salt with marigold blossoms in no time. Not only does it have a lovely, spicy scent; the main ingredient, rosemary, invigorates and warms the mind and body. Thyme and mint are especially soothing for colds, and lavender is relaxing. The contained Dead Sea salt nourishes the skin and is especially beneficial for dry and irritated skin in winter. A few drops of essential oil provide a much more intense aroma; however, if you have very sensitive skin, you should be careful with the dosage or avoid it altogether, as it can irritate it.
Ingredients:
Herbs (dried: 30-50 g, fresh: 100 g).
2 parts rosemary, 2 parts mint, 1 part lavender, 1 part thyme
Dried marigold petals to taste (What a word! You can get them at the pharmacy if need be).
500 g Dead Sea salt
Container (again, a dark, large jar with a lid is best).
Optional:
3-5 drops of orange or lemon essential oil (you can find these at health food stores).
Cornflower and rose petals or cloves
Mortar
Preparation & use
First, mix the herbs and petals together. If you use fresh herbs, you should grind them in a mortar or pluck them finely. Then put them in the jar with the salt (and essential oils, if desired). To make it nice and even, you can alternate the salt and herb-flower mix or mix them directly together by filling the jar full, sealing it, and then shaking it vigorously. After that, the salt needs to steep for about 1 to 2 weeks before it can be used. For fresh herbs, leave the jar open for the first 5 days to allow moisture to escape. While the salt is infusing, it should be stirred or shaken occasionally. After that: Close the lid, label it, tie a bow around it – done!
For a bath you need about a handful of bath salt (about 100 g), which is dissolved in hot water. In total, the bath should last about 15 to 20 minutes. If you don't want the leaves and flowers to float in the bath water, you can also fill a small cloth bag with them and hang it on the faucet under the running water.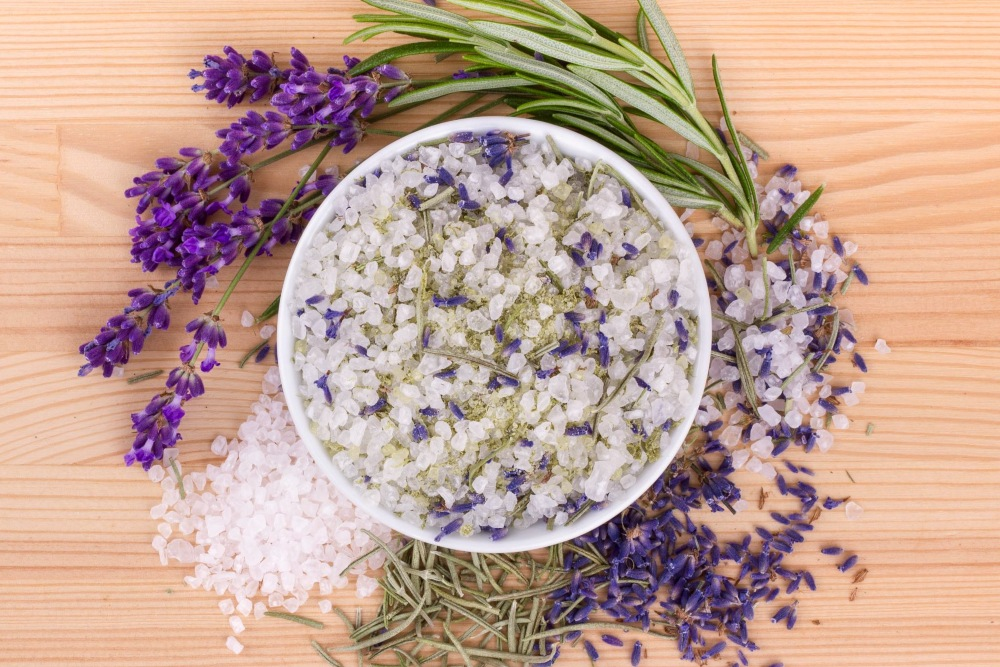 Winter herb scented candle
If winter has arrived and the days are short and dark, candles should not be missing in any household. They spread a cozy atmosphere, brighten the mood with their winter-warm scent and are simply the perfect complement to a cup of tea and a hot bath. What's more, the beauty of the whole thing is that you can design the candles completely to your taste – we've given you just one fragrant example in this recipe. It's also fun and easy to make, and you can find all the ingredients in your herbal supplies and for very little money in stores.
What you need:
newspaper/old towel
dried lavender flowers to taste
lemon essential oil and/or the grated rind of 1-2 dried lemon slices
1-2 vanilla beans
glass (make sure it is not too thin so that it does not crack when the hot wax is poured in)
pot and vessel for water bath
Wax (old wax scraps or soy-based wax granules)
wick
Mortar
Alternative (if you like it spicier or more colorful):
Rosemary (dried), cinnamon and/or cloves, orange essential oil, dried flower petals….
Preparation
Once you have all the ingredients ready, you're almost ready to go. Before you start, you should also cover the area where you want to pour the candles with an old towel or newspaper. You can get the wax at the drugstore or craft stores; of course, if you have old wax scraps at home, you can recycle and melt them down. Try to avoid beeswax, however, as it has quite a strong odor of its own.
Pour the candle – let's go!
Start by filling a pot on the stove with water and bringing it to a boil for the water bath. When it's ready, pour the wax into the container provided, place it on/in the pot, and let the wax melt inside. If you are using old wax, keep an eye out for impurities and old wicks and remove them with a fork if necessary. In the meantime, you can prepare the candle jar and the wick; it must be placed in the center of the candle. To make sure it ends up where it belongs, there's a time-honored trick: grab a small wooden stick, wrap the wick around it so that part of it hangs down (long enough to reach the bottom of the jar), and then place the stick on the jar so that the wick is in the center of the candle.
Now take some of the lavender and grind it (a mortar is the easiest way). Then add the ground herbs to the warm wax so that the aromas can combine with it. The other part of the lavender is more for looks. Next, scrape out a vanilla bean, mix the vanilla with the warm wax as well, and add the lemon oil at the end. Be careful with the dosage; more than 3 to 5 drops can be too much for delicate noses. If you find the rising smell pleasant, the amount is perfect.
Creativity allowed
Now, before pouring the wax into the candle jars, we need to take care of the rest of the herbs. You can place the lavender in the jar the way you like it best – there are no limits to your imagination. If the jar is completely transparent, you can also place whole flower heads (or even branches) on the glass wall to set the scene. To make it more even, you can let the wax slowly run into the jar while sprinkling in the lavender flowers, or alternate adding both. In the beginning, it's also a good idea to put in just a little wax and see if the jar can handle the heat and doesn't crack. Does the wick still sit in the center when the candle is full? If so, wonderful. If not, while the wax is still warm, you can adjust it. Let it cool, find a pretty place or give it as a gift and you're done!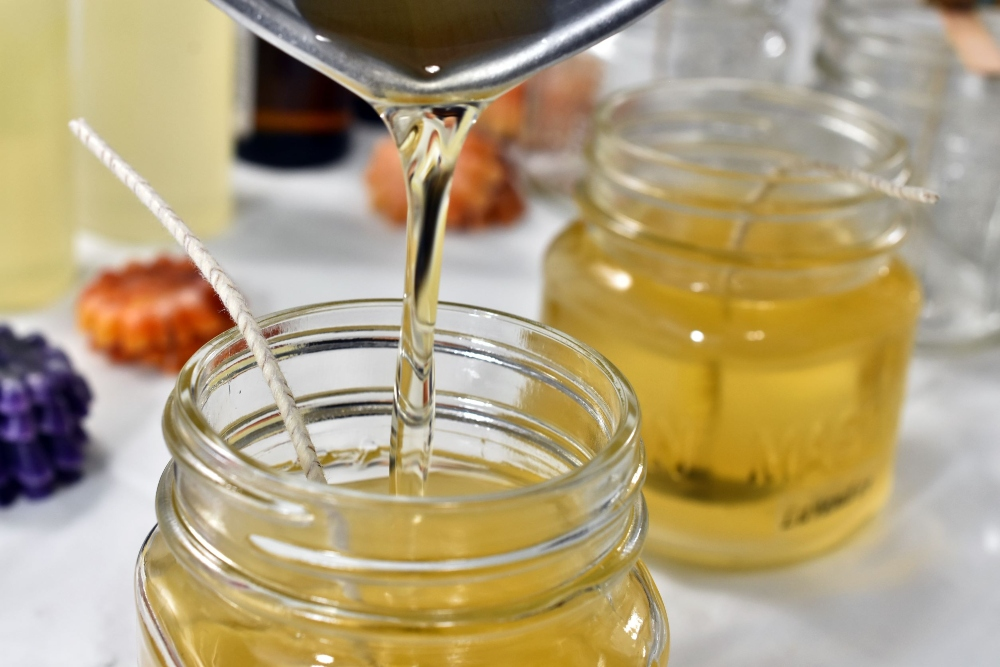 I have 30 years of experience and i started this website to see if i could try and share my knowledge to help you.
With a degree a Horticulture BSc (Hons)
I have worked as a horticulture specialist lead gardener, garden landscaper,  and of course i am a hobby gardener at home in my own garden.
Please if you have any questions leave them on the article and i will get back to you personally.