Gardening makes you happy. This is not only confirmed by science, every hobby gardener feels it when caring for plants. For many people, the home garden means much more than just exercise in the fresh air and lovingly tended plants. Above all, it stands for peace and relaxation. Besides the home, the garden is also the place where senior citizens spend most of their time.
With increasing age, however, it becomes more and more difficult to adequately care for the garden. Gardening is no longer as easy as it was in younger years. Nevertheless, you don't have to hang up your gardening gloves and give up your green oasis of well-being.
We have helpful tips and suggestions for you to make your garden easier to maintain. A senior-friendly garden is a source of pleasure even in old age.
Garden without work: tips to make gardening easier for seniors
Gardening does not have to be a strenuous task. There are numerous tricks to keep your garden looking good, even if you are not very mobile.
Our tips below will help you make gardening easier as you get older.
Low-maintenance garden for seniors
Design your garden and planting in such a way that it requires relatively little maintenance. Choosing the right plants can save you a lot of work. Plant your beds with flowers and plants that require little care. Use slow-growing woody plants and ensure a harmonious garden appearance. Perennials are usually low-maintenance but still beautiful to look at.
Low-maintenance perennial plants include, for example:
Daylily
Star magnolia
Elfflower
Tumbleweed
Other plants that do not need much attention but are also real eye-catchers are, for example, lady's mantle, lavender, bluebell and girl's eye. It is often said that roses are very high-maintenance, although there are also many undemanding types of roses. If you do not want to do without the fragrant flowers, it is best to choose a frequently flowering variety such as Heidetraum roses. Vegetables such as lettuce, peppers, cucumbers and tomatoes are also ideal for planting in pots, where they are also protected from slugs and snails.
Prevent weeds
For many amateur gardeners, weeds are considered the enemy in the garden. Senior citizens usually find it less easy to pull weeds. Therefore, it is advisable to prevent weeds right away by planting over a wide area. Dense planting prevents weed growth in a natural way, because weeds only grow where there is room for them. So-called ground cover plants such as carpet knotweed or elfin flower thus leave no chance for pesky weeds.
Lawn robots for English lawns
Lawns require a lot of care, so you have to mow them several times a year. This is very time-consuming and takes a lot of energy. Wildflower meadows are a less time-consuming and low-maintenance alternative to short-cut lawns. If you still don't want to do without a green lawn, you can get a robotic mower. This will do the hard work of mowing in no time at all and ensure a perfectly cut lawn.
Fence instead of hedge
Evergreen hedges are idyllic and beautiful to look at, but difficult to maintain. Hedge trimming requires a lot of effort and is usually necessary at least twice a year. To save yourself work, it is better to use a different type of privacy screen, such as a wooden fence or wire baskets with stones.
Watering system
Watering the plants takes a lot of time and also costs a lot of energy. To make watering easier, you can install an irrigation system with taps and thus save your energy. There is a wide range of different watering systems. The best thing to do is to go to a specialist shop for advice on the right system.
Ergonomically shaped and back-friendly tools
Even at a young age, posture plays an important role in everyday life as well as in gardening. When gardening in old age, a healthy posture is absolutely essential. Therefore, only use tools that are easy on your body and especially on your back. For example, a tool belt in which you carry your tools on your body prevents you from having to bend down all the time.
Bend your knees rather than hunching over while gardening and take as much strain off your back and bones as possible. Use at least waist-high planting tables and raised beds, and be sure to work at the right height when cleaning your tools. Use telescopic gardening tools with ergonomic handles.
Lowering high standards
Gardens don't always have to look perfect. A neatly mown and well-maintained garden is of course beautiful. But your garden should mainly be for recreation and relaxation. Garden at your own pace and according to your personal motor skills and let go of too high demands. Instead, observe nature in front of you more often and how it develops all by itself.
Accepting help is not a disgrace
It is a perfectly normal process for bones to show signs of wear and tear as we get older and for mobility to decrease over time. Take things more slowly and, if necessary, find someone to help you with gardening. If friends and relatives are unable to do this, it is also possible to request a private garden helper through online services or social services.
What you should pay attention to when gardening in old age
In order to be able to do your gardening without injuries or accidents, there are a few things you should keep in mind:
Reduce the risk of falling
The main cause of injuries in old age is falls. However, falls can be much more serious in old age than in younger years. This makes it all the more important to prevent accidents and injuries, especially in the garden, where you spend a lot of time.
Provide wide, non-slip paths in the garden and avoid steps. Small ramps are a much more pleasant alternative. Examine existing paths for tripping hazards and remove them. With age, the sense of sight often deteriorates. Provide good, non-blinding garden lighting at paths and entrances and install motion detectors and timers.
Take enough breaks
Gardening gives you the good feeling of creating something with your own hands. Gardening also promotes mental and physical fitness and can even be a form of meditation. So regular work in the garden is expressly encouraged, but in moderation! Don't overtax yourself, garden in small stages and take sufficient breaks. Do not plan too much gardening in one day and change your posture and activity in between.
Avoid blazing sun
Always wear sun protection, such as a cap or hat, when gardening in the sunshine. Additionally, protect yourself from UV radiation with your clothing. Use a sunscreen with a sufficiently high sun protection factor. Sunscreen not only prevents sunburn, but also heatstroke and sunstroke. Particularly at midday, between about twelve and three o'clock, you should refrain from gardening altogether and take it easy. Otherwise the heat can quickly lead to circulatory problems.
Drink enough fluids
When you are engrossed in gardening, it is easy to forget to drink enough. To prevent dehydration and dizziness, it is advisable to drink plenty of water when gardening. It is best to keep something to drink within sight when gardening.
Gardening in the fresh air is fun and keeps you fit even in old age. A low-maintenance garden in old age, specially adapted to the needs of senior citizens, makes it possible to indulge in this hobby for a long time to come. If gardening is too much for you, don't hesitate to enlist the help of family, friends or gardening helpers.
Gardening in old age: How to get started in the hobby
The benefits of working in the garden
When you plant vegetable beds or tend fruit-bearing shrubs and trees, one advantage is obvious: you cover a (usually seasonal and rather small) part of your own food supply. Many gardeners find this fulfilling – your own tomato always tastes better than the bought fruit from the supermarket anyway.
Today, however, the real benefits lie primarily in the positive effects on body and mind:
Physical endurance and strength: even without extreme physical exertion, gardening in the fresh air has a positive effect. Studies show that you burn between 100 and around 500 kilocalories per hour while gardening.
So digging beds, planting flowers, raking leaves, chopping wood, mowing the lawn, trimming bushes, harvesting vegetables and all other gardening tasks can be a real fitness programme. As with any physical activity, the positive effect is particularly noticeable when you get into the habit of a certain regularity.
Gardening against dementia?
In our society, dementia is one of the biggest health challenges among senior citizens. The repetitive activity cycle of gardening can counteract developing dementia to some extent. According to Japanese researchers, looking at the greenery also lowers our stress levels while stimulating speech and memory. There is even special garden therapy for people already affected by dementia. Good for the heart, circulation and immune system: Due to the calming, blood pressure-lowering effect of gardening and the training effect described above, gardening is also preventive against cardiovascular diseases such as strokes and heart attacks. The microorganisms you come into contact with during gardening also strengthen your immune system. Balance, well-being, creativity: if you are no longer working, gardening can be just the balance you need in your "retired" everyday life. Hobby gardeners have a more positive outlook on life because the body produces melatonin when spending time in the green, which in turn promotes balance and well-being.
Gardening is also a creative activity, which in turn makes people feel good. Tips and tricks for getting started in the hobby If you want to start gardening or horticulture, you should begin with basic planning, starting with a thorough inventory. How much space is available? Which plants and design elements, if any, already exist? Bear in mind that some plants, such as perennials and bulbous flowering plants, will only appear in the course of the year. If you are dealing with a larger area than a small balcony, you should make a sketch of it and insert the desired elements there. What kind of plants do you want? Are (new) beds to be created and/or a greenhouse/greenhouse to be built?
Which plants and design elements make a coherent whole?
The basic equipment of every garden includes a water source, a place to store gardening tools and often a compost heap that turns organic waste into valuable humus. The basic equipment of every gardener also includes the necessary know-how about the plants that are to thrive in one's own garden. When choosing your first garden plants, we recommend vegetable varieties that you like to eat yourself, as well as ornamental plants that are easy to care for on the one hand, and on the other hand have a look that suits your personal taste. Vegetables that are considered suitable for beginners and which, in our experience, thrive in most gardens include radishes, courgettes, beetroot, garlic, herbs, onions, chard and Jerusalem artichokes.
Gardening with as little effort as possible Gardening can be quite a challenge for those who, for example, no longer walk well, have back problems, fall frequently or need to take care of their joints. Just as with living space, accessibility needs to be considered. With a little more planning, this is not a problem: make sure that garden paths are safe, tread-proof and always cleared. Have hanging beds installed that can be adjusted to a comfortable height via a pulley – this benefits both those who can no longer bend over well and wheelchair users who would not be able to reach low or high beds. Raised beds are also a great way to be able to do gardening at a comfortable height.
A sensible watering system, preferably consisting of several sprinklers, also saves you from lugging around full, heavy watering cans or handling water hoses, which can also quickly turn out to be a tripping hazard. Ergonomic gardening tools such as special spades, transplanters and shears that reduce the effort required are also recommended. In addition, you should preferably grow plants in your own garden that require less care. Looking for the right hobby
Are you still looking for a hobby and don't really like gardening?
Do you have certain interests but don't know how to find like-minded people? In this case, you will find suggestions and concrete tips in our article on the topic of hobbies for older people.
Gardening for seniors: How to succeed in gardening even in old age
We have had to wait long enough for this, but now the time has come: with spring, nature comes to life and shows itself from its most beautiful side: the leaves sprout on the trees and present us with a veritable sea of blossoms. Our own garden is also calling. It is time to get active there again. Planting, weeding, harvesting: The fascination of having your own garden does not end abruptly with age. Many senior citizens also find fulfilment in gardening. Especially since gardening keeps you mentally and physically fit – even in old age. But when the body no longer really cooperates, gardening can quickly become an effort for seniors. But that does not have to be the case: You can do gardening even in old age and with limited mobility. In this article, we explain how to make your garden suitable for seniors and give you tips on plant selection.

Seniors in the garden: tips for garden design
A fall can have considerable consequences in old age, so the first thing to do in a garden for seniors is to minimise the risk of accidents. This includes first and foremost unpaved paths, on which there is a considerable risk of slipping, especially after a downpour. In addition, the garden paths should offer enough space so that people with limited mobility can also manage them with a rollator, another walking aid or, if necessary, even with a wheelchair. Stairs should be equipped with a stable handrail. Of course, it is even better if you bridge differences in height with a ramp. In this way, the garden even becomes barrier-free for seniors.
Take small breaks and enjoy
Older people should not overestimate their own strength when gardening. An irrigation system makes gardening much easier for seniors. Sufficient seating not only transforms the garden into a small oasis of well-being and a place of retreat, but also gives older people in particular the opportunity to take a break from gardening and enjoy the splendour of the plants after the work is done. You can also ensure greater safety when gardening for seniors by providing adequate lighting.

Easy on the back: a raised bed for seniors
Whether weeding or fertilising: It is the care and cultivation of the soil that makes gardening for seniors so strenuous. Bending and kneeling puts a strain on the back and joints. This difficulty can be avoided with a raised bed for seniors. With a raised bed, older people can garden in an upright position. A raised bed not only benefits the elderly, but often also the plants, rewarding the gardener with a bountiful harvest of vegetables or a charming display of flowers. Thanks to the raised working surface, even people with limited mobility can do the gardening. Because with a raised bed, gardening for seniors is even possible while sitting down.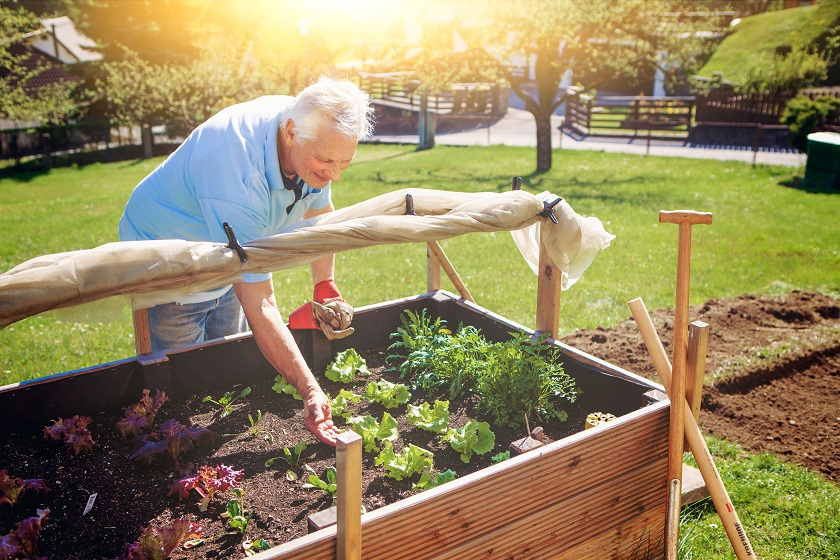 Plants for seniors
In addition to a garden design suitable for seniors, the choice of plants can also make gardening for seniors much easier: low-maintenance flowers and shrubs that reduce the amount of work in the garden are particularly suitable as plants for seniors. Flowering shrubs, for example, are preferable to labour-intensive beds in old age. Perennial plants that overwinter also save older people the time-consuming task of replanting in spring. Ideal plants for seniors are:
slow-growing small trees such as star magnolia and ornamental cherry, which do not require pruning
slow-growing and undemanding shrubs such as lilac, red elderberry and evergreen rhododendron.
However, a senior garden does not have to consist exclusively of ornamental plants. You can just as easily grow fruit and vegetables in a raised bed and run your greenery as a kitchen garden.
Mentally and physically fit in old age: seniors in the garden
With the right plants and an age-appropriate design in the garden, gardening for seniors is possible even with limited mobility. In this way, people can benefit from the positive effects of gardening well into old age. When seniors spend time in the garden, the fresh air has a positive effect on their health and general well-being. Gardening requires knowledge and skills that keep people mentally fit in old age. Gardening also gives seniors and their day a fixed structure that determines their daily routine. And when older people can enjoy a blossoming and thriving garden after their work is done, this also considerably increases their self-confidence.
Low-maintenance garden for seniors
For many older people, their own garden is their favourite hobby: tinkering around in the fresh air, planting and harvesting flowers, vegetables and herbs keeps them fit and is fun.
But with increasing age, gardening becomes strenuous and it is difficult to bend down and vigorously prick the old tools into the earth. Can you continue to use your beloved garden without the work becoming too much for you in old age, despite your physical limitations?
With suitable measures, the garden can be designed to be easy to maintain, so that you can continue to enjoy your gardening life. The top priority in garden design is ease of care.
TIP
Barrier-free outdoor design is subsidised by various institutions if you have a care degree, e.g. the care insurance fund for wheelchair ramps, lowered door sills, handrails in the outdoor area, etc. or the KFW Bank. Some federal states, such as Bavaria, also subsidise garden conversions in special funding programmes. It is important to find out about the possibilities of a subsidy from your care insurance fund, the KFW or the state association.


Laying out the garden
Raised beds for perennials, vegetables and herbs make work easier and take the strain off your back. To make work noticeably easier, the bed should be about 70 – 100 cm high. Then planting, tending and harvesting is possible without bending over. If the border consists of a stable wall, it can also be used as a place to sit and rest. Even weeding can then be done comfortably while sitting. The depth should not exceed 140 cm so that it is easy to maintain. Mobile work tables are suitable for planting and repotting.
Safe and wide garden paths reduce the risk of falling. Non-slip slabs and firm borders are important. If the path is 120 cm wide or wider, it can be used by wheelchair. Even those who are still able to walk well benefit from straight and stepless paths: wheelbarrows and other tools can be moved to the place of use more easily.
Textured or rough paving slabs or coarse-pored paving stones are suitable as path surfaces. Smooth surfaces that reflect the sun are not suitable because the pupils react less well to differences in brightness with increasing age. Also unsuitable are wood and sandstone, materials that quickly become algae and slippery.
TIP
A garden for seniors should be designed to be as barrier-free as possible. This increases the chance that the gardener will still be able to move around independently and safely at an advanced age. Steps are then difficult to negotiate without outside help and wheelchair users can get stuck in wide gaps in the ground.
There are alternatives for irrigation when lugging watering cans becomes increasingly difficult: irrigation systems save energy and labour. An alternative to water-saving drip systems can be an underground water pipe with several taps directly at the planting areas. Without the use of technology, closed planting with ground-covering perennials reduces water evaporation and thus the need for watering.
Terrace
People who really need care no longer tend a garden, but enjoy the sun and fresh air on the terrace when they are still out and about due to limited mobility. That is why the terrace has a special significance in the last stage of life. But only a barrier-free or low-barrier terrace is still used with the help of a rollator or wheelchair, even with increasing immobility. High door thresholds often prevent free access and are the reason why elderly and disabled people in particular do not use the outdoor seating area as much as they would like to.
Important design elements:
A patio door that is free of thresholds and can be opened easily while seated
An area of at least 4.5 square metres with a movement and turning area of at least 1.50 m x 1.50 m.
An ideally transparent parapet at a height of at least 90 cm to prevent a fall and at the same time not restrict the field of vision even when seated.
A non-slip, continuous floor covering. Slatted frames and wooden floorboards are not suitable.
Protection from sun, wind and cold by easily operated sun blinds or electric awnings, adjustable windbreaks and possibly radiant heaters for the cooler months.
Adequate lighting and weatherproof sockets.
Low-maintenance planting
The garden should be planted in such a way that it becomes increasingly low-maintenance over the years. Instead of annual plants, long-lasting perennials, flowering shrubs and perennial bulb flowers are a good choice. The classic cottage garden or vegetable garden gives way to individual, low-maintenance raised beds. Dense perennial planting not only saves water, but also makes it difficult for weeds to come to the surface.
A lawn is always high-maintenance: mowing and watering, especially in summer. Ground covers and bark mulch are a low-maintenance alternative. For patios, courtyards and balconies, a mobile garden with flower pots as large as possible is a good idea. The larger, the more water is stored and the less often watering is needed. Evergreen plants that require little work throughout the year are ideal.
Here are some plant recommendations for particularly low-maintenance plants:
Ground covers that push back weeds: Spotted hazel, mock berry, ysander and Christmas fern.
Perennials with a long flowering period: daylily, purple coneflower, yellow coneflower, stonecrop, bellflower, orchid, girl's eye, phlox, asters, woodruff, daisies.
Shrubs: Centaury, Corkwing, Fleshberry, Hibiscus, Hydrangea, Boxwood.
Vegetables: climbing beans, potatoes, onions, radishes, carrots, beetroot, chard and pumpkin.
Seniors should plan their chores well and not try to do everything in one day. Heavy lifting, e.g. of potting soil, should be done by technical or human helpers, for example motor-driven wheelbarrows or four-wheeled trolleys with tipping devices.
Special: Sensory garden for people with dementia
A sensory garden is designed to appeal to people's different senses: seeing, hearing, smelling, tasting and feeling.
Seeing seasonal changes (blossom, fruit, harvest, colourful autumn leaves, defoliation) as well as foraging and nesting animals.
Feeling, touching and "grasping" wood, tree bark, stones, plants with different surfaces, sand, moss or chestnuts. Feeling the weather with sun, wind, rain and snow. Digging in the earth with your hands, wading through the cold water with your bare feet.
Tasting seasonal fruit and vegetables. Home-baked apple pie or fresh potato soup remind you of the past and give you the feeling of being needed.
Listening to water splashing or birds chirping calms and relaxes. Wind and sound chimes activate.
Smelling roses, lavender, rosemary, but also freshly mown grass or wet earth after rain.

Tools & aids
Some manufacturers have adapted to declining mobility and strength and developed gardening tools especially for senior citizens. Comfort tools such as electric hedge trimmers, robotic mowers or ride-on mowers also make gardening easier for young people.
Especially for seniors, there are hand tools with special ergonomic handles that can be gripped firmly even by stiff arthritic fingers and rheumatic joint problems. Large tools such as planting trowels, garden claws or pendulum hoes have an extra-long ergonomic handle, additional handles or telescopic poles to reach plants and weeds without bending down. Important for the selection:
Choose lightweight yet sturdy metal or plastic tools, possibly high-quality tools for children to save weight.
Long handles for easy access and less bending.
Extra handles and notches for a better grip. Existing tools can often be upgraded with a foam handle or telescopic handle.
Garden seats or benches available from medical supply stores or garden centres, as well as knee cushions, make work on the ground easier. They are easy on the back and knees, as is a practical rolling seat. Many models have practical pockets and holders for garden tools. If you have a spacious garden with raised beds, gardening with an electric scooter is also possible.

TIP
To avoid falls, only use safe ladders that are also available with extra railings on the side as well as handholds on the upper platform so that light tree work can still be carried out by yourself.
To avoid lugging heavy watering cans, it is worthwhile to use a sprinkler system with an irrigation computer. Irrigation systems are also practical for absences such as travelling, visiting family or hospital and rehab stays.
In a low-maintenance garden for seniors, the garden is a place of rest and relaxation. Enjoying the first rays of sunshine on the garden lawn is just as much a part of this as meditative gardening. The older generation in particular appreciates the healthy change in the fresh air.
However, mowing the lawn or digging up the soil to grow potatoes and other vegetables becomes more difficult with increasing age. It is wise to adapt your garden to the changing demands in good time. The easy-care design of the garden is just as much a part of this as a body-friendly way of working and the use of easy-to-handle gardening tools. There is no need to forego a lawn or a vegetable or flower bed, because it all comes down to the right design.

Easy-to-maintain garden for seniors – Designing the lawn
Every garden should have an easy-to-maintain area. A lawn is ideal for creating lots of space. Whether for playing children, garden parties or a coffee chat at the garden table, the possible uses are manifold. However, the types of grass available for a lawn are just as varied. If the lawn is used a lot, for example for children's football games or frequent garden parties, hard-wearing and sports turf should be used. This is somewhat more expensive than other types of grass, but can withstand very heavy use. Universal or utility turf is sufficient for lawns that are subject to normal wear and tear. It is dense, hard-wearing and easy to maintain. Depending on the light conditions, however, the seed must be adapted. If the lawn is very shady, there is a special shade lawn that does not tend to become mossy so quickly. Ornamental lawns, on the other hand, which also have no moss or weeds due to their density, require more maintenance and should therefore be avoided in a low-maintenance garden for seniors.

Tips for a low-maintenance lawn
When seeding the lawn in a low-maintenance garden for seniors, the most important thing is to ensure a level surface. Bumps and slopes quickly pose a tripping hazard and are also less appealing. To make lawn care easier later on, you should also consider laying guide and boundary wire, which grows easily into the grass and serves as a boundary marker for electric lawn robots. The function of the lawn robots is comparable to that of automatic hoovers. The small companions drive independently over the lawn and thus mow the lawn. The boundary wire gives a magnetic signal that is not crossed by the device. In addition, precise control is possible via remote control or smartphone. This saves the strenuous work of mowing the lawn later on.

Designing the vegetable beds
A little more effort must be planned for the care of the vegetable bed. However, here, too, there are elements that make gardening easier. Backache from bending down to weed and harvest vegetables or from digging up heavy soil can be avoided.
Vegetables that can easily grow in raised beds are used for this purpose. Planting in high vegetable beds facilitates care and harvesting. The work can be done comfortably while standing. In addition, raised beds also protect against heavy slug infestation. To make the raised beds themselves look good, they can be underpinned with natural stones.

The right flowers for the bed
Similar raised beds can also be used for flowers in a low-maintenance garden for seniors. Since the amount of care required here is much lower, depending on the species, the beds do not have to be quite as high as the vegetable beds. The larger the beds are, the better the plants come into their own. Seed mixtures containing wildflowers such as daisies, marigolds and poppies can be used to create colourful accents in the garden.When planting, attention should be paid to flowering time, colour and size. In this way, the flowers can be harmoniously coordinated and a long-lasting flowering splendour can be ensured. There is a wide choice, ranging from early-flowering species such as lily of the valley, daffodils or tulips to late-flowering ones like the October daisy. Fragrant flowers, perennials and woody plants are also popular.

Fragrance and colour in a low-maintenance garden for seniors
Lavender shrubs delight every summer with their typical lavender scent. In addition, dried lavender can be used as a natural moth repellent or bath additive. Geraniums can also be used to create colourful accents in the garden. They are easy to care for and flower for most of the year. However, as with other non-hardy plants, special winter storage measures are necessary. Once the plants have faded, they must be cut back vigorously. Then carefully remove the root ball from the bed and place it in a smaller container for the winter. An unheated but frost-protected cellar room is usually sufficient for this. More time-consuming and labour-intensive plants that are relatively large, however, are only suitable for sprightly pensioners, because carrying them into the winter quarters can require some effort.
We wish you a lot of relaxation and not too much work in your low-maintenance garden for seniors!
I have 30 years of experience and i started this website to see if i could try and share my knowledge to help you.
With a degree a Horticulture BSc (Hons)
I have worked as a horticulture specialist lead gardener, garden landscaper,  and of course i am a hobby gardener at home in my own garden.
Please if you have any questions leave them on the article and i will get back to you personally.