What if you could supply yourself with energy? And what if you had just picked the vegetables for lunch fresh from the garden? You would be independent of large corporations because you use what nature gives you. And you would be on the exciting path to a self-sufficient life. Are you up for it? Then read on! We'll show you concrete ideas on how you can live self-sufficiently: in everyday life and in the areas of housing, food, electricity and heating.
What does "self-sufficient living" actually mean?

Living self-sufficiently means finding a way to self-determination and becoming independent – on different levels, which concern, for example, housing, energy and food supply, but also leisure time.
This can succeed if you start to think in cycles and live with nature. The focus should be on what you really need to live a good life. An essential aspect of self-sufficiency is also to connect with other people, engage in exchange and create networks.
What benefits can self-sufficient living offer?

Living self-sufficiently is becoming interesting and desirable for more and more people. All too understandable, because the world is upside down: waste of resources, exploitation, climate change … A self-sufficient life brings a bunch of new opportunities:
You shape your life in a self-determined way: When you live self-sufficiently, you grow whatever you want: vegetables, fruit, herbs, mushrooms. You decide what ends up on your plate.
You free yourself from system constraints and waste of resources: You want to know where the energy you need for heating comes from and be one hundred percent sure that it is obtained sustainably? When you live self-sufficiently, you use what nature gives us and handle it responsibly.
You live together instead of alone: Living self-sufficiently means living alone in a hut in the forest? If you want to, yes. But it doesn't have to be that way! You can just as well network with other people, cooperate with them and live communally.
Self-sufficiency also works in the community

Become a hermit? Not necessarily! Living self-sufficiently also means joining forces with other people.
From the herb box to the humus toilet: How self-sufficient can it be?
If you want to start living self-sufficiently, start with the small things and draw the circles bigger bit by bit. It is always important: How far do you want to go?
First steps towards self-sufficiency can be: cooking your own food, buying potatoes and onions from farmers in your region, growing herbs on your balcony and harvesting basil, oregano and rosemary. If you want to live completely self-sufficiently, put a humus toilet in your garden and generate electricity for your Tiny House from solar energy.
Just get started: 5 ideas for more self-sufficiency in everyday life.

Drop everything and start living self-sufficiently? Sounds like a huge project? No, because we can all live a little self-sufficiency in our everyday lives, too. Here are 5 tips from our experts on how to make it happen:
1 Put it in the jar, put the lid on – and see what happens!

Try fermenting! Kimchi, kombucha, kefir – these incredible dishes and drinks with vitamin-rich and probiotic ingredients will get you hooked! What can you put in the fermentation pot? For Marcel Kruse and Geru Pulsinger, the authors of "Magic Fermentation", everything that can be found in the garden, forest and meadow.
Self-sufficiency tip: What grows regionally can be transformed into colorful, international dishes using a variety of fermentation techniques – with no effort, no energy wasted, and no waste.
2 Mix it, baby!

Conventional creams usually contain kerosenes, silicones and synthetic fragrances that can cause allergic reactions or acne. Free yourself and your skin from these unnecessary ingredients and mix your own favorite cream with the tips from natural cosmetics expert Barbara Hoflacher.
Self-sufficiency tip: Sunflower oil, olive oil, lanolin, beeswax and hydrolate – with these 5 ingredients you can make a cream yourself in no time!
3 Feel like building (on) something?

With every new project (no matter how big) you learn, gain confidence in yourself and your abilities and can already trust yourself with something bigger the next time. Creating something with your own hands is not only a fun pastime – it also makes you independent and does you good. Especially if you spend the rest of the day at the computer.
Self-sufficiency tip: How about the potato pyramid from raised-bed queen Doris Kampas? The pyramid is space-saving, so you can easily grow potatoes on your balcony or terrace!
4 Your body is your temple: Make something out of it!

The most important thing in sports? The movement! Theresa Mai, author of "How we could live", likes sports for which you don't need expensive equipment. That's because they bring a self-sufficiency factor to exercise, and you can do them (almost) anywhere.
Self-sufficiency tip: A work-out with your own body weight, e.g. with a self-imagined circuit training, or movement games like wheelbarrow driving – let off steam and go crazy!
5 Time outdoors: experience nature with all your senses

What do you do when you're outside? Running, hiking, swimming in a quarry pond? Do you know what it's like to be outside – without a goal or a program that pulls you along inside? Spending time outside, looking, smelling, discovering: It grounds you and creates a wonderful connection to nature.
Self-sufficiency tip: How about cooking outside or just observing what's there? See what you discover!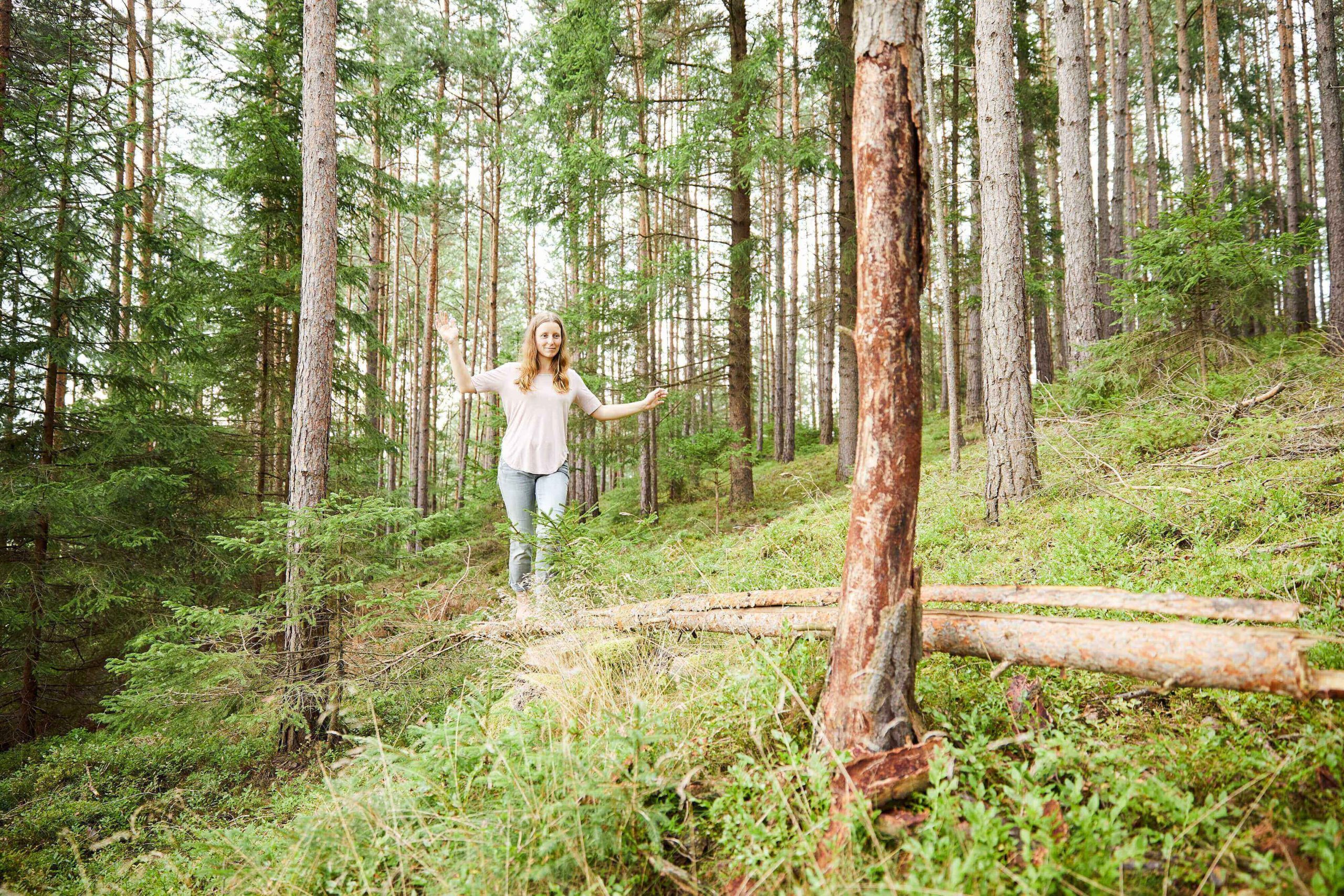 The 1×1 of self-sufficient living
You now know how to bring a bit of self-sufficiency into your everyday life – but what about living, food and energy supply? Find out here and – spoiler alert – you can also live self-sufficiently when you're sitting on the toilet.
My own four little walls: How do I want to live?

When building a house, for example, you can pay attention to the materials you use. It is also important that they come from the region and that the energy required for extraction and production is low.
Wood: This high-quality building material is available in abundance in Austrian forests, for example.
Sheep's wool: You can use this material very well for insulation. The wool provides excellent protection against heat and cold and regulates humidity.
Or here are a few more inspirations of what new forms of living are available:
Small – and mega fine: the Tiny House is the epitome of small living and reduced to the essentials.
Let's move closer together: A community living project can be: one house, six apartments, one shared kitchen. The apartments are divided flexibly among the residents* depending on their living situation.
On four wheels: Self-sufficient living in a mobile home? That is also possible! What's important is a large water tank, plenty of storage space and a large roof area on which you can mount a small photovoltaic system – so you can live for a good while.
Let's talk about money: How much does a self-sufficient house cost?
It depends on the size of the living space: A ready-to-occupy Tiny House of 15 to 35 square meters costs between € 25,000-60,000. If you want a bit more space and a self-sufficient house with 50 square meters, you have to reckon with about € 85,000.
Where does what ends up on my plate every day come from? Here are a few tips for you on how to be self-sufficient and live self-sufficiently.
If you have the opportunity to plant a permaculture garden, climb the self-sufficiency ladder to the top: Grow apple trees, wild herbs, and your favorite vegetables there.

No garden? No problem! You can also create a balcony garden and easily grow radishes, zucchini and tomatoes there.
Are you a mushroom fan? So are we! Did you know that growing oyster mushrooms is easy? With a little patience, you'll soon be cooking up your own mushrooms.

Keeping chickens in the garden is not difficult, but you should plan a little time for it. As a reward, you'll get breakfast eggs from your own chickens! And they are the ideal recyclers of organic waste.
Let there be light: Electricity

There are different ways to generate electricity self-sufficiently. However, unbeaten in terms of cost per kilowatt hour generated: the sun. Once installed, a photovoltaic system provides reliable electricity for decades.
In 3 considerations to your photovoltaic system:
Think about how much electricity you need: for a single-family home all year round or for your camper when you're on the road? Which power consumers do you want to run (cell phone, WLAN, kettle, fridge)?
Take a close look at the location: How is your property oriented, how is it shaded? Where will you mount the photovoltaic system?
Get to know the puzzle pieces that make up your photovoltaic system: Batteries, inverter, charge controller & Co.

Heat it up: Heat

Don't worry, if you want to live self-sufficiently, you don't have to freeze at home. There are various ways you can make yourself cozy and warm:
Heat from the socket: Electricity heaters are usually very cheap to install. In winter, however, the sun usually does not provide enough high-quality energy to bring an entire house to a comfortable temperature.
Water-based central heating systems: This heating system is more complex, but has the maximum self-sufficiency potential. Here, one heat source (such as a pellet stove) is at the center, and its heat is then distributed throughout the house.

Keep it flowing: Water
connecting to the water network is highly recommended. You can optimize your needs by using rainwater intelligently and purifying your wastewater. That way, you can climb the self-sufficiency ladder a bit higher:
Let it rain: Use rainwater to water your garden, for example. Did you know that with the right filters you can also use it as drinking water?
A second life for your water: Turn used water from the bathroom, shower or water into usable drinking water via natural processes? This is also possible with the right filters!
Theresa Mai and her team were inspired by this idea: to turn used water into drinkable water again. They researched and tested, and it worked. You can read about how they succeeded in "How we could live"!
And away with it? The toilet and its contents

Insane numbers: 60 liters of feces are produced per person per year and flushed down with 12,400 liters of the best drinking water. Frightening, isn't it? A separation toilet offers a high level of comfort, but does not require any water or sewer connection at all. Here's how it works:
A mechanical divider is built into the seat of the composting toilet, separating the front and back areas.
If we sit down properly, the urine ends up in the front and the solids in the rear area. This is also where the toilet paper is supposed to go. Both are stored in the tank.

You can use urine as fertilizer in the garden, for example, but beware: the nutrient concentration is very high! Be sure to use a mixing ratio with water of 1:10.

The right place: Where can you live self-sufficiently?

Enough talk, what if things get really serious now? Where and how can you live self-sufficiently? What regulations do you have to observe? Here you will find the most important information:
Self-sufficient living: in the city or at the village?
It is usually easier to lead a self-sufficient life in the village than in the city, especially if you own a larger plot of land. In addition, the connection to nature is more intimate in the village: your own garden and a walk in the woods deepen this relationship enormously.
And living self-sufficiently in the city – is that even possible? It's more difficult because rented apartments are connected to the power grid, for example. And putting a photovoltaic system on the roof? Almost impossible.
Self-sufficiency tip: But even if you live in an apartment building, you can move toward self-sufficiency: Consider joining forces with other tenants to create a community garden, or learn more about urban farming or market gardening.
Living Self-Sufficiently: Ready to commit to it?

You see: If you want to live self-sufficiently, you don't have to turn your entire life upside down overnight. You can start step by step and go as far as you want. Ferment your favorite vegetables and preserve them, plant a balcony garden at home and – if you have the possibility – put a photovoltaic system on your roof or in your garden. That's how you climb the self-sufficiency ladder in one fell swoop!