When it comes to Asian plants, many people think only of bamboo. But the Far East has so much more to offer than just fast-growing grasses. Radiant flowers in bright colors, imposing plants with spreading fans and unusual leaf shapes – the selection is huge. And in addition to exotic houseplants, there are also numerous plants for tubs and gardens.
The Japanese garden
An Asian corner in the garden, which is equipped with appropriate plants, provided with statues and a watercourse, can be a soothing eye-catcher. But for this, of course, do not have to choose only plants that actually find their origin in Asia.
Thus, dwarf lilac from Korea can stand next to oak-leaved hydrangeas from North America, while Chinese reed and globally widespread sedges loosen up the picture.
Here is – almost – allowed what pleases. Only on the requirements for location and care should be paid to the individual plants, whether they are Asian or not.
In return, the Asian plants reward with exotic appearance, which can form an interesting contrast to the native plants.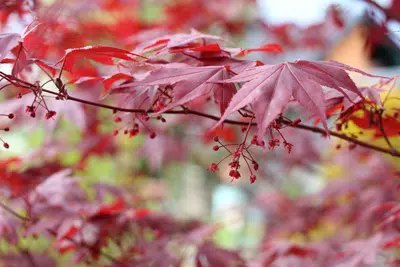 Requirements for the substrate and care

As versatile as the selection of Asian plants is, their substrate and care requirements vary.
Many species will do fine with simple potting or garden soil. Others require a loose substrate. Therefore, there can be no universal recommendations for the right soil.
The situation is similar with regard to care. While certain genera thrive with minimal care, others require regular pruning, frequent watering and fertilization.
The right location for Asian plants
What applies to the soil and care, also applies to the location.
From barren mountainous areas to tropical places where nutrients are found in abundance – Asian plants are found in a large space. Therefore, the location needs to be customized.
Popular Asian houseplants

For those who do not have a garden available and, of course, for those who want to bring the exotic directly into their own home, Asian houseplants are the ideal choice.
However, due to the great variety, the decision can be difficult.
Among the most popular Asian houseplants are:
Bamboo
Lucky bamboo
Bat flower
Nepenthes
Palm fern
Arrow leaves
Hose plants

In addition, there are some orchids, such as the Asian grape orchid and the orchid genera Dendrobium and Cypripedium.
They all look exotic, although not all of these plants bear flowers. And even if they differ greatly in care and location, they can all beautify the balcony in the summer or find a sunny place on the terrace.
Exotics for the garden
In full sun or dense shade, in the dry rock garden or on the bank of the garden pond – Asian plants can find a place in numerous places in the garden. But not all of them are also winter-hardy, which is why in some cases it is preferable to cultivate them in a container.
In long and harsh winters, additional protection is advisable, so here the Asian plants do not differ from native plants.
Among the most popular Asian plants for the garden and containers are:
Bamboo
Chinese date
Indian flower cane
Golden lotus banana
Dwarf maple species, such as the red slash maple.

They thrive outdoors, but can also be placed in a conservatory. In any case, it is important to find a sheltered location where they are not exposed to strong winds or excessively heavy downpours. With the exception of bamboo, this shows itself to be very hardy and recovers quickly after damage.
Bamboo

Bamboo is probably the most famous Asian plant, which can be found in many varieties in stores. It can be cultivated as an indoor plant or used in the garden as a fast-growing screen and spreads a discreet but nonetheless exotic charm. To thrive, bamboo needs plenty of water, which is why regular watering and keeping it constantly moist are important. The ideal spot in the garden is the bank of a pond or watercourse.
Chinese date

The traditional Chinese date is not only a decorative Asian plant that can stand freely in the garden or in a container. It also develops exceedingly delicious fruits. And these are not only sweet and delicious, but also healing. Which is why they have a firm place in traditional Chinese medicine. With a frost hardiness that extends to -25°C, the Chinese date survives even harsh winters without any problems. From spring to fall, however, the Asian plant wants to be warm and as sunny as possible. If it is not offered this, the fruits will not ripen.
Bat flower

The bat flower or Tacca chantrieri is a truly unusual plant. It originates from the tropics of Southeast Asia and therefore prefers a warm and very humid location. Frequent watering and spraying are therefore part of its care, but the bat flower rarely needs fertilizing. If its requirements are met, it rewards hobby gardeners with an exotic, dark bloom – which almost looks a bit eerie.
Lucky Bamboo

Lucky bamboo is not an actual bamboo species, but it is exceedingly well known. Especially shortly before the New Year, numerous specimens can be found on the market, as the small plant is supposed to bring luck and prosperity. It needs even humidity and can also be kept in hydroponics. In addition, it requires – contrary to many claims – a sunny location, where it is as consistently warm as possible. In summer, it can be grown outdoors, but it can also be grown indoors all year round without any problems.
Golden lotus banana
The Golden Lotus Banana is a rare and largely unknown Asian plant. Its leaves are already eye-catching, but the real highlight is during the unique flowering period. This can last up to a year and is especially pleasing to butterflies.
Optimal is the culture of the Golden Lotus Banana in a tub, which can be placed on a sunny balcony or also in the room, conservatory or greenhouse. Planting outdoors should only be done in a viticultural climate, but even there the golden-yellow flowering plant needs additional winter protection.
Indian flower cane

Indian flower cane is an interesting and unusually shaped Asian plant that is sure to attract attention in the flower bed. Bright flowers and large leaves determine its appearance. The plant needs plenty of water, especially during the flowering phase, which is best supplied in the morning or evening. However, the Indian flower cane is not winter-hardy, which is why it is recommended to plant it in a container. In any case, after the first night frost, the roots should be brought indoors for overwintering.
Nepenthes

Nepenthes or pitcher plants are carnivorous plants whose most striking feature is the deep and colorful hollow vessels. In these, the Nepenthes trap insects, which are first paralyzed in the digestive juices and then digested. Due to the pitchers, the Nepenthes are best kept in a hanging basket, which should be hung brightly but not in full sun. In addition, it requires temperatures of at least 20 ° C and abundant moisture.
Palm fern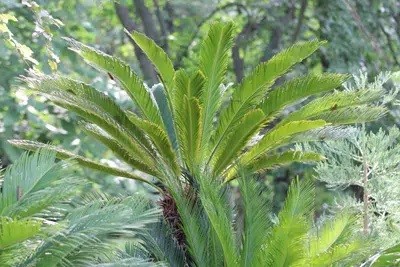 Palm fern, as its name suggests, reminds a cross between a fern and a palm tree. In fact, it is a remnant of prehistoric times. Palm fern grows very slowly, but has a very long life expectancy.
It tolerates dry air, but appreciates regular spraying and watering. Fresh air and a sunny location will spur growth. In summer, the palm fern should be fertilized weekly in very low concentrations, and in winter, care should be kept to a minimum.
Arrow Leaves

Arrowleaves, or alocasias, display strikingly veined leaves and interesting, if restrained, flowers. They do best in moist warmth, making them ideal plants for kitchens and bathrooms. Other than an aversion to lime-rich water, arrowleaves are very low-maintenance Asian plants. Even with the right location, where there is at least 20°C and no dry air, most of the effort is covered.

Tubular plants

Tubular plants are among the carnivorous plants and trap insects inside their long tubes. To attract them in the first place, interesting patterns and color schemes are found on the upper sections, making the tubular plant an eye-catcher.
A mixture of peat and sand is suitable as substrate, which should always be kept moist. Even waterlogging is tolerated by the tubular plants, if it receives sufficient light and heat.
Dwarf maple species

Dwarf maple species bring a noble Asian touch. The feathery leaves are filigree, can appear in green or red. And this even alternates. The Japanese blood maple changes leaf color throughout the year, making it a special decoration in tubs and gardens. Planted freely in the garden, the maple is hardy up to a temperature of -24°C, but in a tub it should not have to endure frost.
Conclusion

In the great variety of Asian plants and houseplants you can find suitable plants for almost every location. The plants are usually easy to care for and reward hobby gardeners with unusually decorative shapes and unusual flowers.