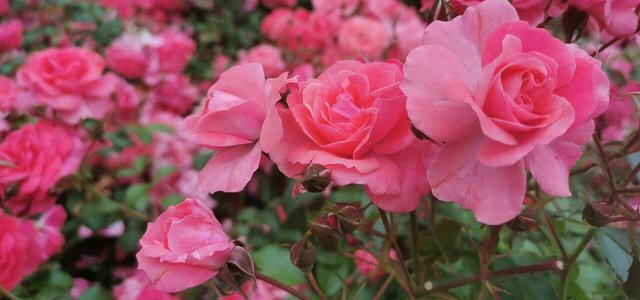 If you want to cut roses, you should do it in spring and autumn. The right time to cut back roses is extremely important, so that a few months later again sprout many flowers. We give you an overview.
If you want to prune roses in the garden, it's all about the right timing. Ideally, you can prune the roses twice a year, first in spring and later in autumn. Pruning roses back in the spring or spring allows the plants to put their energy into new blooms (called "reblooming").
However, there are some roses that bloom only once a year. Therefore, pruning in the spring for a rebloom is unnecessary for them. They can get by with a single pruning in the fall.
Pruning roses in spring and autumn: when is the best time?
The exact time when you should prune the roses in the garden depends on the weather:
Pruning roses in spring/spring: as soon as no more heavy frost is expected in mid-March to early April, you can cut back the roses.
Pruning roses in autumn: Early October to late November is the right time for pruning. You can tell when this is the right time by the fact that all the flowers on the roses have faded and the leaves are already beginning to wilt. Ideally, the days are slowly getting colder, but there is no frost at night yet.
Basically, roses need a very strong pruning. Then a few months later they will also sprout again with full force. How much you should prune the roses, however, depends on the type of rose. Some of the rose classes you can leave a few centimeters above the ground, others need almost no pruning at all.
Experts refer to roses as having "eyes" to guide pruning. Eyes are knobs on the rose branch where new shoots will grow later. When pruning roses, you should always start above an eye.
Autumn and spring: pruning roses – how much?
Pruning sometimes also differs between annual and perennial flowering plants in the different classes of roses:
Climbing roses (annual): Cut roses back to about half their original size. If there are still older shoots growing near the ground, cut them off completely.
Climbing roses (perennial): Cut roses above the third eye. This equates to about 15 to 20 inches above ground. Older shoots near the ground should be removed completely (Instructions: Pruning Climbing Roses).
Shrub roses (annuals): Remove only old and diseased shoots of the rose. Major pruning is only necessary if the roses look bare and have hardly any strong shoots left. Then you can cut them back to half their size (Instructions: Pruning Shrub Roses).
Shrub roses (perennial): Shorten roses by a third of their size. Old shoots (three to five years old) should be removed completely.
Bedding and noble roses: shorten strong shoots down to about five eyes and weak shoots down to about three eyes (about 15 to 20 centimeters high). Older shoots close to the ground should be removed completely.

Tips for pruning roses

Here's what you should keep in mind when pruning roses:
To prune roses, you should use sharp scissors.
When cutting roses, always cut at an angle. Then water will not collect on the cut and fungi and other pathogens will have a harder time.
The best place to cut a rose is about five millimeters above one eye.
You can recognize frost damage to a rose by brownish discoloration of the branches and pith. Cut them back until the pith turns a white color.
Wild shoots always form directly at the root. Flowers and leaves are much smaller and take a lot of strength from the plant. Cut them off close to the root, removing some of the soil around the root ball.
After pruning the roses in the spring, you should fertilize the plants:
I have 30 years of experience and i started this website to see if i could try and share my knowledge to help you.
With a degree a Horticulture BSc (Hons)
I have worked as a horticulture specialist lead gardener, garden landscaper,  and of course i am a hobby gardener at home in my own garden.
Please if you have any questions leave them on the article and i will get back to you personally.