Battery hedge trimmers are popular with amateur gardeners and professionals alike because they have many advantages. They can be used almost anywhere, work quietly, require little maintenance and are easy to operate.
The range is large. There are nearly 500 different models from more than 50 manufacturers. Among the well-known products are Husqvarna hedge trimmers and.
Both manufacturers are known by their quality products. They offer hedge trimmers of various designs for all types of hedges, for example, telescopic cordless hedge trimmers for high hedges or hedge trimmers with a large cutting force that can cope with thick branches.
This comparison should help you find the right cordless hedge trimmer for your garden.
Hedge trimmer Husqvarna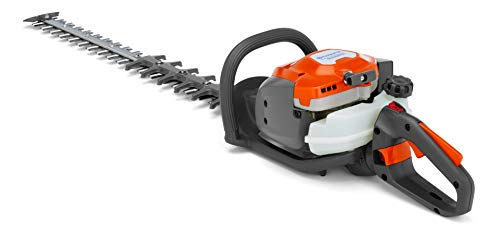 In the category of cordless hedge trimmers, the Swedish company Husqvarna AB offers 11 models. Of these, 3 products belong to the telescopic hedge trimmer type, while the others are standard models. The majority of the products are designed for trimming medium-sized hedges (up to about 2 m in height).
Husqvarna telescopic hedge trimmers are also suitable for high hedges (over 2 m growth height). In general, the models of the Swedish manufacturer are characterized by their solid workmanship, clean cutting pattern and comfortable handling.
Stihl cordless hedge trimmers
In the Stihl cordless hedge trimmer category, you can choose from more than 30 models. Of these, 4 devices belong to the telescopic hedge trimmer type, while the other products are standard models.
The majority of Stihl cordless hedge trimmers are suitable for trimming medium height hedges. Similar to the Husqvarna hedge trimmer, we also look at some criteria for Stihl cordless hedge trimmers to give you good advice when buying hedge trimmers for your garden.
In order to determine a hedge trimmer comparison winner and to be able to advise you on the purchase of hedge trimmers, we take a closer look at some criteria.
Cutting strength

The value ranges in the category Husqvarna hedge trimmer from 15 to 24 mm. Stihl cordless hedge trimmers, on the other hand, have a cutting thickness of 23 – 26 mm.
The small value is sufficient for thin branches and is also suitable for fine cutting. Large cutting thickness is needed for thick branches.
Blade length

You can buy a Husqvarna hedge trimmer with a blade length between 45 – 70 cm. A Husqvarna hedge trimmer with a short blade is suitable for fine cutting and small hedges.
Stihl cordless hedge trimmers are offered with a blade length of 45 – 75 cm.
A long blade is ideal for high hedges or for wide hedges. Shears with short blades are suitable for fine pruning or precise topiary with their clean cut pattern.
With a long blade you get a clean cut and save time because you can trim the entire width in one operation.
Weight

This factor plays a decisive role in the handling and hedge trimmer comparison winner. For a telescopic hedge trimmer, it is especially important. The higher weight makes work with the device difficult.
Due to the leverage, the influence of the factor is further increased for a telescopic hedge trimmer. Lightweight models in the category Husqvarna hedge trimmer weigh a little more than 3 kg, while a heavy Husqvarna hedge trimmer can weigh more than 4 kg.
Light Stihl hedge trimmers, on the other hand, weigh little more than 2 kg, while heavy equipment can reach more than 4 kg in weight. The high weight is typical for models with high power.
Battery

This point plays an important role when buying hedge trimmers. Each Husqvarna hedge trimmer from the group of battery devices is powered by a Li-ion battery.
An integrated rechargeable battery is not offered. Each Husqvarna hedge trimmer uses a system of interchangeable batteries, the voltage of which is 36 V.
Compared to a Husqvarna hedge trimmer, you have a choice between 18 V and 36 V batteries when buying Stihl brand hedge trimmers. The smaller batteries are used in the less powerful devices, while large batteries with high capacity are used for powerful models, suitable for radical pruning, for example.
Which brand is better?

According to the analysis of all data in the Husqvarna hedge trimmer and Stihl hedge trimmer category, a Stihl hedge trimmer is on average better than a Husqvarna hedge trimmer. This statement is based on the following facts:
Test reports. In independent tests, the best Stihl hedge trimmer achieved an overall rating of Very Good (1.0 ) and 4 other models were rated Good, while the best Husqvarna hedge trimmer just achieved an overall rating of Good with a score of 2.5.

Selection. In the Husqvarna hedge trimmer category, you can choose from 11 models, while Stihl has more than 30. There are small models with a clean cut pattern and large hedge trimmers for rough work.
Cutting strength. This is another area where an average Stihl hedge trimmer is usually superior to a Husqvarna hedge trimmer. Many Stihl models have greater cutting strength and will cut through even thick branches without issue.
Weight. On this point, Stihl offers the greater choice. You'll find lightweight models with low weight in the range, though you'll also find heavy hedge trimmers for tasks where power is required.
The fact that Stihl emerged as the winner in this comparison does not mean that hedge trimmers from Husqvarna are unsuitable. They are also quality devices that have excellent workmanship and perform well.
I have 30 years of experience and i started this website to see if i could try and share my knowledge to help you.
With a degree a Horticulture BSc (Hons)
I have worked as a horticulture specialist lead gardener, garden landscaper,  and of course i am a hobby gardener at home in my own garden.
Please if you have any questions leave them on the article and i will get back to you personally.