Gardening is basically all year round, but the main work is concentrated in the middle of the year. Some work in the garden must be done at a certain time, others can usually be postponed a little. That's why it's important to plan the schedule well so as not to be overwhelmed by work. Which gardening work in the summer, you will learn in this blog post!
Gardening in the summer month of July

July usually marks the beginning of the warm months of the year, and with them the summer gardening. To always have enough water on hand for watering the garden, large water containers are suitable. These often become breeding grounds for mosquitoes, which can be very annoying, especially on summer evenings. The best protection against mosquitoes is a tight-fitting lid. For a garden pond, goldfish are a natural way to keep pesky mosquitoes away. Since watering in the summer takes work and time, we recommend using sprinklers. Especially for large areas, sprinklers will save you a lot of time.
Further, you will prevent flies if your compost pile is turned at least once during the summer. Make sure that the inside goes outside and the outside goes inside. This will keep the compost pile moving during the warm summer temperatures and prevent rotting.
Gardening in July: beds and plants

Loosen any vegetable beds that become available only lightly with a digging fork and do not dig them up completely. Deep digging destroys the structure of the soil and also kills some of the soil bacteria that are important for plant growth.
The cabbage of harvested peas and bush beans should not be pulled out, but cut off just above the ground. The roots will still produce nitrogen, which will benefit the succeeding crop. In addition, the root system enriches the soil with humus substances.
In tomatoes, breaking out the side shoots is the most important measure of gardening in the summer month of July. At the end of the month you can also start sowing spinach for autumn needs. You should only leave strawberry beds for two to three years and clear them immediately after the berry harvest. On older plantings, even with the best care, the yield declines very sharply, so it is no longer worth the care. Strawberries, by the way, can be cultivated very well on mulch film. The fruits remain clean, weed control is not necessary, and under favorable conditions can get a significant increase in yield.
Especially for apple trees, it may be necessary to support the branches during summer gardening to prevent branch breakage. But beware: between March and September, heavy pruning is prohibited, so leave it at a topiary. You can read more about this in our article on pruning. When picking plums, remember that the wood of this type of fruit is particularly fragile. Therefore, the ladder must be placed very carefully to the tree.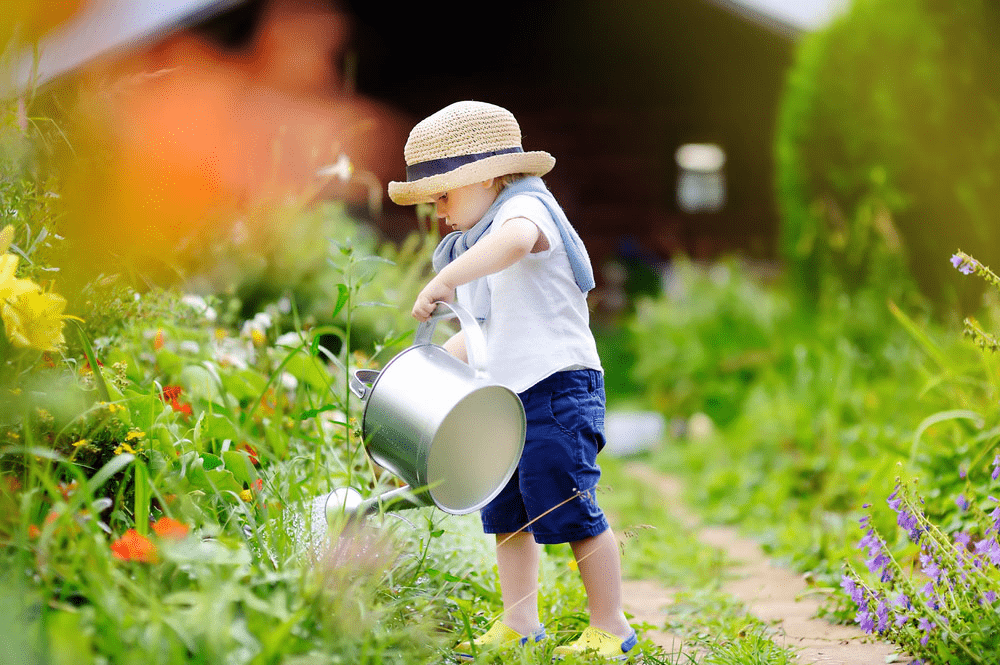 Gardening in August

You spend a lot of time in the garden in summer? Then you should use the warm August to clean and paint your fences and furniture. Paint and water dry faster in the warm sun. You can also repair your shed or arbor roof. Keep in mind that the water hose should not be left in the sun too long, otherwise it will become porous and brittle.
Summer in the garden: berries and trees

Early potatoes should be harvested only when the tubers are well ripened. It is best to wait until the cabbage turns yellow. At the beginning of August, cut off the tips of the main shoots of the tomatoes, because the following fruiting stalks will not be ready for harvesting. Also, harvest the lower leaves only if they show signs of disease.
Currant and gooseberry bushes can be thinned out after harvest. This has the advantage that you can see better in the leafy state. The worn raspberry canes and blackberry vines should also be cut off as early as possible close to the ground. Only the four to six strongest shoots should be left per plant. After cutting, the supporting framework must be put in order. With this work you should not wait until winter, because in frost driving stakes makes difficulties.
All young conifers can be planted and repotted from the end of August. They should be protected against wind pressure until they are firmly rooted in the ground. August is also the best month for cutting conifer hedges.
Our tip: A Fiskars pruning giraffe makes pruning a breeze. If you want to cut thick branches, a high-quality Fiskars lopping shear is suitable.
Gardening work you should do in the summer
You toil away in the fall and spring to make the garden beautiful, everything blooms and thrives, and then you have to work in the garden in the summer? Well, if you have done good preparatory work, then the garden work in the summer is reduced quite significantly, but you will not get around it completely. But it is within limits – it depends on what you want to have in the garden.
Gardening in summer: vegetables, berries, fruit

If your garden consists not only of flowers, now is the time to harvest tomatoes, cucumbers and zucchini. If you take them off regularly, the plant will always produce new fruits, because it can then put the energy into growth. If you have planted garlic, then it is ripe when the greens turn yellow.
If you want to have strawberries in the garden, now is the best time to plant them. You can also sow radishes, spinach, winter leeks and beet now – for a harvest in the fall. Re-seeding herbs should also be part of regular summer gardening.
Planting work for the summer month

If the green of tulips, daffodils, and daffodils has turned yellow and you'd like to keep the bulbs dry until fall, you should pull them out of the ground now – but it's not mandatory.
Also cut back faded plants regularly to stimulate growth. This way, roses and perennials in particular will keep getting new blooms. You should also remove wilted rhododendrons and peonies. For better growth next year, fertilizing is recommended.
As you can see, there's no getting around gardening in the summer. But it doesn't have to be overdone either. Still, we have more tips in July:
If you cut the lawn regularly, it will grow more lush and become denser.

Watering is essential when gardening in the summer. Do not water during the day, but ideally in the morning, then the plants can best absorb the liquid. Alternatively, you can also water in the evening. It is better to water a few times sufficiently than several times too little.
Do you have hedges? Then these can be cut back now to give it an attractive appearance again. However, this pruning is only a shaping or maintenance pruning or the removal of annual shoots (hedges may not be pruned year-round, learn more here).
Very important: weeding! If you do this more often, you won't have as much work doing it. It is best to remove the weeds with roots, so that growth is inhibited. And loosen the soil nicely!
If you have berries like gooseberries, currants or even strawberries in the garden, now is harvest time. Let it taste good!
There is a lot to do in the summer
Enjoying the garden from a shady spot on a summer day, there is probably nothing better in the warm season. Small breaks in the lush greenery reward the diligent amateur gardener for the many hours spent on gardening. And yet there is still a lot to do even in summer. First and foremost: water, water, water. In hot, dry summers, as has been the case in recent years, it makes sense to reach for the watering can or garden hose even twice a day. However, the best time of day for watering is early in the morning. Then it is still cool enough for the plants to absorb the water well and for the leaves to dry off quickly. If you don't reach for the watering can until midday, you run the risk of the plants burning from the combination of water and sunlight. If watering is urgently needed in the midday heat, care should be taken to water only directly on the soil, close to the plant, and under no circumstances should the leaves be watered.
What is also important for a blooming garden is a certain consistency in picking off the wilted flowers. Whether geraniums, petunias, marigolds or any other summer flowers, if what has faded remains on the plant, seeds will develop. As a result, energy no longer flows into the formation of new flowers, but into seed formation. The result is that the plant no longer blooms as vigorously. And besides, a bunch of brown, wilted flowers just doesn't look aesthetically pleasing either.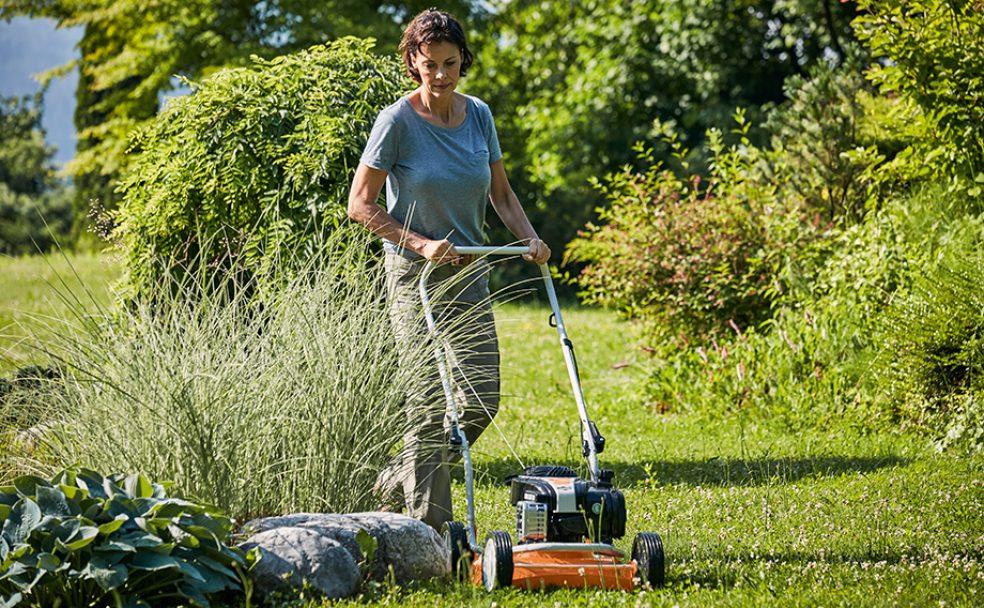 How to turn the garden into a paradise

So if you want a lush blooming garden paradise, you should regularly, preferably every one or two days, pinch off or cut off all wilted flowers. For more detailed information on care, it's also worth asking at a garden center – preferably when you're buying your summer plants. The experts there know exactly what requirements the various plants have and what exactly you should pay attention to when caring for them.
Also with fertilizing one can make for example so some wrong. From the unsuitable product to the wrong time of application, the layman can make so many mistakes. It is best for the hobby gardener to seek professional advice before buying, so that he or she can then really be rewarded with a great display of flowers. And also with the vegetable cultivation a regular fertilizer gift is worthwhile itself, because with many plants, like tomatoes or cucumbers, one can harvest only so strongly.
And this is also probably the most beautiful work in the summer: the daily harvest. From beans, to radishes, zucchini, carrots, cucumbers and tomatoes, to eggplant and peppers from the greenhouse, you are regularly rewarded with delicious homegrown vegetables during the warm season. What is important here is to weed regularly and work the soil between the plants with a flat rake. On the one hand, this prevents new weeds from springing up, and on the other, it keeps the subsoil a little moister.
Gaps in the vegetable patch should be replanted as soon as possible in order to be able to harvest again quickly. It is worth taking a look at a planting calendar to see which varieties are still suitable for sowing at a later date. If you want advice, simply ask at a gardening store before buying seeds.
But a garden is of course not only for working, but above all also for relaxing. If you want to enjoy your garden furniture for a long time, you should definitely pay attention to good quality when buying it. Because outside, table, chairs or lounge corner are constantly exposed to wind and weather and must withstand moisture and temperature fluctuations well. Of course, it is also worth investing in a good weather protection, which protects the furniture safely from rain, but still evaporates the moisture and thus prevents mildew stains from occurring in the first place. Suitable covers are available from specialist dealers – for example, also for a corner seating group.
Rustic wooden chairs for the cottage garden

Whether wood, metal, plastic or rattan – before you decide on garden furniture, you should look around well in the specialized trade, because the selection is huge. It is important to pay attention to personal taste and garden style. To a colorful cottage garden rustic wooden chairs probably fit more than the chic designer chair. In addition, you should ask yourself where the furniture should stand. Under a roof on the terrace or perhaps directly on the lawn under a shady tree? Because questions like these are crucial in choosing the right material. It is best to ask again in the specialized trade, because nothing is more annoying than if you have only one summer long joy in the new garden furniture.
Of course, to create an oasis of well-being, you do not need to buy a completely new garden equipment. Often it already contributes to a nicer atmosphere if you regularly treat yourself to something new for the garden. How about a comfortable Hollywood swing or a new lounge chair, for example? Even with smaller new acquisitions, you can make yourself comfortable in the garden – and really enjoy the summer.