These herbs can grow optimally indoors:
Parsley: It needs at least eight hours of direct sunlight per day. If there is not enough natural sunlight, it is best to grow the plants under special lamps.
Chives: Chives like bright light and cool temperatures.
Basil: The herb needs bright light and warm temperatures.
Sage: It likes it dry. If spindly branches appear, they should be cut back.
Lemon balm: It is easy to grow from seed. The fresh scent does well in salads and drinks.
Oregano: The soil must be loose and well drained to avoid overwatering. The plant needs partial to full sunlight either in a well-lit window or under a special light for at least six to eight hours per day.
Rosemary: The soil must be well drained, but not completely dry out.
Thyme: Very well drained or gravelly soil is especially important. Spray moisture can be used to get the plant through until you see new growth.
Every meal is a little bit tastier with fresh herbs. But herbs cannot be grown outside all year round. So here are some tips for growing herbs in your own kitchen.
Herbs provide color and fragrance in the kitchen

Especially in winter, indoor herb gardens provide welcome greenery and scents in any home and especially in the kitchen. Even if you have little experience with plants or limited space, you can easily bring herbs indoors.
Some herbs are better suited for growing indoors than others. These include parsley, basil, sage and thyme. They spice up tasty stews, casseroles and roasts, and not just in winter.
The right location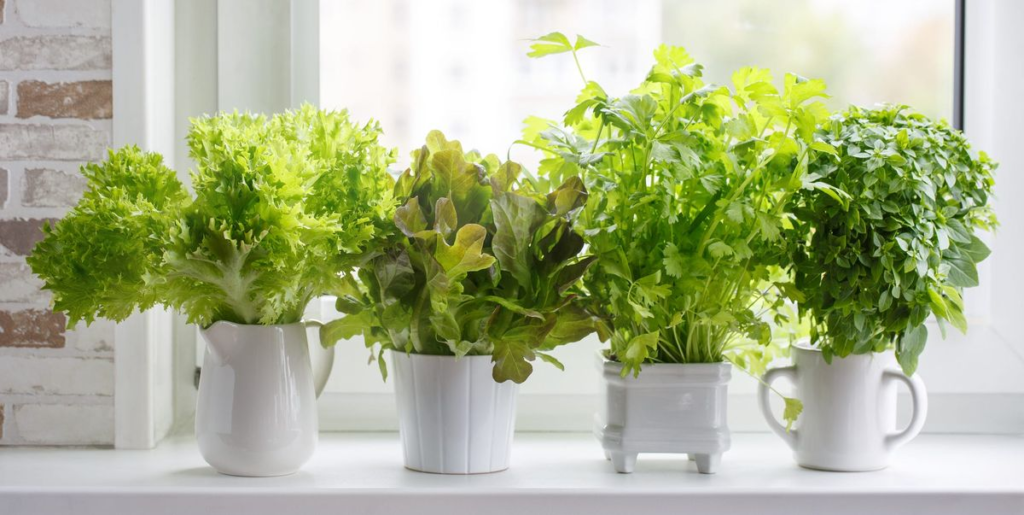 A place with sufficient fluorescent light should be found. This can be a table, the kitchen counter, a shelf or even the wall. For the plant, the right light is food. Six hours of bright daylight should be seen by the herb plants in their place, and in no case should be placed in a place strongly affected by drafts. In summer, they can be placed in a sunny or even shady place on the windowsill.
Selection of the planter

Fully grown plants are better for beginners than seeds that have yet to grow any. Make sure the planter you choose has drainage holes at the bottom and is deep enough overall to encourage proper root development. The plant should never be left in the wet, as this could cause the roots to start rotting.
You can plant multiple herbs in the kitchen in one container or select individual pots for each herb plant. Overcrowded pots can lead to fungus, so make sure to space them out a bit when planting. Fertilize herbs once a month with an organic fertilizer.
Potting soil is filled into the container, and then the plant is placed on top. Potting soil is also added around it and pressed firmly. At the top of the edge should remain about 3 cm free, so that when watering nothing runs beside it. The herb garden in the house becomes really lush with this vertical garden on three levels:
Automatic herb station

If you don't have a green thumb, I recommend a practical lighting and watering station like this one. With "Click & Grow" no daily watering or even fertilizing is necessary, the water tank only needs to be filled every three to six weeks
Plant soil with air holes was developed using nanotechnology. Built-in growth LED lamp, this promotes plant growth at an early stage and regulates itself. This station here comes with three pots of basil: