In a large garden, you can give free rein to your imagination and put your own ideas into practice as you please. Beautiful flower beds, decorative barbecue and seating areas, garden ponds with associated streams, or simply extensive lawns and planting areas for bees and other insects are just a few ideas that can be integrated into the garden.
People who only have small, narrow garden plots available to them often don't have as much freedom. The garden can quickly seem too crowded and certain areas may be inaccessible.
With a good plan and a few tips and tricks, even small gardens can be designed and transformed into a true oasis of well-being. Whether it's a practical kitchen garden, a colorful ornamental garden or simply a place for rest and relaxation, don't hesitate, make a plan. Transform your garden into the place of your dreams. We will show you helpful tricks, for planning, color selection, or planting and give you design tips along the way.
A good plan is needed

To make a small and narrow garden look bigger, there are several options that can be implemented with good pre-planning. First, answer the question: what kind of garden do you want?
A colorful colorful ornamental garden, or a kitchen garden where you grow your own vegetables for delicious salads? Or would you rather build a quiet sitting area in combination with a barbecue area, and also build a play corner for your children? The possibilities are almost unlimited. Even though the area is a real challenge for many people, you can still put your projects into action.
Make a sketch and divide the garden into different areas. Right here is already the trick to make smaller gardens look bigger.
Division into different areas

Remember: Small gardens look especially small when the beginning and the end can be seen at a glance. Or in other words, when all elements of the garden can be seen immediately. Curiosity is what makes people. It is much more interesting when the individual sections are not immediately visible. The whole additionally ensures that the garden as a whole appears larger. So build your garden in such a way that sections of your choice are hidden.
This can be done, for example, with a suitable privacy screen. For sitting and playing corners, it is very good to hide them behind a privacy screen. Depending on the orientation, additional shady places are created, which are a real boon on hot summer days. For a natural privacy screen, you can take, for example, climbing plants or small narrow hedges. Climbing roses are popular plants that are popular in many gardens. With a suitable aid of wood, the whole thing looks particularly natural and embeds itself in most gardens
very well.
Curved lines and paths

In addition to dividing into different areas, there is another trick to making small gardens look bigger. Round shapes is the name of the magic trick. This can be easily connected to our first idea, the division of space. But why do small gardens look bigger when you incorporate rounded elements and curved lines?
Simple. A long so-called "towel garden" with straight shapes looks monotonous. With the help of round design elements, the opposite is created. The small and elongated shape of the garden is broken, so to speak, and looks larger to the human eye.
For the implementation you have several options. You can create curved garden paths or round beds and terraces. How about a round lawn edge, for example? Raised beds can also be built in the garden in this way. With the help of granite palisades, round shapes can be easily realized. With the slender natural stones, you can thus implement curved or oval raised beds, which are not only extremely stable, but also different sizes of your choice are possible.
Another option are curved garden paths that you pass through your garden. Natural garden paths can be implemented with bark mulch, for example. This is quick, saves time and also requires little effort. With this option, you can work particularly accurately and create shapes of your choice.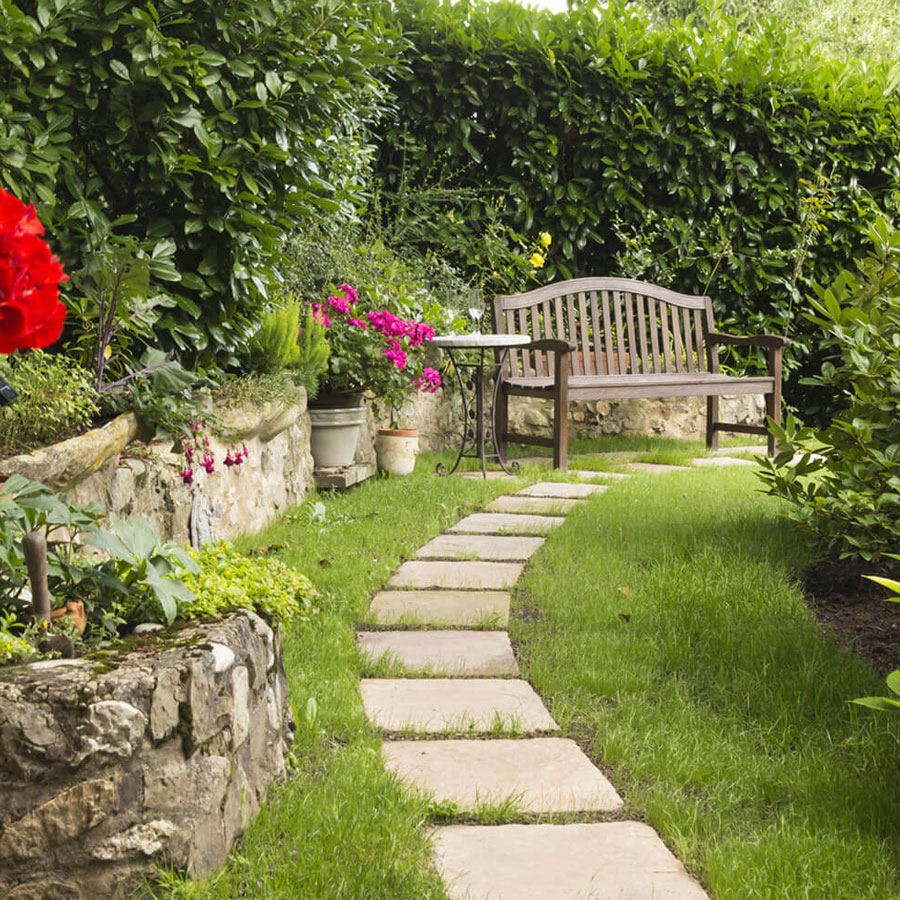 A curved flagstone garden path achieves a great effect when space is at a premium.

You can implement especially small and narrow paths with this material – perfect for small gardens. Curved garden paths can also be planned with small gravel stones or chippings. As you can see, with good planning and the right materials, it's not that hard to build a small narrow garden and make it look bigger at the same time. Once the initial preparations are complete, you can move on to the finishing touches.
Bright colors for the garden

No matter how big your garden is, the right choice of colors always plays an important role in the overall look. Light colors make small narrow gardens look larger than dark hues. For example, create colorful flower beds where light colors dominate.
But this is not only possible with plants, you can also create a friendly overall atmosphere with light-colored stones such as granite or white marble gravel.
Tip: Don't overload your garden with colors. Less is more. Focus on up to three main colors depending on the size and length of the garden, otherwise your garden project can quickly look too crowded and you'll achieve the opposite effect.
The right plants and trees

What plants are best for small gardens? It's important to choose plants that aren't too bulky or take up the majority of the garden. Perennials are popular plants for small gardens. They come in a variety of shades. For example, how about verbena, sunchokes, astilbe or the evergreen ribbon flower?
Think trees don't fit in small gardens? They don't have to. Columnar trees are popular plants for a "towel garden." They blend in very well with the overall look. Possible trees are: the columnar beech or the columnar cherry, which scores with its beautiful light pink flowers. But you do not have to do without other trees at all. There is a simple trick for this: prune the trees from below. This will make your garden look much bigger and you will have space under them for a nice shady sitting area or a suitable flower bed.
Herb lovers also get their money's worth in small gardens: by building a herb snail. The bed is built in a spiral upwards and divides into different climate zones. This way you can combine your favorite herbs in one bed. Whether rosemary, basil, parsley or mint, in a herb snail they all find their place without the whole taking up too much space. It doesn't get any better than this.
Seating areas and matching garden furniture

With garden furniture you make your garden really homely. Whether deck chairs or sitting areas between your beds, that invites you to relax or to let the day end comfortably. What could be better than lying in the sun, drinking a cool drink and reading a good book?
Folding wooden furniture is very suitable for small gardens. With soft cushions in shades of green or other light tones that go well with the main colors of your garden, you complete the whole coherently. But not only single chairs are possible. A small garden lounge can also be integrated into the garden. Corner furniture is best suited for this. This has the advantage that unused areas can be used at the same time.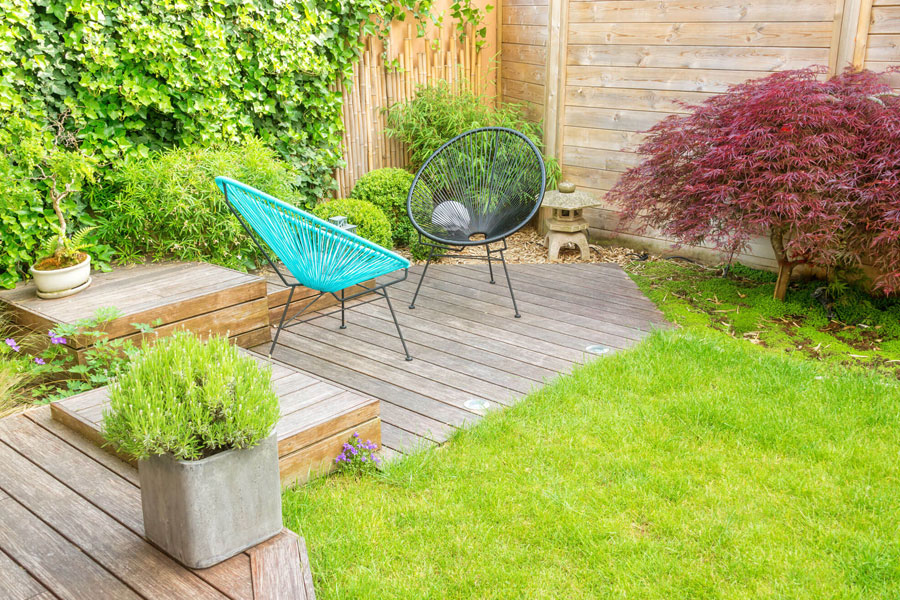 The surfaces made of wood at different heights create a cozy sitting area.

Create accents with vertical gardening

Finally, we'd like to introduce you to an inspiring and space-saving option for your "towel garden": Vertical Gardening. As the name suggests, this type of garden design involves placing all plantings and decorative elements vertically, that is, with an eye towards height. Here, for example, you can plant small herb beds in natural wooden boxes that are placed higher up. Your privacy screen can also be decorated in this way with plants that climb to the top.