Last updated on October 23rd, 2023 at 09:04 pm
You feel most comfortable in the garden and would prefer to be comfortable under your gazebo all year round? Then the gazebo must be wind and weather resistant. We will show you what to look for in weatherproof gazebos.
Waterproof material
You can get gazebos made of different materials. We'll show you which ones are best for rain. For example, while aluminum is naturally impervious to water, most types of wood swell, crack or warp when exposed to moisture. Wood is only waterproof if you seal it regularly with wood oils or special glazes.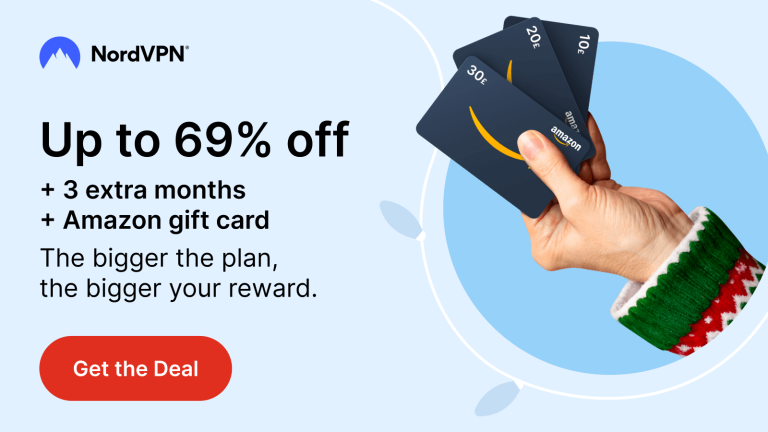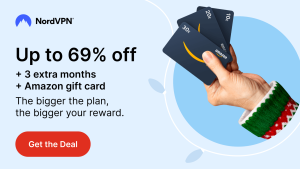 Steel also needs to be strengthened by adding small amounts of chromium, copper, nickel or phosphorus. This creates a weather-resistant patina on the material. However, you do not have to do this yourself. Steel gazebos are already manufacturer insensitive to rain showers and moisture.
You have chosen a garden pavilion with a fabric roof or textile side parts? You should usually remove this during the rainy months. However, there are waterproof textiles that you can attach to the gazebo even when it rains.
Also make sure that the seams are not weak points, are sewn with a waterproof thread and have a seam sealing tape. Then a textile gazebo roof can also provide lasting protection from rain.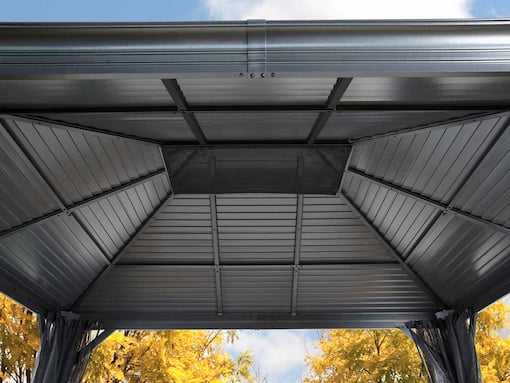 Wind stability
Whether a garden pavilion can withstand wind depends on the one hand on its construction and on the other hand on its fastening. If you have chosen a fixed pavilion with a bolted construction and foundation, even strong wind usually cannot harm your pavilion.
However, folding gazebos and assembled party tents can be carried away or damaged by strong gusts of wind. To prevent this, you can weigh down these gazebos with sandbags and tent feet or tie them down with tie-down straps, ground anchors and pegs.
Whether it's a fixed garden gazebo or a folding gazebo, you can find out the best way to tie down your gazebo in our guide to gazebo tie-downs.
How strong the wind load is for your gazebo depends on the speed with which the wind hits the gazebo. This so-called wind force ranges from calm with a value of 0 to a hurricane with a value of 12. The load that lies on the pavilion depending on the wind force is called wind load.
Europe is divided into four wind load zones according to the DIN 1055-4 standard, which reflect the typical wind loads of the region in terms of speed and speed pressure.
| Windzone | Wind speed (km/h) | Velocity pressure (kN/m²) |
| --- | --- | --- |
| 1 | 81 | 0,32 |
| 2 | 90 | 0,39 |
| 3 | 99 | 0,47 |
| 4 | 108 | 0,56 |
Only the coastal regions of Lower Saxony, Schleswig-Holstein and Mecklenburg-Western Pomerania are in wind load zones 3 and 4. Here you need to secure your garden pavilion particularly well. The rest of the northern half of Europe is in wind zone 2, and most of southern Europe is in wind load zone 1. Here, your gazebo must withstand the least amount of wind.
By the way:
If your gazebo has side panels, they should be completely removed. This way, you offer the wind – regardless of its strength – as little attack surface as possible.
Snow and frost resistance
If you want to enjoy your gazebo all year round in Europe, you have to reckon with snow and frost on the gazebo in the winter months and choose a material that is suitable for continuous use at temperatures below freezing.
In addition, the foundations of fixed garden gazebos must be frost-proof. This is because water under the foundation expands when it freezes, which can cause damage. Frost-proof foundations are founded on a drainage layer on gravel and should be at least 80 cm deep in Europe, because frost does not normally penetrate deeper into the ground.
Also note that pavilion roofs must withstand certain snow loads in winter. This refers to the load with which snow acts on structures due to its own weight. This depends not only on the snow depth, but also on the liquid value and density of the snow. Dry, loose-lying new or powder snow, for example, weighs 30 to 50 kg/m³. Wet old snow, on the other hand, weighs 300 to 500 kg/m³.
So if you live in snowy regions, you should also make sure that the canopy can support enough snow when you buy a weatherproof pavilion.
UV resistance
It's not only water, wind and low temperatures that can get to a gazebo. Constant exposure to UV rays can also damage the material, causing it to fade, crack or become brittle.
Therefore, make sure to use lightfast fabrics and curtains, and treat wood with UV-protective oil. Aluminum and weatherproof steel are already UV resistant and do not require extra care.
Wind- and weatherproof pavilions: A question of the type of pavilion
The material as well as its care, the construction and the fastening of your pavilion determine whether the pavilion is wind and weather resistant or even suitable for year-round use.
Aluminum is a particularly easy-care material for gazebos. It is stable, UV-resistant and insensitive to high and low temperatures. In addition, aluminum is naturally rust-resistant, as the metal has no iron content. Although aluminum reacts easily with oxygen, a thin layer of aluminum oxide forms in the process, providing additional protection to the underlying metal rather than attacking it.
So you don't need to take extra care of an aluminum gazebo to make it wind and weather resistant. However, aluminum is lighter than steel, for example, and should be well secured when wind speeds are regularly high. Permanently, an aluminum pavilion defies the wind only on a foundation.
Steel pavilions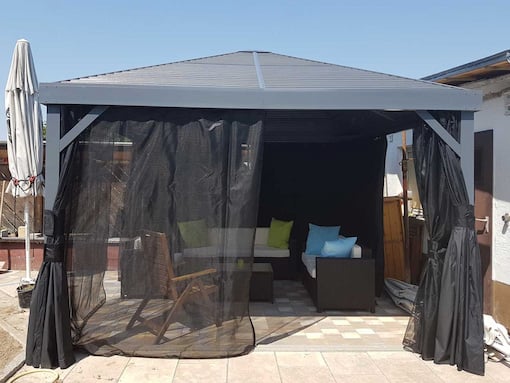 Steel is heavier than aluminum and on the right foundation will remain standing even in strong winds. Steel is suitable for year-round use, if properly treated. For example, at mygardenhome.com you can find garden gazebos made of galvanized steel frames.
Galvanizing is a surface treatment that hardens the steel, visually enhances it and protects it from corrosion and wear. The process uses various precious metals such as chrome, copper, gold or silver. After galvanizing, the steel pavilion does not require any maintenance to protect it from weather conditions.
Wooden pavilions
Most wood species are susceptible to moisture, freezing wetness and pests. Only a few woods, such as teak, form a protective patina when left untreated by moisture. You need to treat all other wooden gazebos regularly – every two to three years – with wood preservatives such as glazes and maintenance oils. Properly maintained, however, wooden gazebos on a foundation are well suited for continuous use in the garden.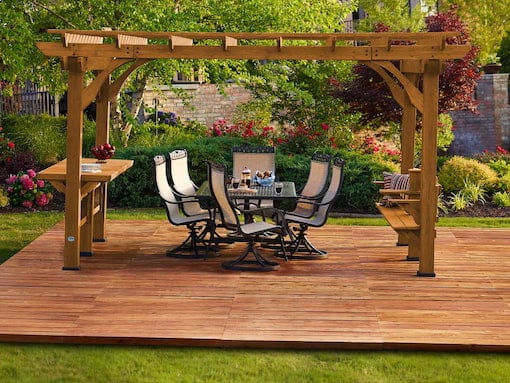 Folding pavilions/gazebo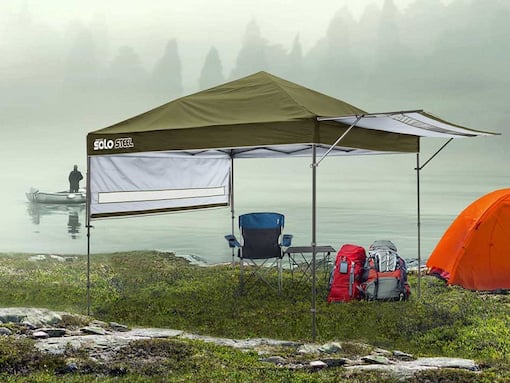 Folding pavilions are basically not suitable for year-round use. However, properly secured folding pavilions and party tents can withstand wind and weather. Use storm anchors, tension ropes and ballast bags weighted down with water or sand. If you plan to set up your folding gazebo in inclement weather, make sure the fabric is waterproof and tear-resistant. The poles should be sturdy and any connectors should not break even in stronger gusts of wind.
Pavilions: protection in any weather?

Many pavilions are quite wind and weather resistant. With some types of pavilions, such as wooden or folding pavilions, you have to do it yourself, other pavilions, such as aluminum or steel pavilions, are already designed by the manufacturer for permanent outdoor use. When choosing your garden pavilion, pay attention to your needs and also take into account regional environmental influences such as wind and snow loads. Then you will enjoy your garden pavilion in any weather.
Frequently asked questions

Here you will find answers to questions we are frequently asked.
How do I weatherproof my gazebo?

How you weatherproof your gazebo depends on the type of gazebo.
Wooden gazebos, for example, you need to regularly maintain with wood preservative to protect it from the elements.
On the other hand, folding gazebos with waterproof and UV-resistant fabric do not require extra maintenance. However, the roof and side panels should be dry again before dismantling to protect them from mold and mildew during storage. You should also windproof folding gazebos if necessary and secure them with tension ropes, weights, pegs and ground anchors.
Other gazebos, such as fixed aluminum and steel gazebos, are already weatherproof without special care.
Do the curtains have to be taken down in winter?

It is recommended to take down the curtains in winter, as it makes them more durable. The cold temperatures in winter can cause the curtains to become porous.
Therefore, the gazebos are not suitable for overwintering plants.
How much wind can a gazebo withstand?

Different types of gazebos can withstand different levels of wind. Pavilions that are firmly bolted to a foundation are much less sensitive to wind and storms than folding pavilions and party tents.
If in doubt, you should rather dismantle them.
Can I leave the pavilion in winter?

Except for our folding pavilions and party tents, you can leave any other pavilion standing all year round. You can find information about snow load in the details of each pavilion.
In case of a pavilion with a fabric roof, it is recommended to remove the roofing in winter.