Tomatoes can be easily cultivated on the balcony. An important part here takes the choice of the appropriate planter. Which pot size and materials are best suited for growing tomatoes, we have summarized in this article!
Pot size

The optimal pot size plays a decisive role in tomato cultivation, because it affects both the growth of the plants and their care. If the pot size is too small, the roots can only develop to a very limited extent, and it is also more difficult to control moisture.
Therefore, too small flower pots are usually associated with more maintenance, because the tomatoes need to be watered and fertilized more often. The optimal pot size ultimately depends on the tomato variety, as smaller varieties require less space, whereas tall-growing stake tomatoes prefer larger planters.
Minimum diameter: 30 centimeters
Capacity: at least 10 liters
Mini balcony tomatoes: from 10 liters
Cocktail tomatoes: 20 to 30 liters
Stick tomatoes from 20 liters

Material
Planters come in a wide variety of materials, but not all of them are equally suitable for growing tomatoes. Below is an overview of popular materials and their advantages and disadvantages.
Stainless steel

Stainless steel planters come in a wide variety of shapes and models: From smooth to matte to painted or shiny. But it's not just the look that speaks for stainless steel tubs, because they are also very robust. However, it is crucial for this that the vessels are carefully processed. For this reason, it is advisable to always inspect the welds before buying!
Pros: weather resistant, sturdy
Disadvantages: Metal ions can transfer into the planting substrate

Wood

Wooden planters usually have a medium dead weight, making them relatively stable even in windy places. Unfortunately, their lifespan is limited, as they rot relatively quickly – especially when in direct contact with the soil. However, the service life can be extended a little if the inside is lined with a film. They should not be sealed, however, as moisture that has penetrated cannot escape, increasing the risk of mold.
Advantages: well ventilated, not so expensive.
Disadvantages: limited life span
Tip: wooden containers made of robinia, oak or acacia are great for outdoors!
Plastic
Very often, plastic planters, such as polypropylene, polyrattan, fiberglass or polyethylene are used. These are very cheap and are also offered in a wide variety of colors. However, they are also very light, which is why they can easily be blown over by the wind. In addition, the thin walls provide little protection for the roots.
Advantages: inexpensive, many colors
Disadvantages: heat up quickly, little protection
Tip: plastic containers made from recycled material are more eco-friendly!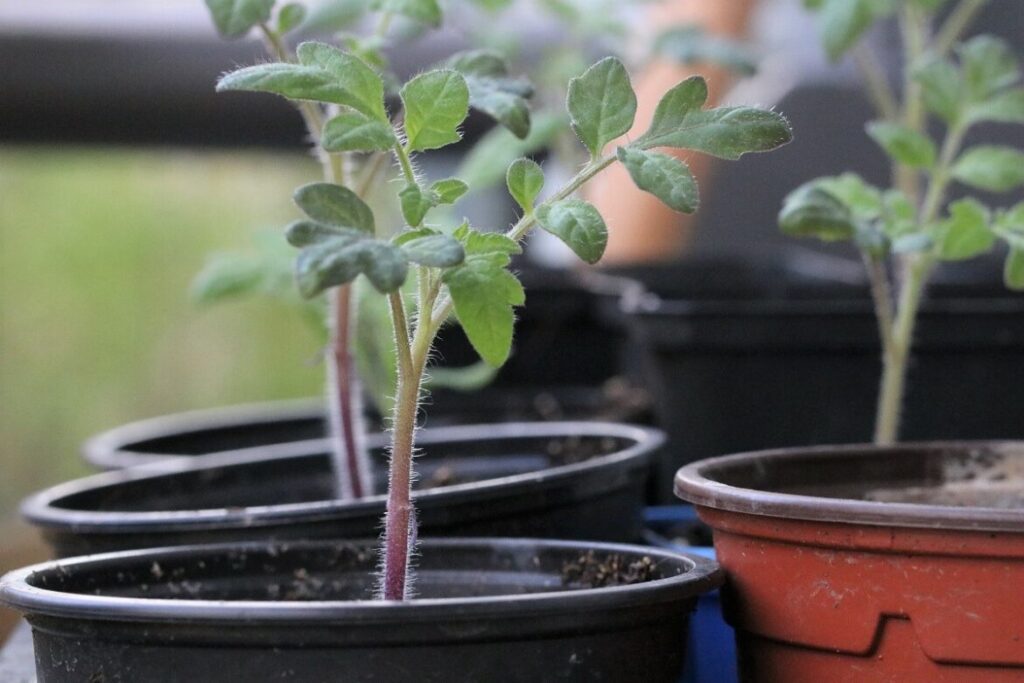 Stone

For tomatoes on the terrace, stone or concrete planters are ideal, because these materials are resistant to frost and weather. In addition, they are very heavy, so they can be easily placed even in windier locations. Vessels made of concrete or stone usually do not have water drainage, so it is worth using an inner pot and creating a drainage layer.
Advantages: frost and weather resistant, easy to care for.
Disadvantages: often no water drainage, relatively expensive.

Clay/Terracotta
Clay planters are among the classics: they are old and proven, convince with a pretty look and are affordable. They are usually more expensive, but also very durable. However, it should be noted that terracotta pots are usually sold unglazed. This has the disadvantage that moisture can penetrate from the outside, but also lost.
Advantages: durable, inexpensive, breathable.
Disadvantages: fragile

Note: vessels made of terracotta must be protected from frost!
Color

The color of the planters should also be well chosen: black pots are pretty to look at, but they heat up very much in the sun. This, in turn, dries out the substrate faster, which is why watering must be correspondingly more frequent. Therefore, light shades are better suited, which at the same time provide a cheerful ambience.
Water drainage
In any case, regardless of the pot size and material, the vessel should have a water drain. This ensures that excess water can drain away and waterlogging is avoided. To prevent the drainage hole from becoming clogged with soil, it is worthwhile to create a drainage layer. The following materials, among others, are suitable for this purpose:

Water reservoir

There are a variety of planters that are equipped with a water reservoir. For the cultivation of tomatoes, such containers are practical in that tomatoes are very thirsty and accordingly need to be watered frequently. However, an integrated water reservoir not only reduces the need for maintenance, but also the risk of late blight. However, it is important that the container has the above-mentioned water drainage and that there is sufficient air space between the soil and the water.