Privet has been a popular hedge plant in European gardens for years. This is not surprising: this versatile hedge plant fits well with very different types of gardens. We are therefore happy to give you 6 good greens why you should select a privet hedge. Have you already decided? Then you can immediately order the common privet, the wintergreen privet 'Atrovirens', the oval-leaved privet or the golden privet online in our webshop.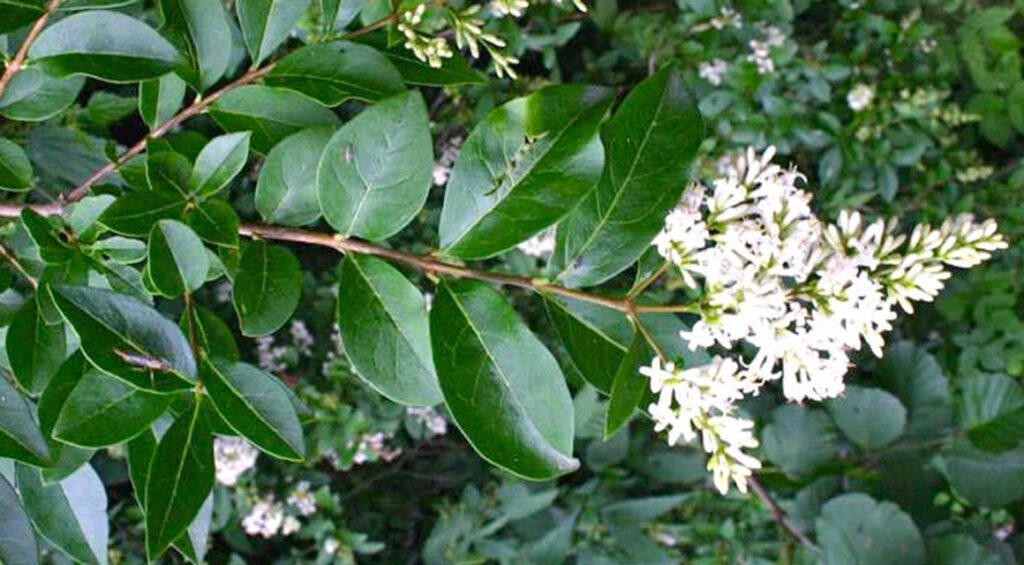 Privet is suitable for traditional hedges

Do you want to create a traditional, classic hedge, as it has been found for centuries, especially in England? Then the common privet (Ligustrum vulgare) is excellent. Already in the Victorian era of the United Kingdom, the common privet was regularly used. The privet was especially popular in city gardens at that time. Even today in the privet from English gardens can not be imagined. In fact, a privet garden border will give your garden an elegant look that has a natural appearance. However, this makes the Common Privet suitable not only for formal gardens, but also for informal garden types.
The common privet is of course available in our webshop in various formats. You can then choose the Common Privet, which is offered as a bare root plant, as a hedge plant with a root ball or as a potted plant.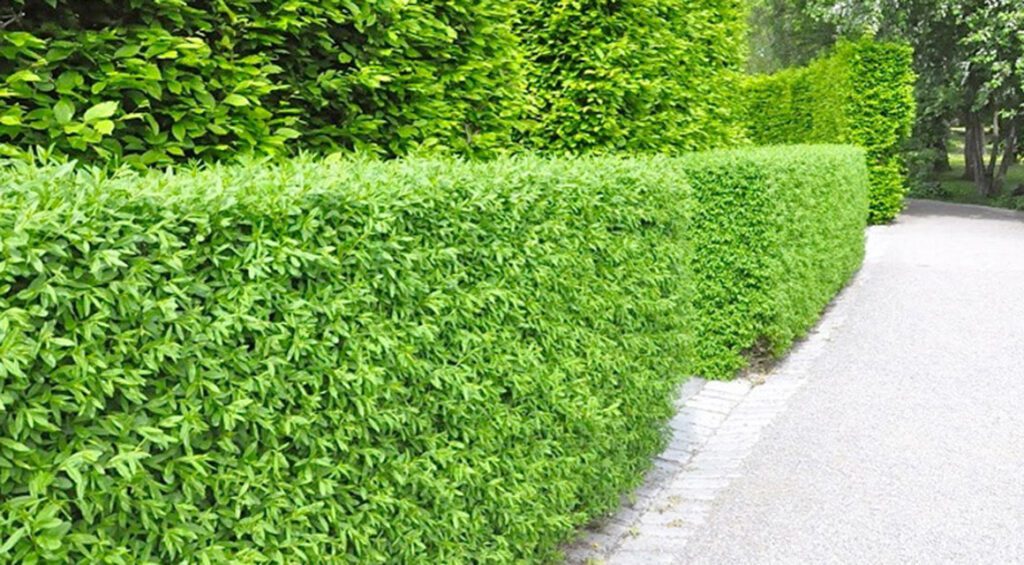 The privet is almost evergreen

The vigorous, hardy privet can be described as "almost evergreen". This means that in winter most of the leaves remain on the branches. The privet will lose some of its leaves, but a privet hedge will still be mostly opaque in winter. So, privet is actually the perfect compromise between deciduous and evergreen hedge plants. This makes privet truly unique, while giving it a wonderfully natural look. So your privet hedge won't go bald in the winter: in fact, the majority of privet leaves will stick to this hardy, particularly robust hedge plant.
Would you like a privet that loses little to no leaves in the winter? Then you should choose Ligustrum vulgare 'Atrovirens', which is also known as wintergreen privet 'Atrovirens'. It can easily survive many European winter periods, even if they are particularly harsh and cold. Even after this cold period, your hedge will still look as pretty as it did before winter set in.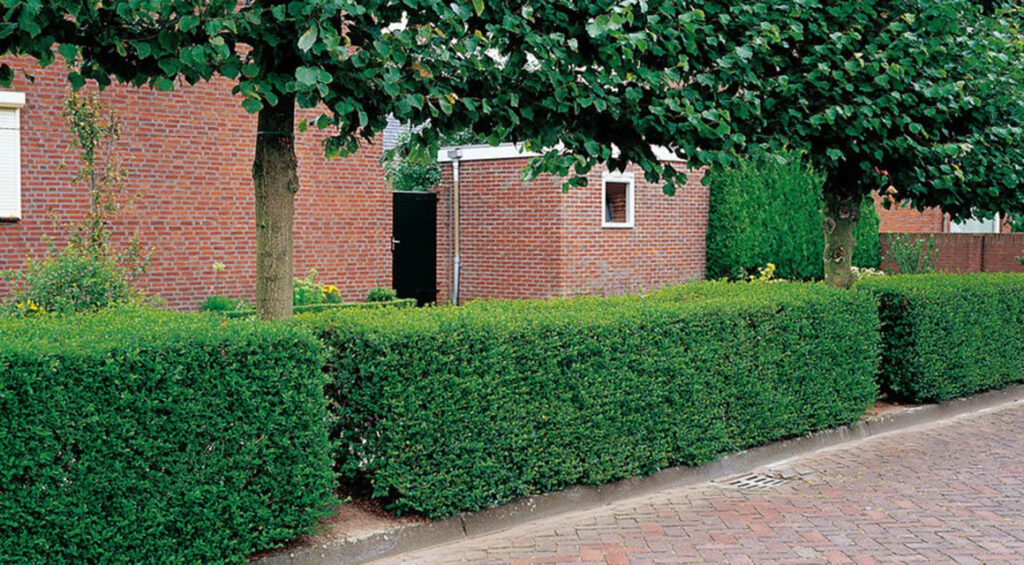 Privet can cope well with almost all conditions in the garden.

Another reason to use a privet is that it can grow well in almost any conditions. Do you live near the coast or in an area with air pollution? No problem, because this does not bother a privet. Even dry soils, a sunny location, lots of shade or wind don't bother a privet. However, you should be careful if the soil is too wet, but this also applies to many other hedge plants. Are you looking for a hedge plant that is particularly hardy and still has a pretty appearance? Then privet is just the right hedge plant.
Do you want to plant the privet on a wet ground? Then make sure your garden soil has a good drainage system. If you do not want to drain your garden soil, then you should select a hedge plant that can grow well in wet soil, such as the hornbeam, the olive willow or the Griselinia littoralis.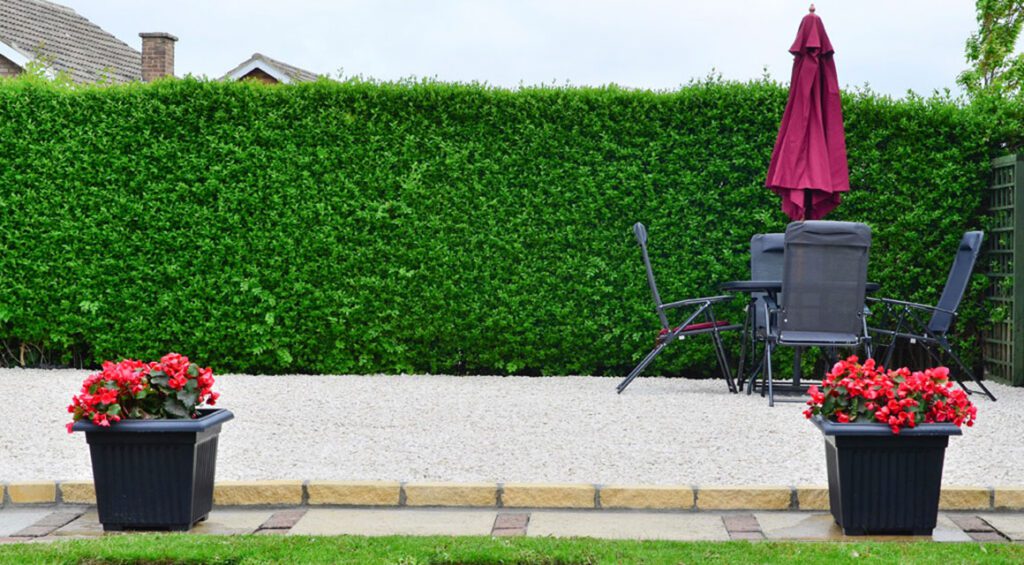 A privet hedge is animal friendly

Did you know that a privet hedge provides plenty of life in your yard? Birds like to build their nests in a privet hedge. In addition, privet's white, fragrant flowers ensure that many butterflies and honeybees are attracted to your garden. After flowering, small, dark-colored berries develop on the privet's branches. These berries are readily eaten by smaller varieties of birds. The privet hedge is therefore a wildlife-friendly hedge that is extremely important for birds and for beneficial insects. But beware: if you want to cut back the privet particularly tightly and neatly, then this will greatly reduce the flowering of the privet.
As a result, you will then also find fewer bees and butterflies in your garden. But fewer flowers then also means fewer berries that will hang from the branches in the fall.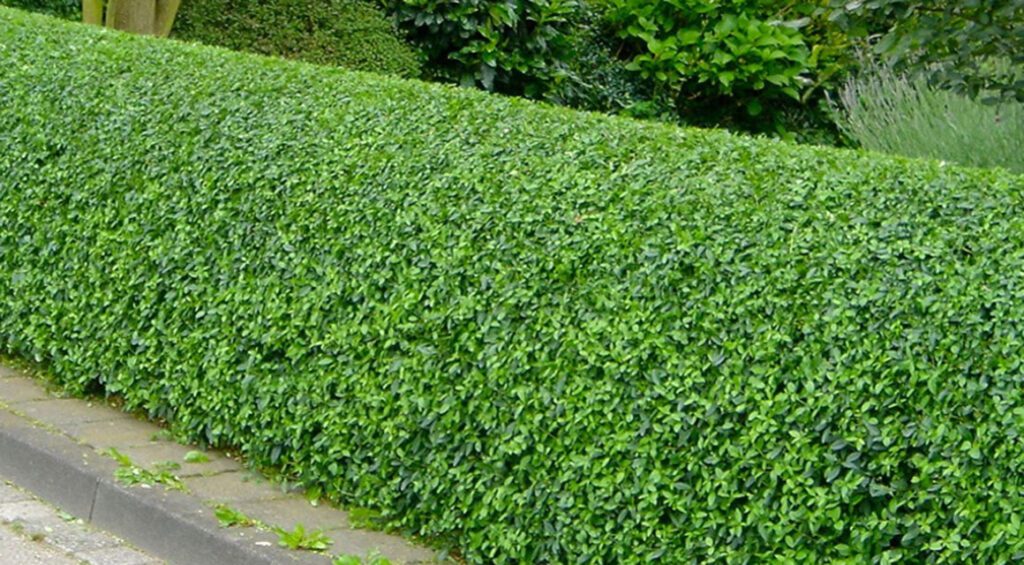 The privet grows quickly

Are you looking for a fast-growing hedge plant, because the fast growth then also quickly privacy hedges? The privet can grow between 30-40 cm per year. This growth can also be stimulated by fertilizing the privet hedge twice a year. Prune privet once or twice a year to keep it trimmed and compact. In addition, regular pruning will also keep it looking young and fresh at all times. The more often you cut it, the more branching will occur. As a result, your privet hedge will become denser, more compact and fuller.
Privet is a hedge plant that is extremely resistant to pruning. It can continue to grow in its natural form, but it can also be cut back tightly to give the privet hedge a formal look. So it's up to you to decide what best suits your garden type.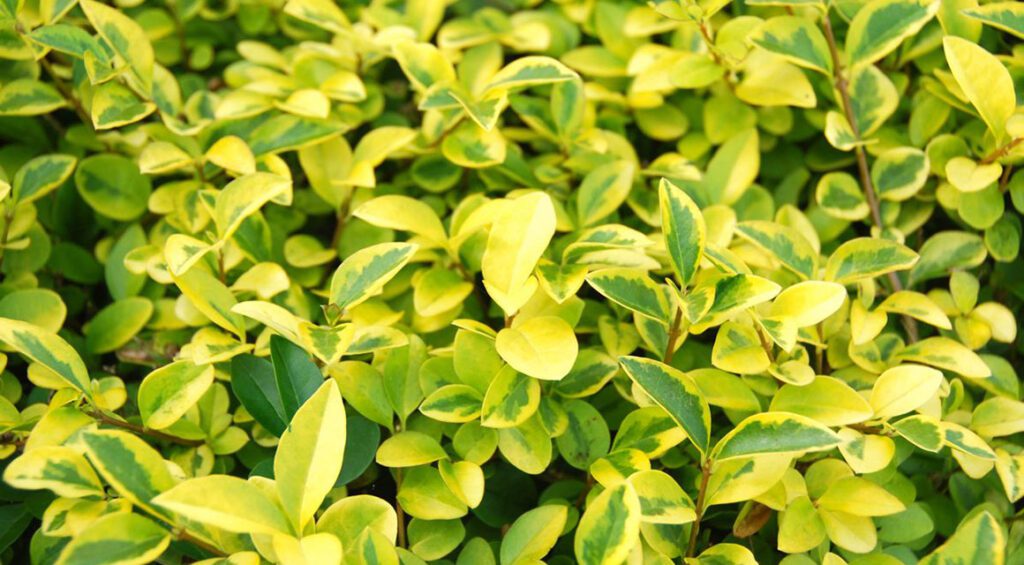 Golden privet is an interesting hedge plant

Do you want to avoid normal, green hedge plants in your garden? Then the golden privet (Ligustrum ovafolium 'Aureum') may be just the thing. This low-maintenance hedge plant has many similarities with an oval-leaved privet, but with the only difference being that the golden privet has striking, two-tone leaves. The Golden privet is most often used as a hedge, but this privet can also be quite wonderful as a single plant. As a hedge plant, the privet is decorative, eye-catching and therefore cannot be compared with normal hedge plants. However, this is precisely the reason why many garden owners choose exactly this hedge plant.
Do you still have questions when it comes to our different varieties of privet? Then get in touch with us quickly. We will be happy to give you more information about our privet varieties.
I have 30 years of experience and i started this website to see if i could try and share my knowledge to help you.
With a degree a Horticulture BSc (Hons)
I have worked as a horticulture specialist lead gardener, garden landscaper,  and of course i am a hobby gardener at home in my own garden.
Please if you have any questions leave them on the article and i will get back to you personally.