Garden clogs are easy to put on and take off and are good for gardening. While they used to be made of wood, nowadays they are made of soft, synthetic materials. This makes garden clogs water repellent and easy to clean.
garden clogs – comfortable to wear while gardening.

Garden clogs are the ideal alternative to sturdy garden shoes, especially in spring and summer. They are mostly made of plastic and often equipped with ventilation holes, so you do not sweat so quickly in them.
High-quality garden clogs feature a non-slip, treaded outsole. Because they are easy to clean, they are very popular with many gardeners.
One of the biggest advantages is that they are quick to put on and take off, so you can quickly change out of slippers and into garden clogs for a quick visit to the garden. For better support on the foot, many garden clogs have a heel strap, which in some models can even be folded down and used only when necessary.
Because garden clogs are impervious to moisture, many gardeners simply store them outside the patio door.
But be careful: many garden clogs are sensitive to UV radiation and heat. They can fade in the sun and also shrink by more than one size.
Advantages of garden clogs
different designs (plain or with print)
for children and adults
available with and without heel strap
quick slipping in
good ventilation of the feet
very comfortable material
easy to clean
insensitive to moisture

Disadvantages of garden clogs
do not provide a firm hold on the foot

The best material for garden clogs

In the past, clogs were made entirely of wood. Today, they are increasingly found made of synthetic material blends or leather. Now and then, the sole of the garden clog continues to be made of wood.
Whether you really want that, you should consider very carefully. Nostalgia or not: If wood is used on the sole, you hear every step and sensitive floors can be damaged. In addition, wood is sensitive to moisture.
Garden clogs made of leather are very cuddly and usually make visually quite a bit. Some models are so handsome that they can even be worn in everyday life.
In this case, however, regular care and especially impregnation of the shoes are important to make them insensitive to dirt and moisture. Nevertheless, stubborn contamination can not be completely excluded.
Plastic garden clogs are the most widespread and, as a rule, very soft and cuddly. Their high wearing comfort contributes to the high popularity.
A particularly positive feature of plastic models is that they can be cleaned under running water and look like new over a long period of wear. Excessive sweating while wearing plastic garden clogs is prevented thanks to many small air holes on the sides and top of the garden clogs.
For outdoor use, garden clogs made of synthetic materials are the best choice. They are impervious to moisture, easy to clean and very durable. Many gardeners also find them to be very comfortable.
Size and fit of garden clogs

The size of garden clogs depends on your own shoe size. There is usually no need to deviate from the conventional size.
However, it is important that the garden clogs have an optimal fit, as they are often open at the back. If the shoe sits too wide at the instep, it won't be long before you slip out and, in the worst case, fall.
In addition, if the shoes are too wide, the toes cramp with every step. This can lead to tension, cramps or other health problems in the long run.
Some manufacturers offer their garden clogs in different shoe widths to ensure a better fit. Basically, garden clogs are rather wide cut and thus offer space for wider feet in addition to good air circulation.
Tip: People with narrow feet slip out of most open-toed shoes. In the case of garden clogs, it is excellent to use models with a strap at the heel. This provides more support.
There are also "closed garden clogs" whose sole is raised at the back. These provide good grip and dry feet on rainy days.
The color of garden clogs

Garden clogs come in plain and eye-catching designs. In addition to simple monochrome clogs in black, white or dark blue, two-tone models are increasingly appearing. Garden clogs are also available with various prints. From floral patterns to chic squiggles to dots & Co. you can find all the designs your heart desires.
By the way: Some people provide the ventilation holes on the garden clogs with small plugs in the form of cute animals, colorful flowers or similar things. Especially with children, the acceptance of garden clogs can be increased significantly.
Myth or truth: Are garden clogs harmful to health?

Garden clogs are light, airy, waterproof and easy to clean. At least, this is true for the plastic and rubber versions. However, time and again we hear that garden clogs made of synthetic materials contain carcinogenic substances. Is this really true?
Everyone knows that plastic is not the healthiest material. Nevertheless, many gardeners choose the practical and comfortable material. In the summer months, often even barefoot.
In recent years, various garden clogs have been repeatedly tested for carcinogenic ingredients such as
Solvents
Plasticizers
Heavy metals
hydrocarbons

have been investigated. The latter come from black paint particles and plasticizers and are considered highly carcinogenic. In many cases, garden clogs were actually contaminated with at least one of the health-hazardous substances in tests.
An unpleasantly sweet or pungent odor, as well as excessively chemical-smelling exhalations, can provide an initial indication of contained pollutants. The typical "new smell", on the other hand, clings to all garden cloches made of synthetic materials, but should fade after a short period of wear.
By the way, the material quality cannot be read off from the price. Even in products of well-known manufacturers pollutants could be proven in random samples and tests. Some well-known brands have reacted to this and offer their products in material blends that are free of harmful substances.
If you want to buy garden clogs made of plastic or rubber, you should go for products that emit no or only a few odors and that have ideally been awarded a quality seal. You can't rely 100% on the manufacturer's promise to be free of harmful substances, but it does provide a good guide to the brands that can be used safely.
On the safe side is also who wears socks in the garden clogs. They reduce any pollutants that may be present and prevent them from entering the body through the skin.
By the way, there are indications that particularly high concentrations of PAHs (polycyclic aromatic hydrocarbons) could be contained in black material mixtures. So to be on the safe side, you should avoid this color.
Alternative products

Garden clogs are practical because they can be put on and taken off quickly. They are easy to clean under running water and the durable material is resistant to moisture and dirt. However, garden clogs are nothing more than practical footwear, which is why they are only suitable for very light gardening work. Some alternatives to garden clogs offer additional protection against injury.
Garden shoes: Garden shoes are available in many different variants. Closed models provide much better support than garden clogs and also protect the heel from injury. Garden shoes are suitable for classic gardening tasks such as mowing the lawn or watering flowers.
Work shoes: When handling motorized gardening equipment or heavy objects, the feet need additional protection. Classic work shoes are made for gardening because they have a treaded outsole and often a protective toe cap. In addition, many models are waterproof.
Garden clogs test winner* 2022
1. Crocs Unisex Classic Clogs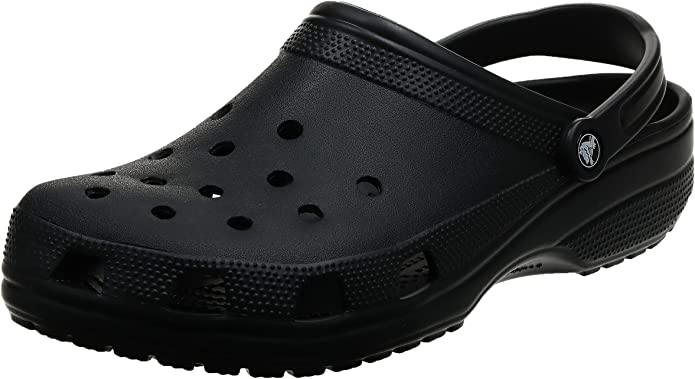 Rating: 4.5 out of 5 stars
Features: garden clogs made of Croslite (synthetic resin mixture), heel height: approx. 2.5 cm, with heel strap, various sizes, weight: approx. 280 g per pair.
Excellent support and comfortable wearing: the Crocs Unisex Classic Clogs have a footbed that subsequently adapts to the foot and thus enables an individual fit. The continuous strap in the heel area of the garden clogs ensures a secure hold when worn.
The patented synthetic resin mixture of the Crocs brand must not be left in the sun for a long time or exposed to strong heat. Otherwise, it may happen that the cuddly shoes shrink one or two numbers and may even be damaged.

Adequate ventilation of the feet is provided by the air holes on the surface and sides of the clogs. The Crocs Unisex Classic Clogs are available in numerous colors and sizes. The comfortable garden clogs come in children's, women's, and men's varieties.

Buyers appreciate the adaptable footbed, as it ensures maximum comfort. The strap is also well received, as it allows the shoe to fit snugly even on narrow feet. Only the shrinking material is criticized by many.

Advantages:
suitable for children, women and men
wide range of sizes
soft heel strap
easy to clean
air circulation is given

Disadvantages:
Material shrinks when exposed to direct sunlight and heat
Bigant Garden Clogs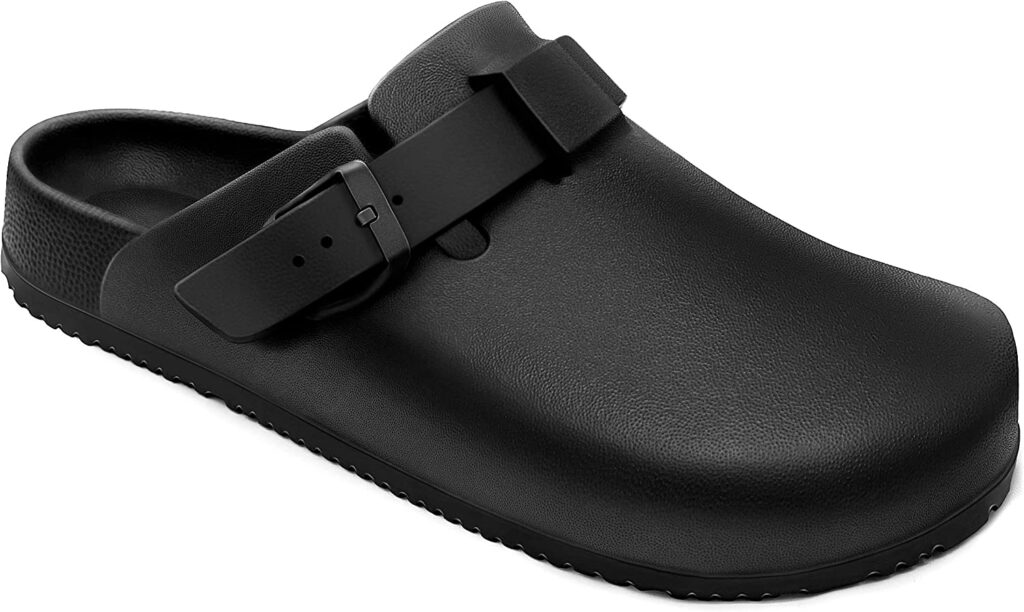 Rating: 4.5 of 5 stars
Features: garden clogs made of tear and slip resistant EVA foam, narrow shoe width, heel height: 2 cm, various sizes, weight: approx. 250 g per pair, PVC-free.
Lightweight, slip and tear resistant: the Bigant Light Clogs garden clogs are made of EVA (ethylene vinyl acetate), a particularly high-quality foam. EVA is particularly tear- as well as slip-resistant and furthermore strongly water-repellent. The elastic yet dimensionally stable material of the shoes is particularly easy to clean.

Buyers particularly emphasize the high wearing comfort. The low weight as well as the reliable protection against water and dirt make the Bigant Light Eva Clogs garden clogs ideal garden shoes. The slip resistance despite the lack of a tread is also praised by many buyers.
Especially the price-performance ratio many buyers find very good.

There is criticism only with regard to the deformability in strong heat, to which one should not expose these shoes for a long time (for example, by drying on the heater or long direct sunlight).
Advantages:
low weight
high wearing comfort
water-repellent
good price-performance ratio
easy cleaning

disadvantages: