Although it is now winter break, there are many things to do in December and even some harvesting to do. The focus is on proper plant care in the winter quarters and general maintenance work in the garden. Although we would rather crawl indoors and enjoy a piece of gingerbread, it is now time to put on gloves, hats and scarves and head for the beds!
What work do you have to do now?
Vacation visits & control walks
This month, most plants are on winter break. Some of them may have had to move to frost-free quarters, while others have simply been wrapped up warm or are even managing without winter clothing. Regardless of how you winterize your plants, it's still very important to check on your charges regularly in December.
Correct and avoid care mistakes
What was already mandatory in November remains: Keep an eye on light conditions, humidity and water balance. Do not let your plants dry out, but make sure that there is no waterlogging. Using our lemon 'Zeus' as an example, we will show you how to care for exotics in winter. Stick to the care formula: The less light, the cooler and drier the plants should be. During your inspections, also check the leaves – have any diseases or other pests crept in? Here you will find the most common pests, how to recognize them and how to get rid of them.
Clear vision for healthy plants
As December "spoils" us with storms, rain and snow, windows and greenhouses need to be shoveled or cleaned regularly. After all, our plants depend on every ray of sunlight and should be able to enjoy as much light as possible. It will also reduce diseases and pests that may want to overwinter in your greenhouse.
Maintain equipment, check cold protection
For our outdoor plants, we continue to keep an eye out for any waterlogging that may occur and regularly check to make sure the cold protection is in place on all plants and that no rot has set in. If you haven't had a chance to do this yet, December is a great time to maintain, repair, clean out, or add to your garden tools as needed.
Prevent dehydration – water at the right time
Even though most plants are dormant now, don't let them dry out. Make sure that outdoor plants, especially fruit trees and berry bushes, do not die of thirst – especially on very cold but clear and sunny winter days, a lot of moisture evaporates. Water occasionally during prolonged dry periods. Important: only in the morning on frost-free days – if you water your beds only in the evening, there is a risk that it will start to freeze at night before the plants have absorbed the water. This in turn would lead to frost damage or worse.
(Fruit) tree pruning
The topic of "fruit tree pruning" is very extensive, which is why we will publish specific articles on it in our magazine in the future – after all, pruning an apple tree is very different from pruning a berry bush. However, since many varieties can be pruned very well in winter, we want to deal with the subject very roughly: Many stone, pome and soft fruit varieties benefit and become much more robust, long-lived and high-yielding if you prune them between December and February. These include apples and pears, for example, while cherries prefer to be pruned in the summer. If you have some experience in pruning fruit trees and you are confident enough to do it, you can prune them after several consecutive mild winter days. The temperature should not be below -5 degrees to avoid frost damage to the pruning wounds.
General bed care
Garden beds are also pleased with regular visits: foliage on lawns must always be removed to avoid snow fungus. Empty spaces in the garden and greenhouse can be provided with compost, if not already done. If you have sown green manure in the fall, it can be safely left until spring. Even if it is actually too late to sow a green manure now: In mild winters, you can try winter-hardy field lettuce, barley or winter wheat on empty areas. Here you will also find detailed instructions on how to do it right. If it has snowed heavily, the snow should be carefully shaken off the branches and twigs of delicate plants – they could snap off under the weight.
What can you harvest in December?
It's hard to believe, but even in December you can enjoy treats from your own garden or greenhouse: it's the month of citrus and cabbage!
Citrus fruits are now in the spotlight
Mandarin 'Manfred', lime 'Lili' and lemon 'Zeus' are in full swing now and will delight us throughout the winter with their fragrant and brightly colored fruits, which are excellent in winter pastries and teas.
Cabbage makes its grand entrance
After the first frosts, the cabbage season also starts and we can fill our bellies with cabbage stews and countless other delicacies – red cabbage, white cabbage, savoy cabbage, Brussels sprouts, kale and co. are the absolute winter stars outdoors! Kale in particular only develops its full aroma after the first frosts and should therefore be harvested late. Lamb's lettuce and arugula, which were already sown in the fall, can still be harvested now, as can leeks and leeks.
Fresh herbs even in winter
If you grow herbs and lettuces on the windowsill, you can continue to enjoy Mediterranean flavors and fresh, vitamin-rich leafy lettuces (lemon balm 'Melissa' and also chives 'Siggi', for example, are candidates that can stand warm and continue to grow in winter without any problems). However, since there is significantly less light available in winter and it is a bit cooler than usual, there are a few little things to keep in mind when caring for and harvesting them. Here we have prepared a nice tutorial including self-experiment for you.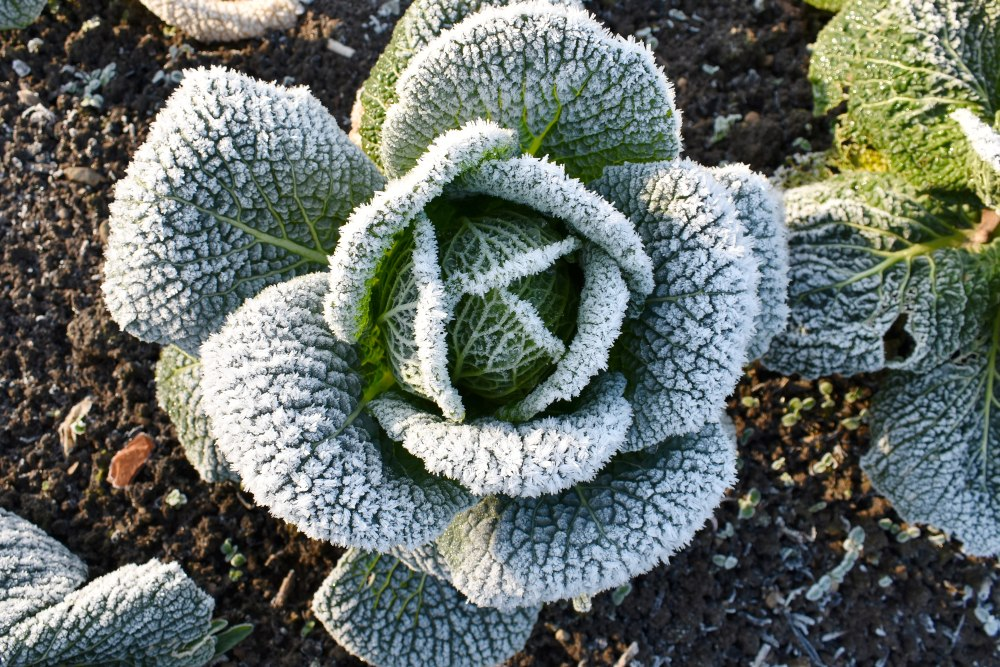 A look into the pantry
You've made the most of the summer and fall, harvested lots of produce and diligently stocked up? Wonderful! Especially in December, it makes sense to check your fresh food for rot and bugs every now and then. Sort out damaged and rotten apples, for example. Root vegetables (potatoes, beets, carrots) that have been stored in the ground cannot tolerate frost and must be dug up beforehand. Store it in a frost-free place between 2 and 5 degrees; you can simply take a box for this, put the root vegetables in it and fill it up with sand until everything is covered. Moisten it slightly and you're done. How exactly this works in detail and what you need to pay attention to during storage, you will soon learn in our magazine.

Planning and preparing for the next gardening year
Now you can refine your plans for the coming gardening year. This not only makes gardening easier for you throughout the year, but it's also really fun and creates a great deal of anticipation! You may have even been able to gain some seeds from your plants last season – now is also a good time to sort them, see if everything is okay with storage or bring order to a possible seed chaos. You'll find everything you need to know about the proper storage of different seeds in this article.
In keeping with the season, you can of course treat yourself to an early Christmas present and get seeds that you haven't had in your assortment yet. Retail is always an option for this, but on the other hand it's also fun and maybe a nice contact or two to look around at swap meets or keep your eyes open for a swap with family and friends. Speaking of wintertime and Christmas gifts, here are 3 great herbal ideas that will bring warmth and comfort to your everyday life and that you can easily make yourself at home and give as gifts.
I have 30 years of experience and i started this website to see if i could try and share my knowledge to help you.
With a degree a Horticulture BSc (Hons)
I have worked as a horticulture specialist lead gardener, garden landscaper,  and of course i am a hobby gardener at home in my own garden.
Please if you have any questions leave them on the article and i will get back to you personally.