Floral opulence with a penchant for nostalgia: this is how you realize the dream of an enchanted garden in a romantic style.
Where does the romantic garden style come from?

In the 18th century, when English landscape gardens had their heyday, a new garden style emerged: the romantic garden. It combines elements of both the natural garden and the formal garden with its clear structure. Typical representatives of romantic gardens are, for example, the densely planted cottage gardens and early peasant gardens of England.
While Baroque and very geometrically designed gardens were already a tradition in England before the middle of the 18th century, the Romantic garden with its discreetly overgrown charm set new impulses. The return to nature, which was reviving in art and culture at this time, also flowed into its aesthetics: Lush blooms, loving details in the design of garden paths and hedges, and playful seating areas with a penchant for mystery are typical features of a romantic garden.
Garden design: classic features of a romantic garden

From the right color palette of flowers to the playful use of shapes and water, here come the key design elements for a romantic garden.
Subtle color scheme in delicate pastel shades

One of the most important criteria for a romantic garden is the right color palette of the plants: pastel shades such as lilac, delicate pink, apricot or creamy white form the basis for the flower and perennial beds and exude tranquility and sensuality. Harmonious shades of blue and a few well-chosen accents in bold colors can be combined with these. Tip: Choose small-flowered plants in pastel shades and distribute them in large numbers throughout your beds, while planting large flowers in bold accent colors sparingly.
Garden design with water

Whether a cheerfully splashing (fountain) or a soothingly gurgling stream: small and large water worlds are welcome elements of a romantic garden. They provide for dynamics and at the same time give peace and contemplation. That's why a quiet pond with a shiny surface, large water lilies and buzzing dragonflies is also a skillful eye-catcher in your romantic garden. The closer to nature it is designed, the more enchanted and stimulating it appears to us. Lined with rustling water grasses and a hidden seating area, it is the perfect retreat.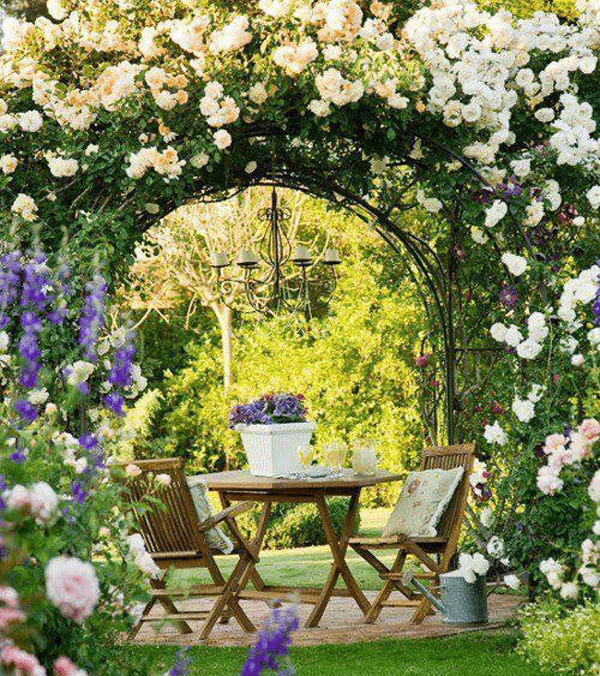 Play with natural and soft shapes

The romantic garden thrives on flowing, natural shapes and individually staged decorative elements. Therefore, avoid right angles or symmetrical arrangements. Irregularity is desired here: structure your beds with partly higher, partly lower perennials to create an arrangement that arouses interest through its play of light and shade. Lushly overgrown round arches or pergolas, curved garden paths that lead into the hidden, as well as small natural stone walls and hedges for separated areas also lend character to this garden style and invite you to stroll and explore. Tip: An ivy-covered patio provides a smooth transition from indoors to outdoors and enhances the overall look of your garden.

A skilfully staged garden with romantic aesthetics plays not only with light and shade, but also with the irresistible charm of the hidden. This refers, on the one hand, to intimate seating niches that are shielded from the outside world, but also to hidden corners with surprising design elements. Use a green privacy screen, a nostalgic-looking wicker fence or a tall hedge to only gradually reveal glimpses of your garden. This stimulates the imagination and arouses curiosity. Curved, gracefully laid garden paths made of old paving stones create a "Sleeping Beauty" atmosphere by inviting you to explore while making smaller areas seem more spacious. Arouse curiosity with a playful arch of climbing roses that conceals the garden area beyond, and create new vistas and vistas in various corners in the form of seating niches or select decorations.
Special found objects and sculptures or stones overgrown with moss give the romantic garden something mysterious, while wrought-iron garden furniture, aviaries with patina, delicate trellises in historical style or an old garden gate provide nostalgic flair. The more the decoration blends with the garden, the better. Of course, the appropriate lighting should not be missing: Lanterns, lanterns and fairy lights create atmospheric coziness in seating areas and on vantage points.
Cozy retreats

What good is the most beautiful garden if it does not offer a place to linger? In a romantic garden, retreats in the form of benches, gazebos, pergolas, summerhouses or garden sheds are not only very popular, but obligatory for relaxing amidst the splendor of the flowers. Create small seating niches, which are discovered by magnificent greenery (eg, lilac bushes, shrub roses) only at second glance. Or have nostalgic pergolas, pavilions or arbors covered with woodland vines, blue vine, wild wine, climbing roses or ivy. Wrought-iron round arches are beautiful companions for your little oasis of well-being. Tip: Create a garden for all the senses and consciously incorporate smells and sounds into your design. For example, with the help of fragrant flowers near a seat, a birdbath or a babbling brook in the immediate vicinity.
Plants and flowers for the romantic garden

Opulent blooms for nostalgic garden romance: with these plants and perennials, you'll quickly get into the swing of things.
Mix of tall and low-growing plants

What seems so random and playful is planned from the ground up. "Mixed border" is the name given in England to perennial planting with staggered heights and a well-thought-out color concept that you can use for your design. Instead of lining up a lot of stiff perennials (e.g. delphinium, lupine), it pays to cleverly use half-height gap fillers with filigree stems or grasses:
Catmint (Nepeta cataria)
baby's breath (Gypsophila)
Cranesbill (Geranium)
Columbine (Aquilegia)
Low-growing flame flower (e.g. Phlox divaricata)
Jewelweed (Cosmos bipinnatus)
Snapdragon (Antirrhinum)
Spider flowers (Cleome spinosa)
Put a lot of flowers with small bloom

Small-flowered flowers not only have a very romantic effect, but are also a welcome change in perennial beds without distracting from roses or flowering giants such as bearded iris. In addition to catnip, columbine, cranesbill and baby's breath are also suitable:
Noble Thistle (Eryngium)
rue (Artemisia)
Blue rue (Perovskia)
Woolly-pear (Stachys byzantina)
Evergreen and climbing plants
Foliage ornamental and climbing plants accentuate the lush blooms in a romantic garden. Their noble but unobtrusive green leaves accentuate the delicate flower colors in their surroundings and make them really shine.
Hosta (Hosta)
Thistle (Eryngium)
Ivy (Hedera helix)
Purple bellflower (Heuchera)
Wild vine (Parthenocissus quinquefolia)
Cushion silverweed (Artemisa schmidtiana 'Nana')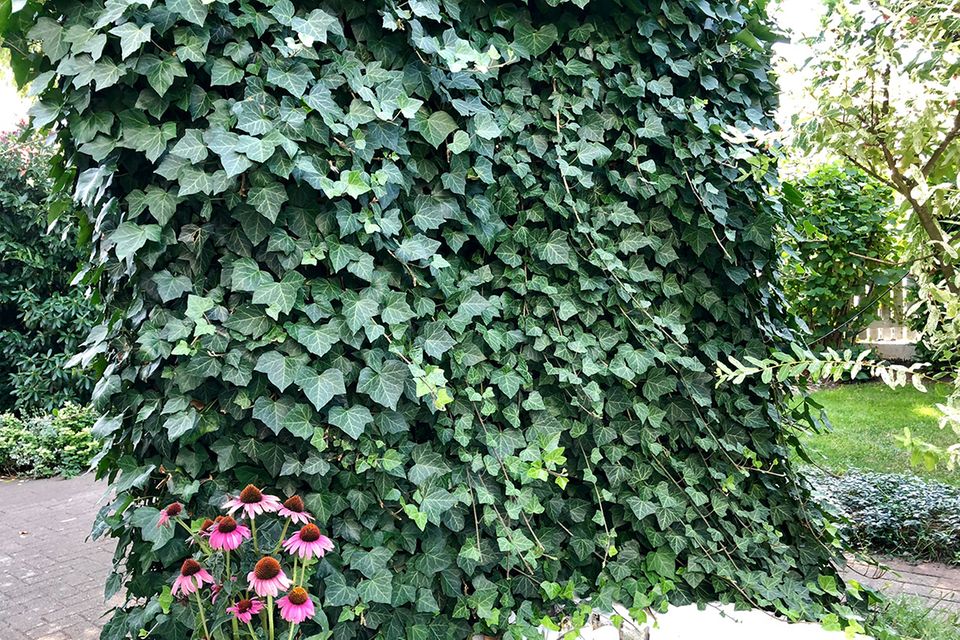 Flowering climbers are also a nice addition to arches and overgrown pergolas:
Chinese Blue Vine (Wisteria sinensis).
Clematis (Clematis)
Climbing hydrangea (Hydrangea petiolaris)
Perennials with lush flowers
Large-flowered and lush it should be, the splendor of flowers in the romantic garden. Suitable for this purpose are, among others:
Hydrangea (Hydrangea)
Azaleas (Azalea)
Rhododendrons (Rhododendron)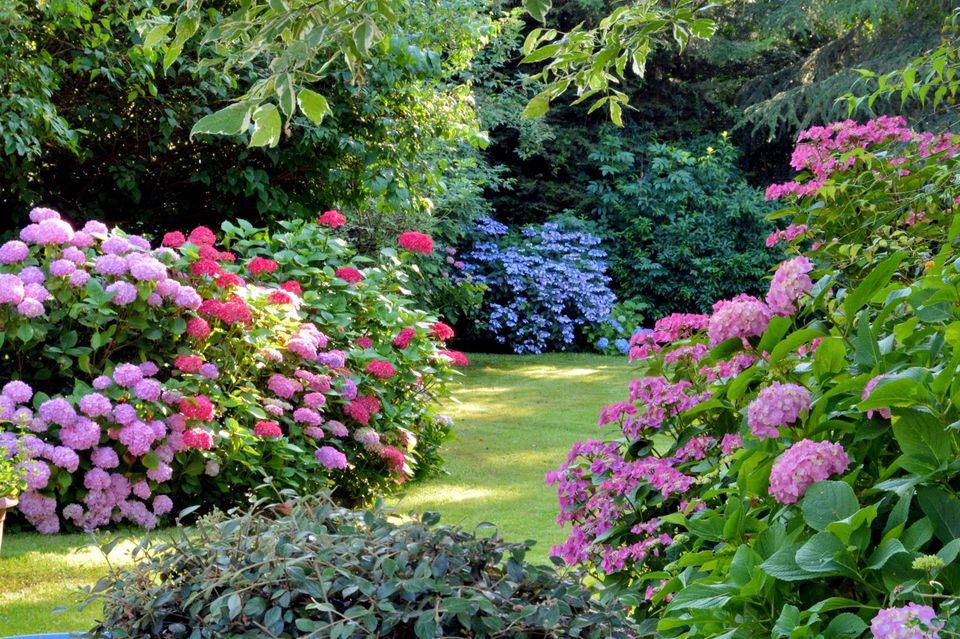 Shrubs, hedges and woody plants

Whether used as privacy screens or playful details, hedges and shrubs can be used in a variety of ways for garden design. Cut them into sweeping shapes to further match the romantic theme of the garden:
Small ornamental apple (e.g. 'Golden Hornet').
Kolkwitzia (Kolkwitzia amabilis)
Snowball (Viburnum)
Yew (Taxus)
Box (Buxus sempervirens)
Laurel (Laurus nobilis)
Bergilex (Ilex crenata)
Fragrant herbs and flowers

A garden that appeals to all the senses comes closest to the romantic ideal. Especially suitable for this purpose are fragrant herbs and delicate flowers such as:
Sage (Salvia)
Fennel (Foeniculum vulgare)
Lavender (Lavandula angustifolia)
Rosemary (Salvia rosmarinus)
Roses (Rosa)
Thyme (Thymus)
Catmint (Nepeta cataria)
Lilies (Lilium)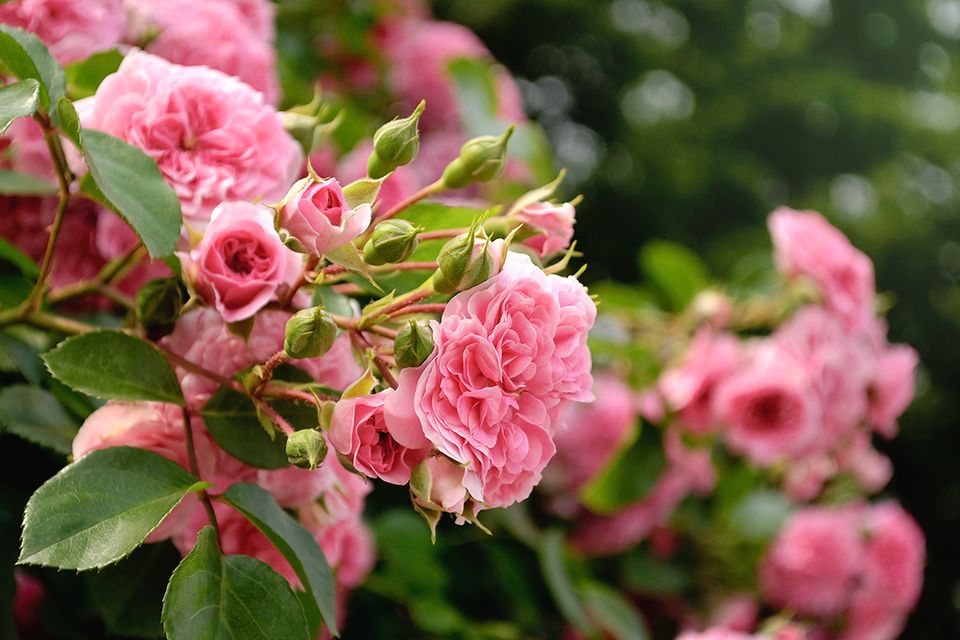 Roses – the supreme discipline in the romantic garden

Elegant, delicately fragrant and the epitome of love and romance: the rose is the centerpiece in romantic garden design. Historic roses or English roses, with their rich abundance of blossoms, are particularly enticing for this style, as are old shrub rose varieties and climbing roses. Tip: If you want to garden close to nature, make sure to plant single-flowering roses like the pink-flowering 'Lawinia'.
I have 30 years of experience and i started this website to see if i could try and share my knowledge to help you.
With a degree a Horticulture BSc (Hons)
I have worked as a horticulture specialist lead gardener, garden landscaper,  and of course i am a hobby gardener at home in my own garden.
Please if you have any questions leave them on the article and i will get back to you personally.