You have decided to change your garden fundamentally or you have bought a new house with a garden? Then it's time to make a good design plan for the garden. There are different hedge plants for each type of garden. In this blog we will focus on hedge plants for a modern garden.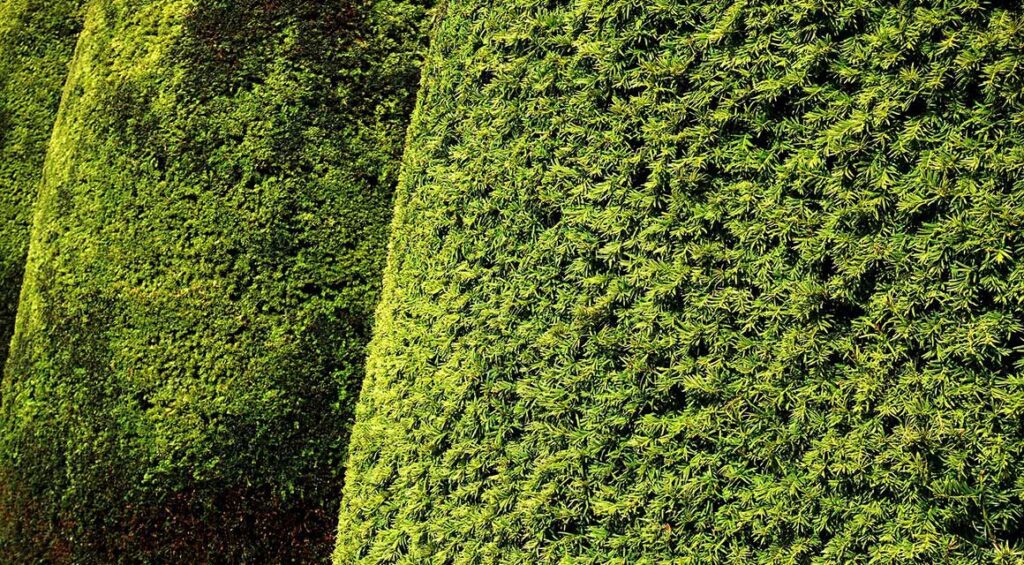 What does a modern garden look like?

Gardens, just like architecture and interior design, are subject to trends. In recent years, gardens with clean, geometric shapes and well-defined areas have become very popular. Designers use stones, wooden walkways, flower beds and grass to divide the garden. This often creates differences in height between terraces, paths and green areas. Most gardens in this style have a sitting area with a large wooden or stone bench on which cushions are placed. Popular materials in this style of garden design are anthracite and marble colored flat stones, reddish brown or light brown wood, gravel, grass and other varieties of plants.
Of course, this description does not fit all gardens that are currently being designed. There are many other ways to design a modern garden that are based on a natural look rather than a geometric design. For this blog, however, we'll stick with the geometric design and the plants that match it. If you are looking for hedge plants for a more natural garden design you can check out our blogs and information on landscape hedges, native hedges and gardens or flowering hedges for example. Here you are sure to find a lot of information that will help you.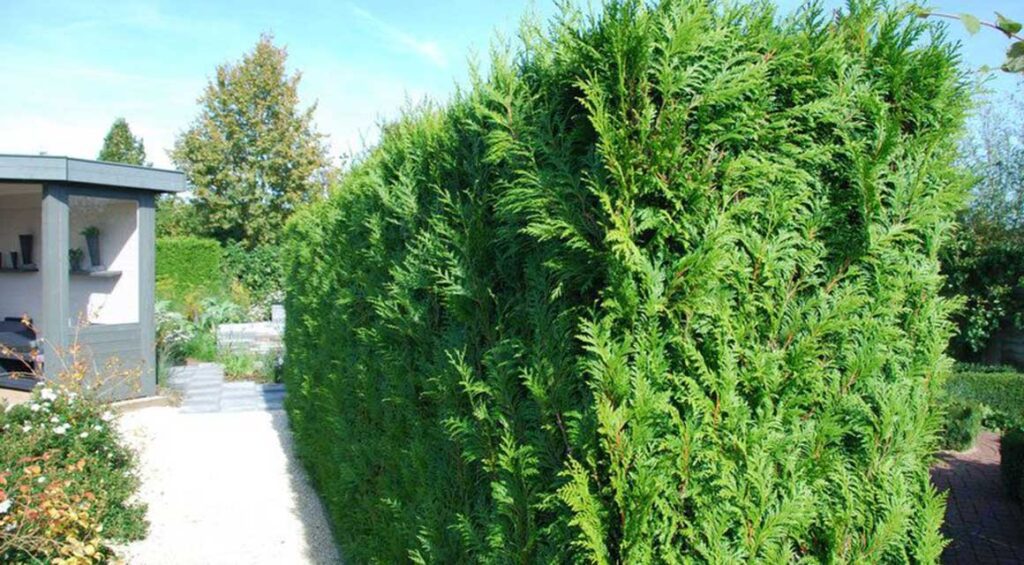 Straight hedges for geometrically designed gardens.

Modern gardens, as described above, usually look neat and tidy. For such a garden, many people want to use a hedge shape that can be easily trimmed into a tight form. An evergreen hedge with a dense growth habit is best for this purpose. Conifers such as the common yew (Taxus baccata), the Thuja 'Brabant' or the yellow mock cypress, for example, fit this picture very well. Conifer hedges are generally very robust and easy to care for. They are also hardy and not so picky when it comes to location.
Although conifers have many things in common, they also differ from each other. For example, the yew, thuja, yellow false cypress and Leyland cypress are all evergreen, very dense and good for both high and low hedges. Leyland cypress has the unique characteristic of growing very fast up to one meter per year. Of all the conifers mentioned, the yew is the easiest to prune back because, unlike most conifers, it grows back very well on the old wood. To determine which conifer is best for your modern garden, you should refer to the information on the product pages of the plants themselves.
Even if you are looking for an evergreen hedge with foliage we have a few choices for you. Holly, for example, has shiny, green, spiky leaves. This beautiful hedge plant also works well as a burglar deterrent because of its sharp-edged leaves. Plant a male and female holly close together, such as Holly 'Hedge Fairy' and Holly 'Hedge Splendor', so the berries can grow on the female plant. Semi-evergreen privet is also popular as a hedge plant in modern gardens. This shrub is particularly resistant to polluted air, so it is ideal for planting if you live on a busy street.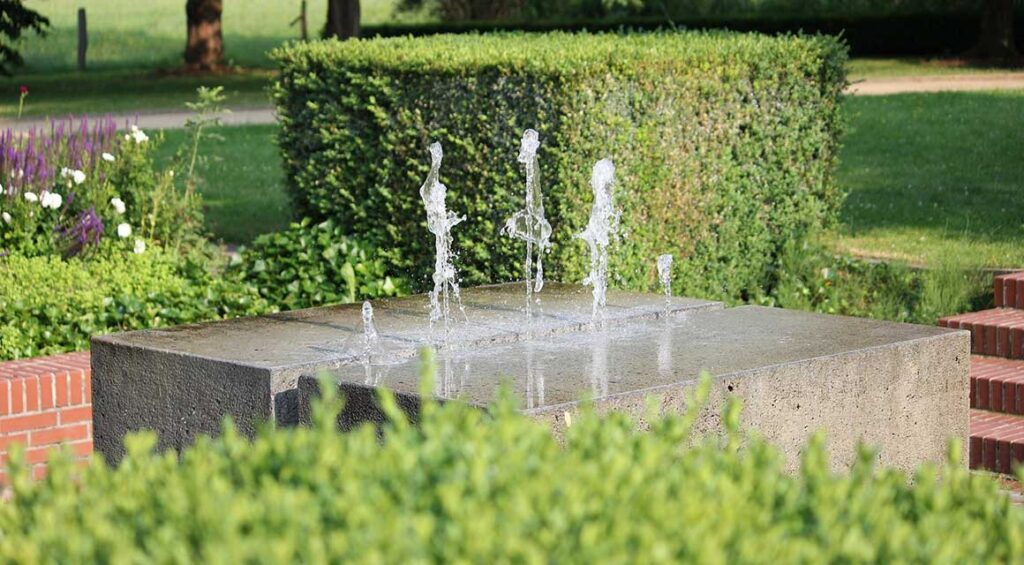 Modern low hedges

In addition to serving as a garden divider, a hedge can also be a great addition to your garden. Especially if you have raised beds or elongated flower pots in your garden, or if you want to separate two terraces, a low hedge is perfect. Again, it is advisable to choose a hedge that is dense, evergreen and easy to cut back. The most popular hedge plant is boxwood. This popular low hedge has beautiful oval-shaped leaves and a very dense growth habit. Boxwood is not only suitable for low, formal hedges, but can also be used for topiary.
A disadvantage of boxwood is that it is susceptible to certain diseases and parasites, which have increased in recent years in Europe. Especially boxwood borers cause more damage every year. So it could be a good investment to choose a variety of Japanese holly instead of boxwood. Japanese holly looks very similar to boxwood and can be cut back just as easily. However, this hedge plant is not susceptible to box elder borer and the fungal diseases that regularly occur in boxwood.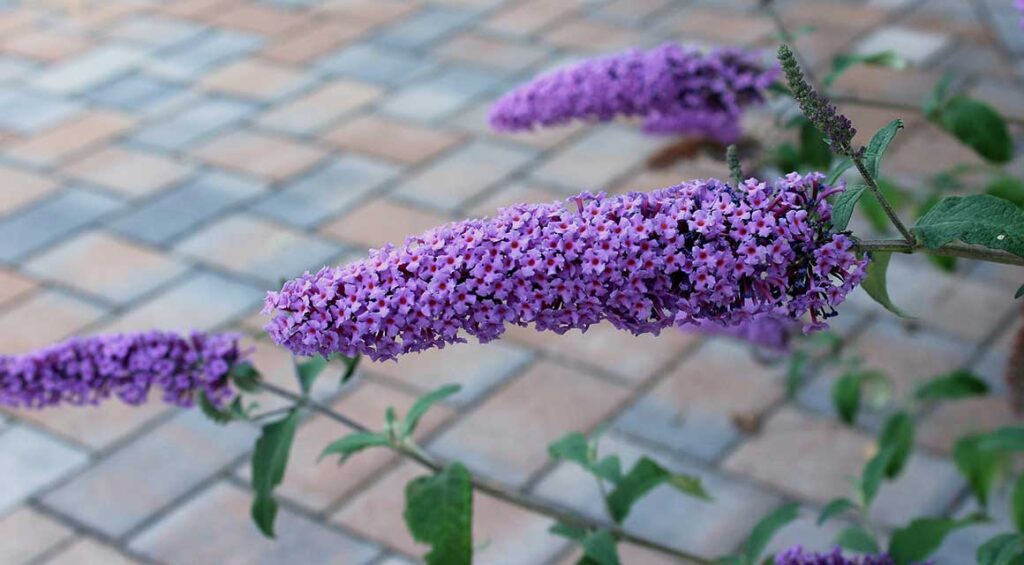 What informal plants fit into this garden?

So far, we've talked mostly about plants that fit well into the simple design of a modern garden. It can also be very nice to take a contrasting plant that breaks the geometric pattern a bit. A hedge plant like the butterfly bush is particularly suitable for this. The long, thin leaves of this plant grow mainly upward, and the fragrant flowers bring a lot of life to the garden, both through their beautiful colors and the insects they attract. For this reason, they complement a modern garden perfectly.
Bamboo can also be a beautiful addition to a modern garden. For example, consider a maned bamboo as an informal and vertical growing garden plant. A bamboo hedge can also look great in a modern garden especially if you want to be inspired by the aesthetics of East Asia.
I have 30 years of experience and i started this website to see if i could try and share my knowledge to help you.
With a degree a Horticulture BSc (Hons)
I have worked as a horticulture specialist lead gardener, garden landscaper,  and of course i am a hobby gardener at home in my own garden.
Please if you have any questions leave them on the article and i will get back to you personally.