Wintergreen hedge plants and hardy hedge plants are not necessarily the same thing. The fact that hedge plants retain their green foliage all year round does not automatically mean that they can cope with all winter temperatures. Conifers are generally quite cold hardy, but if you choose a Thuja hedge, you should be sure that it will survive the winter. But is a thuja hardy? And does it matter which thuja variety you choose? By answering these questions, we hope to give you a good idea of what to expect if you want a thuja hedge.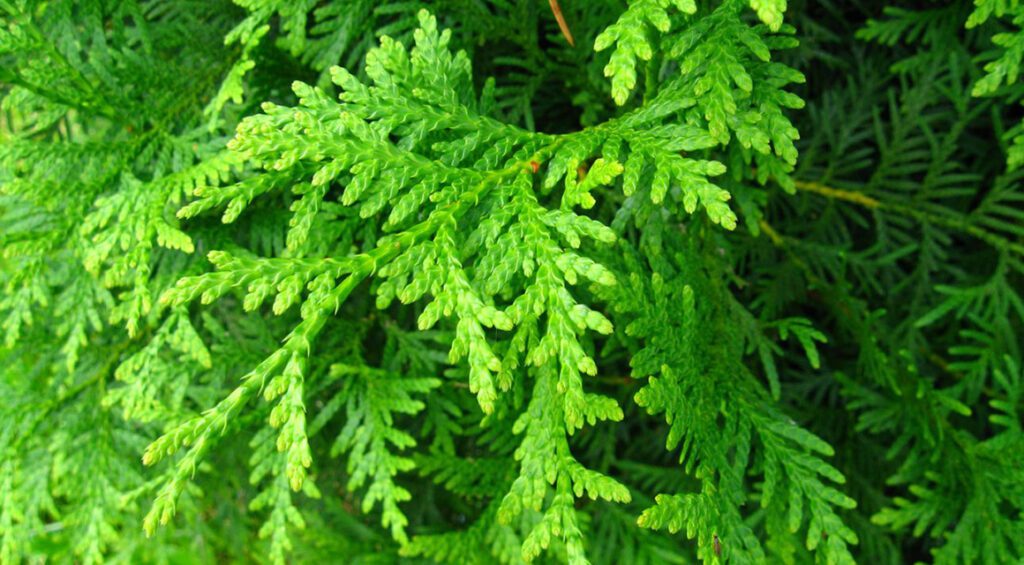 The different varieties of thuja have different hardiness.

It is difficult to say how hardy "the" Thuja is, because we sell several varieties of Thuja and there are some differences in how they react to the cold. This is partly because the thuja in our assortment are cultivated forms of two different plant varieties, both of which originated in North America. The western tree of life (Thuja occidentalis) is remarkably native to the eastern part of the continent, while the giant tree of life (Thuja plicata) originally grew on the west coast of the United States and Canada. There are differences between these species in terms of winter hardiness, but cultivated varieties also vary.
For example, the most popular Thuja in our assortment, Thuja 'Brabant' (Thuja occidentalis 'Brabant'), is one of the least hardy hedge conifers. This is not as bad as it may seem at first glance. The Thuja occidentalis 'Brabant' arborvitae can tolerate frosts as low as 23 degrees, so it will overwinter in most European gardens without any problems. If the temperature falls below -23 °C at night, or not too far below, you can even take some measures to protect the plants from frost. For example, you can cover the roots with a fleece. If you don't have any, a layer of straw can also provide good protection.
Would you rather play it safe? Then you can plant one of the other Thuja varieties from our assortment in the garden. The hardiest Thuja is even a cultivated form of the same Thuja species as Thuja 'Brabant'.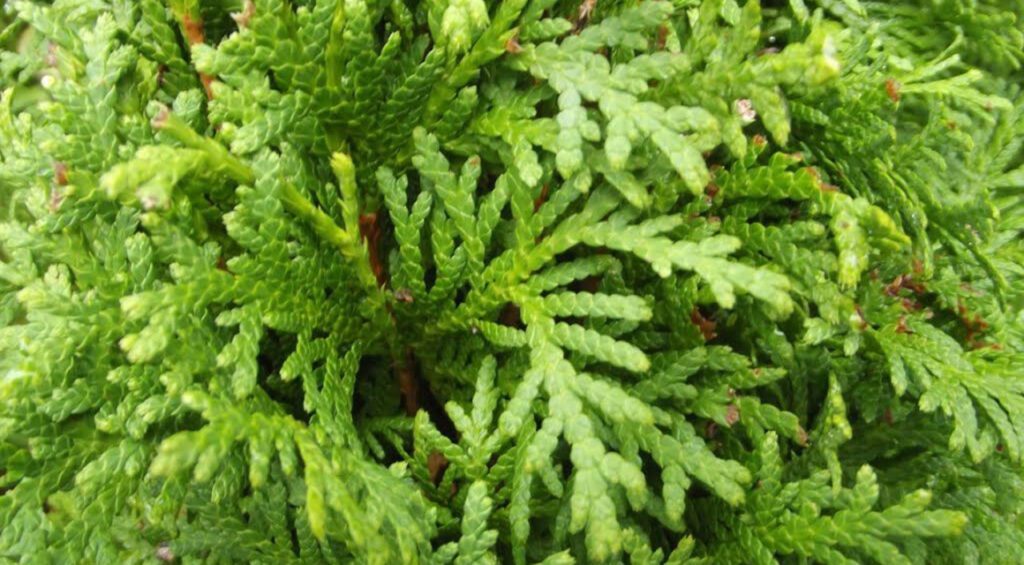 Extremely hardy: Thuja 'Emerald

Thuja 'Emerald' is hardy to about 40 degrees below zero, making it one of the hardiest hedge plants in our range. There are not many hedge plants that can survive the cold climate of Northern Europe without any problems, but with Thuja 'Emerald' there is a good chance that the conifer hedge will survive the winter there without any damage. How is it that Thuja 'Brabant' is nevertheless more popular than Thuja 'Emerald'? Apart from the fact that some garden lovers do not like the emerald green foliage that gives this variety its name compared to the fresher color of Thuja 'Brabant', there is another important reason: Thuja 'Emerald' grows quite slowly.
While most thujas grow about 30 to 40 centimeters in a year – some giant trees can even grow half a meter per year under optimal conditions – Thuja 'Emerald' grows only 15 to 30 centimeters in the same time. Since Thuja is often planted as a privacy hedge, this is not always ideal. However, with time Thuja 'Emerald' can grow tall enough; its maximum height is about 5 to 6 meters. Depending on conditions, it can take twice as long for a Thuja hedge with this species to grow above eye level.
Would you like to benefit from the hardiness and privacy of Thuja 'Emerald' at the same time? Then a prefabricated hedge is a good choice. For example, we have a Thuja prefabricated hedge with specimens of Thuja 'Emerald' that is already 1.80 to 2 meters tall when planted. Alternatively, you can start with taller specimens of these conifers and prune them into shape yourself.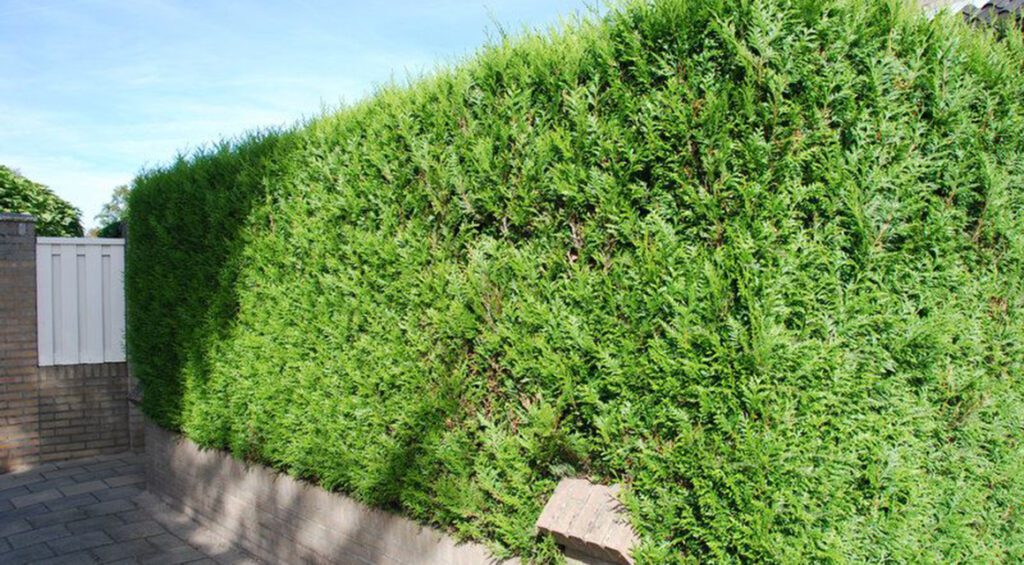 The Thuja plicata is also very hardy

Since the west coast of North America has a warmer climate than Europe, one might assume that our giant live trees would be the least hardy Thuja in our range. However, this is not the case. Both Thuja 'Martin' (Thuja plicata 'Martin') and Thuja 'Atrovirens' (Thuja plicata 'Atrovirens') are hardy to about 28 degrees below zero. They are a bit hardier than Thuja 'Brabant' and frost resistant enough to be planted in most parts of Europe.
As the name suggests, Giant Life Trees grow into gigantic trees in the wild. Even the largest Thuja trees in the world all belong to this species. However, when pruned into a hedge, they form hedges similar to Thuja 'Brabant' and Thuja 'Emerald'. The foliage of Thuja plicata has a slightly more visible sheen and you can choose from a variety of leaf colors. However, with proper pruning, they always form a uniform-looking evergreen hedge.
Like the yew and Leyland cypress, the thuja is not easily impressed by the cold. Also, if you prune these conifers two or three times a year after planting, the risk of damage from sub-zero temperatures is limited. Do you need special gardening tips on thuja winter hardiness because, for example, you live in a region where it is colder than the rest of the country? If so, contact our customer service department. You can find more useful information about these beautiful thuja in our garden guide about conifers.
I have 30 years of experience and i started this website to see if i could try and share my knowledge to help you.
With a degree a Horticulture BSc (Hons)
I have worked as a horticulture specialist lead gardener, garden landscaper,  and of course i am a hobby gardener at home in my own garden.
Please if you have any questions leave them on the article and i will get back to you personally.