Do you have a slightly smaller garden? Then the choice of suitable hedge plants is somewhat limited, but even then there are still plenty, pretty options that you can plant in your garden, for example, the Thuja . This conifer is often used as a hedge plant, but there are other ways the thuja can be used in a small garden. We will be happy to inform you about how you can use the thuja in small gardens.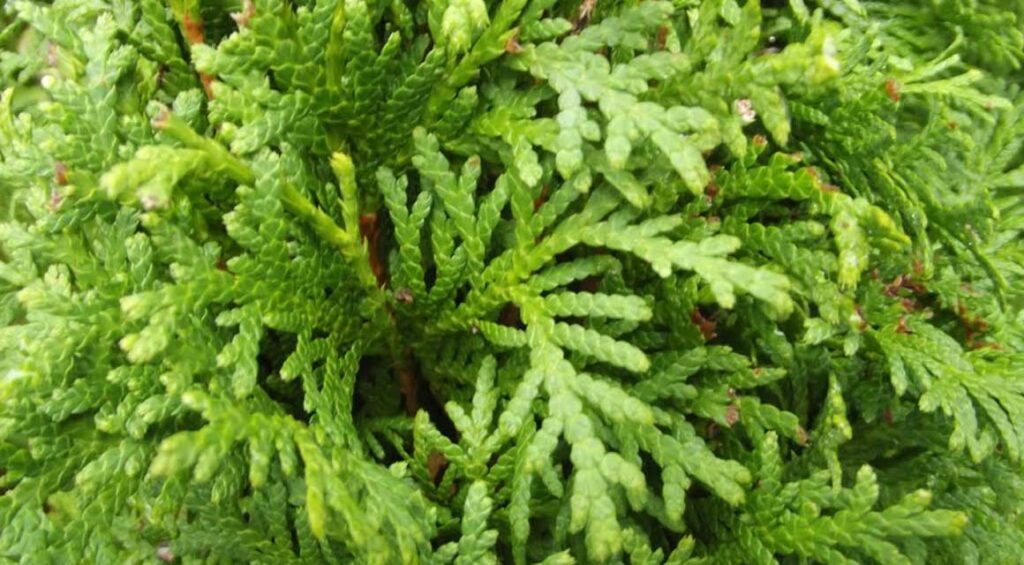 Select the right Thuja variety

Generally, there are two Thuja varieties: the Thuja plicata (Giant Life Tree) or the Thuja occidentalis. It is important to select the right Thuja variety if you have a smaller garden. That's why a Giant Life Tree is less suitable for a small garden: in fact, this hardy conifer has a rather tall and fast growth. However, Thuja occidentalis is very suitable for smaller gardens. There are 2 Thuja occidentalis varieties: the Thuja 'Smaragd' and the Thuja 'Brabant' . The Thuja 'Brabant' is a bit more robust and also needs a bit more space in the garden. In addition, the Thuja 'Brabant' has a faster growth than the Thuja 'Emerald'.
The Thuja occidentalis 'Smaragd' is actually best suited to a smaller garden. This is because this conifer has a slow growth, as it only grows up to 20 cm per year. It also has a slender habit, which means it doesn't take up much space in the garden. Thuja 'Smaragd' is particularly versatile for small gardens. This evergreen conifer has an elegant appearance and it can be used in small or even in larger gardens.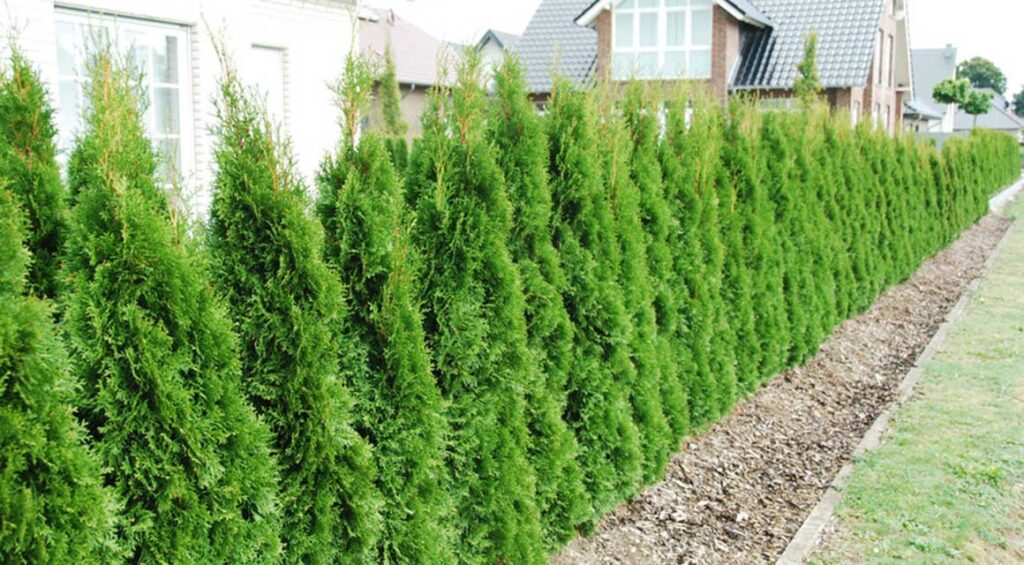 A conifer hedge from thuja

Even small gardens need a pretty, well-maintained garden border. However, a high garden fence tends to look oppressive in a small garden, because it immediately makes a small plot look much smaller. Moreover, artificial garden fences can't add anything natural. Therefore, a hedge is a good option for smaller gardens. However, it is important that you select a hedge plant that is suitable for urban gardens. Thuja 'Emerald' is a wonderful option due to its slender and slow growth. A conifer hedge made of thuja only needs to be trimmed once or twice a year for a neatly maintained look.
Above all, keep your hedge low to medium in height. After all, if a conifer hedge gets too tall, it will immediately make your garden look much smaller. However, Thuja 'Emerald' can easily be kept at the height you desire. This is also true for a yew hedge or a Japanese holly hedge. Such hedge plants are also well suited for small urban gardens.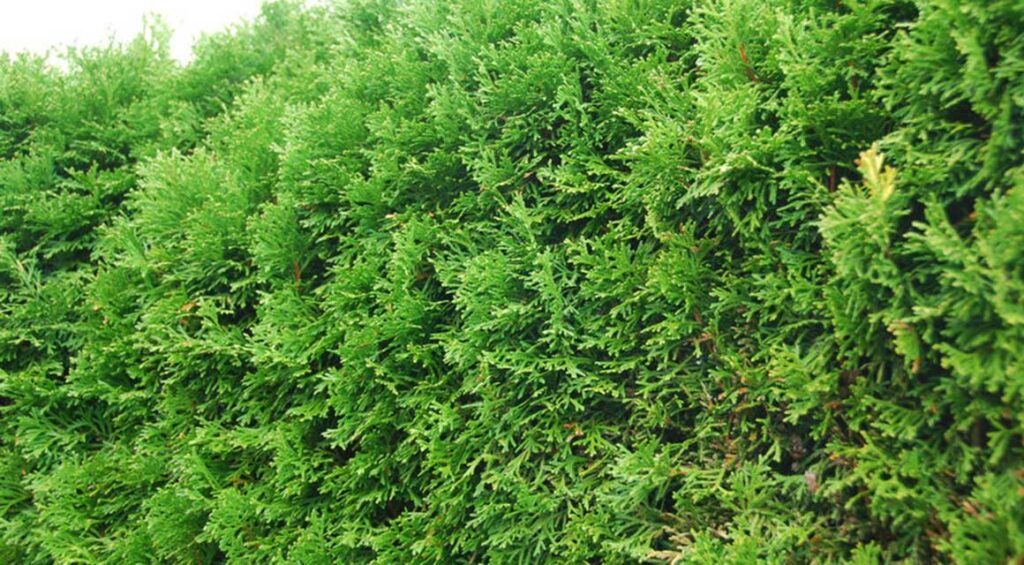 The Thuja 'Smaragd' as a pot plant or as a tub plant

By the way, the Thuja 'Emerald' can also be used well as a pot plant or as a tub plant. Because conifers do not require a lot of space in the garden, they can enrich especially smaller gardens quite wonderfully. However, it is important that you select a plant pot or plant pot that is not too small. This will give the thuja enough room to grow well at all times. If you plant the conifer in a plant pot or planter, it will adapt to the circumstances and thus grow less quickly. A pot is often used for single plants, while planters can also be used to grow a hedge.
If you grow thuja in a pot or tub, then you can also quickly position these pots or tubs somewhere else in the garden at any time. For example, you can use them to decorate your patio to create more privacy on the patio. But also in other areas of your garden thuja in pots or tubs can provide more privacy and more natural charm.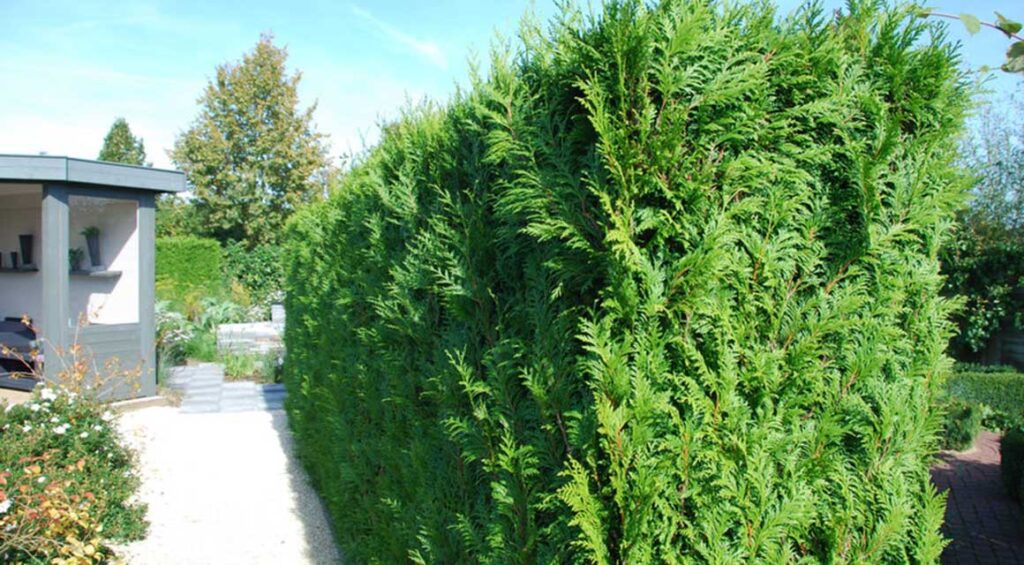 The thuja and topiary

Although the Thuja is a wonderful hedge plant, it can also be used well as a single plant. Then, to give your garden an elegant look, you can prune this single plant into interesting, creative shapes. Think here, for example, of a conifer spiral or a conifer cut in a spherical shape. For such topiary you can use Thuja 'Brabant' or even Thuja 'Emerald'. In the past, hedge plants in creative shapes were seen mainly in formal gardens belonging to country houses or castles. Nowadays, topiary also suits city gardens wonderfully to make these gardens more creative and elegant.
Besides thuja, yew, boxwood and Japanese holly 'Dark Green'® are also good for topiary. These hedge plants can also be planted well in a small urban garden.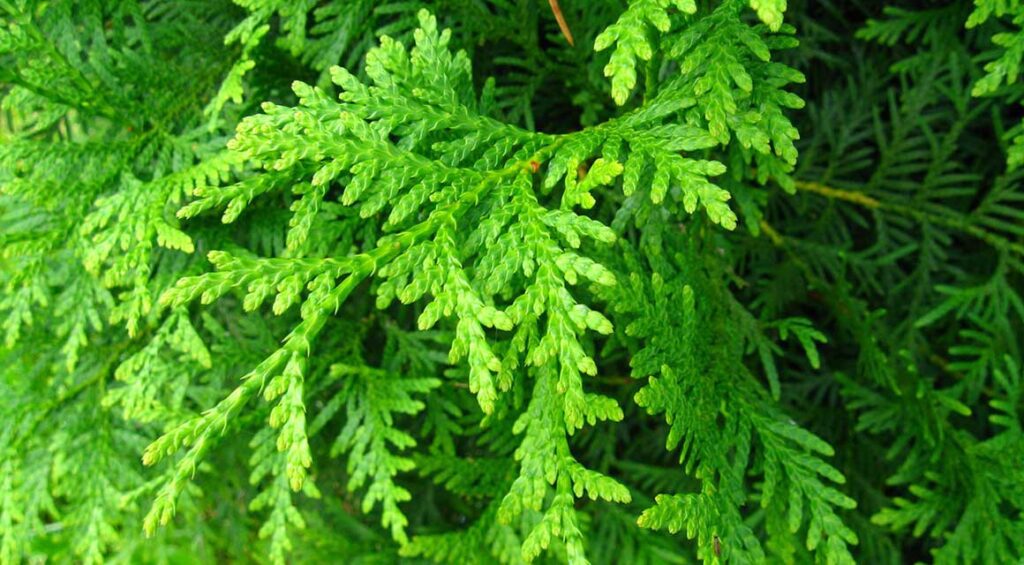 Plant the thuja as a single plant in your garden.

However, the Thuja as a single plant can also remain in its natural form. Do you prefer the topiary rather not or does the topiary not fit so well to your garden? Then a conifer as a single plant can be a good option for your garden. However, you can also plant several conifers as a small group in your garden. If you have a small garden, it is important to use the space extra efficiently. You can also add more depth to your garden by combining different plants. Combining plants also has the advantage of creating a natural effect in the garden, providing much more spatial balance.
Thuja 'Emerald' and Thuja 'Brabant' combine beautifully with other plants in your garden. To avoid your garden looking monotonous, evergreen plants should be combined with colorful or flowering plants, think here of the foxglove , ornamental deutzia , hydrangea or forsythia . The thuja is versatile, so it suits any garden. This, of course, allows it to be well combined with other plants and shrubs. Thuja is also a low-maintenance conifer that does not have many demands on its location or garden soil. But be careful: the Thuja is sensitive when it comes to prolonged drought and waterlogging.
Do you also want to select the thuja for your small garden? In our webshop, different Thuja varieties are available, each of which is then also supplied in different growth heights.