The Complete Guide To Jade Plants
We recommend jade plants for your indoor garden if you are looking to decorate and accent areas of your home.
These succulents are ideal for those who live in apartments or condos. Jade plants do not grow very large, so they are ideal for small living spaces.
Jade plants are also known as money plants. These plants are believed to bring good luck and change the energy of your home. Jade plants can withstand harsh conditions indoors.
These perennial plants can live for many years and make a great housewarming gift. Jade plants have thick, woody stems and oval leaves that give them the appearance of small trees rather than houseplants. Jade plants can grow indoors to a height of 4 feet. They are tolerant of hot conditions and will thrive in warm climates.
Jade Plant aka Money Plants
It is important to keep the soil of your jade plants moist during the summer, as they dry out quickly in hot weather. To avoid root rot, it is important that the soil does not dry out between waterings.
If you live in an area with USDA zones 10 and above, jade plants can be grown outdoors. In colder climates, jade plants will not thrive below USDA zone 8. If your area has warm summers and cold winters, you can pot your jade plants indoors and bring them back indoors during the winter when temperatures drop below 10 C.
Choose a large container that is easy to move when planting jades. Jade plants do not have large root systems, so they can become too heavy and tip the container over. Be sure to use a light, loamy soil to grow your plants.
You need to make sure the soil drains well and that your pot has drainage holes that allow water to run off the roots. Overwatering your jades can lead to root rot. To improve soil drainage, mix perlite with general potting soil in a 2:1 ratio.
Pre-mixed potting soils are available at succulent and cactus nurseries. These mixes can also be used to grow jade plants. Your jade plants do not need to be watered immediately after planting, unlike other plants.
Give the plant its first watering after waiting 4-7 days. The jade will have time to adapt to the soil while waiting to be watered.
Starting Jade Plants From Cuttings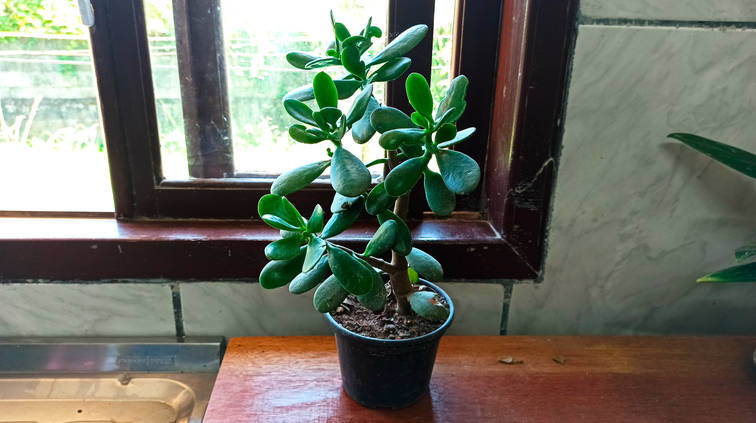 Jade plants are easy to propagate from cuttings. It is easy to start plants from leaves or cuttings. They will grow into full-sized plants in no time.
This is a quick guide on how to grow jade plants.
You can either cut the stem or remove a leaf with a sharp knife. You should only take cuttings from mature plants.
A stem should be cut to a length of 2 to 8 cm. It should also have at least two sets of leaves.
Once you remove the cutting, let it dry in a warm place for a few days. The stem will form a callus on the cutting as it dries, which will prevent rotting and encourage rooting.

After a few days of drying, your pot can be prepared for planting. To improve soil drainage, you can add a 2:1 ratio of perlite potting soil. You need to make sure your container has enough drainage holes.
Make sure the soil is not too dry when you plant. Moisture will cause rot to form where roots should grow. Lay the leaf cuttings horizontally on top. To begin rooting, cover the top with soil for a few days.
Use sticks to support the stem until it begins to root.

The pot should be placed in a warm area of the house and out of direct sunlight. The cutting will develop roots if you do not water it for the first 2 weeks. Pull on your jade after four weeks to see if the roots can support the weight of the plant.
Once the roots are established, watering can begin. The watering of the pot should penetrate the deepest layers. The roots will not grow downward if they are wet.
To prevent root rot and disease, allow the soil to dry between waterings.
Window sills are made of jade plants
How to Care for Jade Plants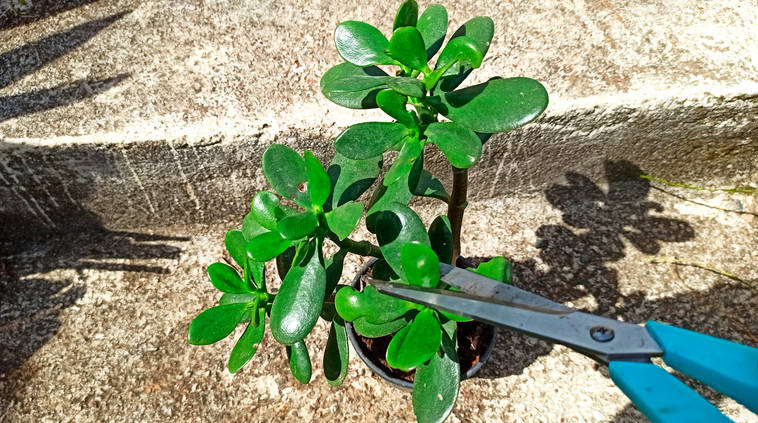 It will need about a month of indirect sunlight before it can be moved into direct sunlight. You should give the plant four hours of sunlight a day after it has taken root. No more than that will cause the plant to wilt or turn brown at its tips.
South-facing rooms are excellent places to grow jade plants. They are also well suited for those with west-facing windows. The room should be kept between 65 and 24 C with slightly cooler nights.
Important to remember that jade plants do not like the cold. You will need to keep the plant indoors if you live in a frost sensitive area. Frost can kill the plant overnight and ruin your cutting. Keep nighttime temperatures at 13 C.
Your jade plant will grow at a faster rate in the spring and summer and therefore require more water than in the winter. If you want your jade plant to thrive and be healthy, it is important that you water it properly. Root rot can slowly kill your jade plant if you overwater it. Before watering your plant again, make sure the soil is completely dry.
The plant will go dormant over the winter and only needs two watering sessions. Jades are extremely drought resistant and do not need to be watered much, especially in dormancy. It is important to avoid getting the leaves wet when watering. Wet leaves can cause the plant to rot or lead to the onset and progression of diseases.
Jade plants can also be called silver plants.
Your jade plant may develop brown spots during the summer or spring. This is a sign that you need to increase water intake. Additions and salts found in water can also make jade plants sensitive. We recommend using only distilled or filtered water to water your jades.
If your jade plants start to swell or feel spongy, you are probably overwatering them. Your jade plants should only be fed once a season.
Winter is coming, so make sure your plants are indoors.
Tips for Potting Jade Plants
Jade plants can thrive in small pots and do not need much space to grow and mature. To support the weight of your jade plant once it matures, we recommend using a small container. A small jade plant can be a great way to control its growth. Although jades can become root bound, this does not affect their health.
To promote jade growth, you should change the pot every 2 to 3 years. Repotting of old jade plants will only be necessary every 4 to 5 years. To allow the roots to settle into the new soil, it is important not to water your jade plant after repotting.
Jade Plants Are Afflicted By Pests And Diseases
Indoor jade plants are more likely to be healthy than outdoor ones. However, you should not overwater your jade or cause root rot.
However, if you are growing jade plants outdoors, you will need to be aware of signs such as scale or mealy bugs under the leaves and on the lower stems. Signs that your plant needs more water include shrinking or wilting leaves.
Jade Plant Varieties
Gardeners have a wide range of jade plant options. For novice jade growers, we recommend these types.
ETs Fingers This variety has tube-shaped leaves with red tips.
Tricolor Variegated leaves of white and cream.
Hummels Sunset A popular variety with yellow and red foliage.