The easiest way for burglars to find their way into a building or apartment is through unsecured windows and doors. But there are other weak points and points of attack that everyone should know about and protect. We explain what these are and how you can better secure them.
Burglary protection is an important topic, especially in summer. In search of cooling down, many people often leave the window and balcony door open, forgetting that burglars most often enter the house or apartment through these weak points.
According to official sources, the number of burglaries has declined in the recent past, but the number of attempts has not. Burglars continue to be very active, especially in the larger metropolitan areas. The sad leader in a comparison of cities is Berlin, with almost 5,000 burglaries in 2021.
Burglary protection at the door

The front door or apartment doors, especially in apartment buildings, are a popular target. According to a study by the North Rhine-Westphalia state police, 47 percent of burglaries occur via the front door, which is pried open or opened with physical force.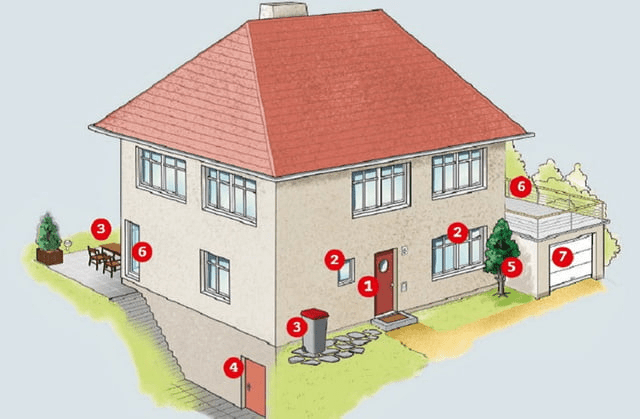 The expert recommends here: "As the most effective locks, we recommend so-called armored deadbolts* for securing entrance doors. These locks lock both sides of the door with only one closing operation, provide additional stability of the element and deter the potential offender."
Burglary protection on first floor windows

First floor windows that are unsecured or even left open are a real invitation to burglary. In single-family homes, about one-third of burglaries are committed through the windows.
Michael Bräuer's recommendation: "The rule is to secure both sides of the window – i.e. the locking side and the hinge side – with tested locks and one security point per running meter. Optimally suited for the closing side are additional window locks*, which replace the usual window handle and thus do not have to be operated separately."
Burglar protection on basement windows and light wells

Basement windows are usually somewhat smaller than conventional residential windows, but they are still large enough for many burglars to fit through. A useful burglary protection for basement windows are window bars* or window security bars*.
Burglary protection: Removing climbing aids

Climbing aids of any kind, such as garden furniture, trees, garbage cans or freely accessible ladders, serve potential offenders as climbing aids.
The expert advises: "It is advisable to lock up objects such as ladders, garbage cans or other climbing aids if they cannot be stowed away sensibly. For this purpose, sturdy chains* in combination with padlocks are suitable."
Tip: It is better to use a padlock with a key. The combination of combination locks can be cracked in a few minutes with a little practice.
Burglary protection on basement and exterior doors

Metal basement doors and exterior doors are potential weak points of a building. They are often unsecured and easy to pry open due to their nature. Even if they look solid, they usually have inadequate burglary protection.
One option for better protection is special basement and exterior doors*: "As a provider of diverse security solutions, we offer special retrofit security devices for basement doors. Burglar-resistant elements are also available for this area of application – the price for such elements depends on the supplier and the desired RC class."
Burglary protection: garden plants as a weak point

Trees and shrubs provide visual protection for perpetrators and should therefore be cut back regularly. Here the expert recommends: "Light as an additional deterrent is useful in this case. In addition, clearly visible indications of absence – such as a full mailbox or permanently lowered shutters – should be avoided."
Burglary protection for balcony and terrace doors

Balcony and patio doors are the biggest weak points in single-family homes. Almost half of residential burglaries can be prevented with appropriate security technology. The same rules apply here as for windows.
Burglary protection with the help of smart home extensions

Some of you may already have connected your home to the Internet at least in part – in other words, made it smart. However, smart home can not only make your everyday life easier and, for example, take over the watering of your garden thanks to automatic watering. Retailers also offer numerous smart home extensions for burglary protection.
For example, there are smart alarm systems*. These are, for example, small sensors that are attached to doors or windows. The user can now define when the alarm should be triggered via an app. Depending on habits, either a predefined period between certain times or the user's own movement profile is suitable. If the app has a function (or the option of connecting to a corresponding other app) that allows it to register the user's exact whereabouts, it is also possible, for example, to set the alarm to go off whenever the user leaves the house, and so on.
Smart home burglary protection also includes intelligent surveillance cameras. There are models for outdoor* as well as indoor use*. They often have a motion detector that, depending on the device, then switches on a connected light, for example, or starts recording and so on.
Caution: When installing a surveillance camera – especially outdoors – you should always make sure to respect the privacy of your neighbors. Find out in advance what is allowed and what is not. In some cases, it may even be necessary to post information signs*.
Burglary protection on garage doors

Garage doors are often just left ajar and not locked. This is disastrous if a connecting door leads from the garage to the inside of the house. In addition, theft from an unlocked garage is usually not covered by insurance.
There are starting points for this vulnerability as well: "Some electric door operators have mechanical interlocks. In addition, it's also a good idea to use the existing safeguards, which means always locking up!" A special garage door lock* can provide additional security. This is anchored in the floor and simply prevents the door from being tilted and thus opened.
Burglary protection with electronic gadgets

The trade offers a whole cornucopia of electronic items for burglary protection. TV simulators* are relatively common here. These small devices are supposed to imitate a switched-on TV set when you are absent. Or at least the changing light that the set would emit. Devices with integrated timers are recommended here.
Also quite popular are doorstop wedges with alarm*. These are simply pushed under the door from the inside. If the door is opened from the other side and pressure is exerted on the doorstop, it emits a loud alarm sound.
If you have not (yet) installed a smart home system, you can still install an alarm system with motion detector*. Even without an Internet connection, the alarm sound can be a deterrent.
Conclusion of the security expert:
"The best security is useless if it is not used. In addition, old locking cylinders pose a risk in some places. You should always ask yourself whether you know exactly who could be in possession of a key.
If in doubt, this is the first step toward greater security: installing a new security lock cylinder."
I have 30 years of experience and i started this website to see if i could try and share my knowledge to help you.
With a degree a Horticulture BSc (Hons)
I have worked as a horticulture specialist lead gardener, garden landscaper,  and of course i am a hobby gardener at home in my own garden.
Please if you have any questions leave them on the article and i will get back to you personally.