Most conifers have a powerful and rapid growth. Actually, all varieties of conifers are known to be particularly proficient when it comes to growth, but the yew is an exception here. Leylandii conifers are even known by their particularly fast growth: therefore, these world champions can grow a whole meter per year. Conifers are therefore particularly suitable as hedge plants in your garden, if you want to have an evergreen hedge in your garden relatively quickly.
However, due to their fast growth, it is necessary to prune conifers regularly. For certain reasons, it can still happen that a conifer hedge is not trimmed often enough or not at all for quite some time. Your hedge can then become too high and too wide, and in addition it can then grow much too unevenly. We will gladly inform you here about what can be done if you have an overgrown conifer hedge.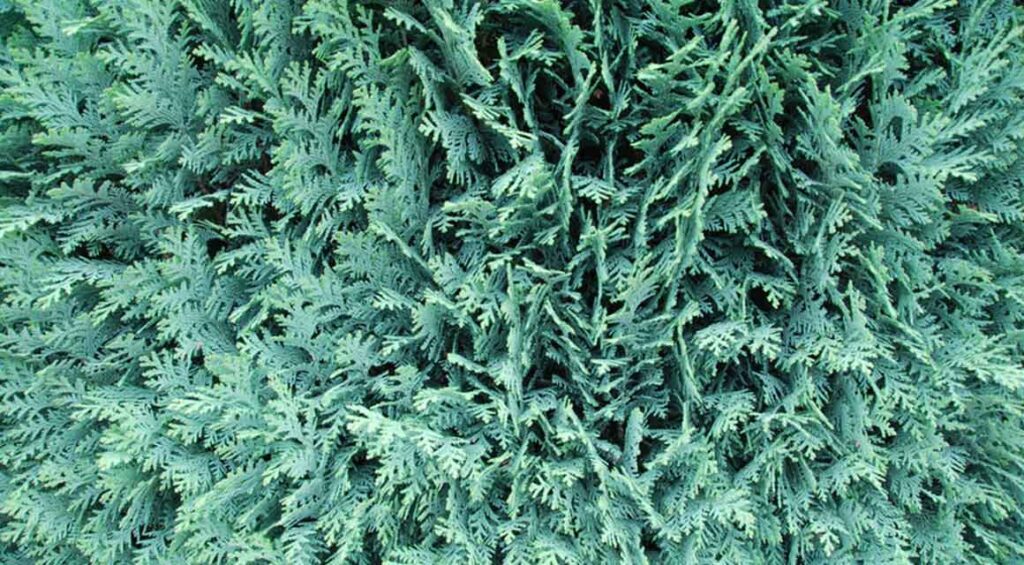 Can an overgrown conifer hedge be severely pruned back?

Most conifers do not tolerate radical pruning back to the old wood very well, but the yew is an exception here. This is because the old wood will not produce new, young shoots after radical pruning. The result: unsightly, brown and bare spots in your hedge. And that's exactly what you want to avoid, of course. Nevertheless, it can happen that your conifer hedge has already outgrown your head: the hedge has then already become much too tall due to a lack of pruning. In this case, it is possible to cut back the hedge quite a bit, but you should do it carefully. However, the bare wood should be spared. Cut back the top of the hedge until the leaves turn dark green: You will then know for sure that you have almost reached the lower lying branches. With blue hedge conifers, you can think here for example of Lawsons mock cypress 'Columnaris Glauca', the deep blue color of the leaves becomes deeper and deeper blue the closer you get to the old wood of this plant.
You can also easily remove overgrown shoots from your conifer hedge. You can think here, for example, of a branch that has already reached a decent length of half a meter, but is out of line. However, make sure then that there should be enough surrounding full-leaved branches and twigs so that the cut-back area can also grow back quickly. The best way to trim back these fast-growing, out-of-row shoots is with a sharp hedge saw. Do you want to cut back a tall conifer hedge? Spring and fall are then appropriate periods of the year for such pruning. Always use sharp and clean pruning tools for cutting your conifer hedge.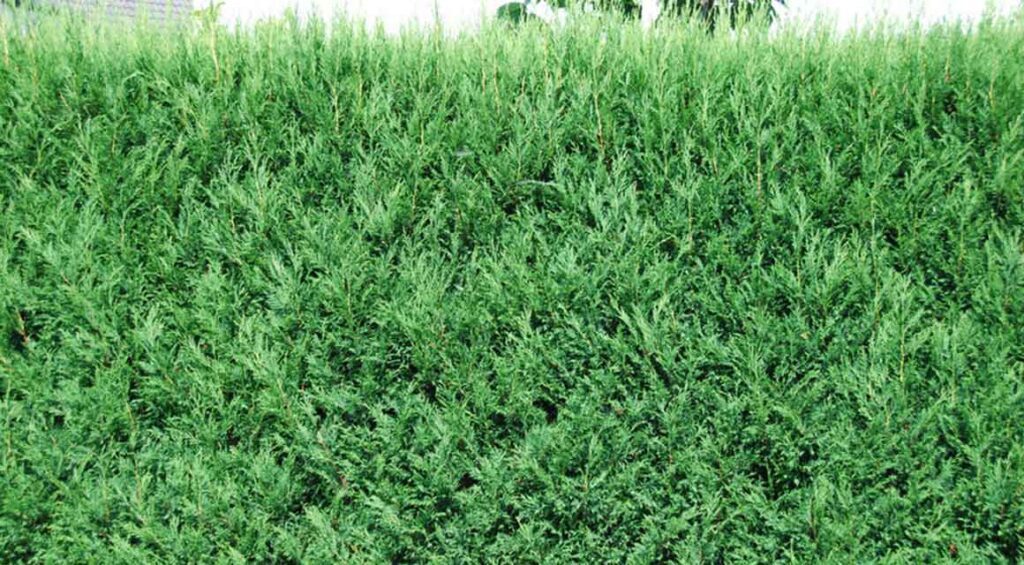 How to narrow a hedge that has become too wide?

Have you not trimmed back your conifer hedge for quite a while for whatever reason? Then it can happen that the hedge is not only too high, but has already become much too wide. Especially with leylandii conifers, this can often happen. Of course, it is possible to cut the sides of the hedge in this case. However, this is a particularly time-consuming matter. In fact, it is best to first cut one side of the conifer hedge, and then the following year cut the other side. This way, the hedge gets enough time in between to recover after the pruning. After the first pruning, it is important to carefully fertilize the conifer hedge.
If you want to cut your overgrown conifer hedge back a whole section, then this can also cause brown spots in the hedge. However, when cutting, small, younger branches are often overlooked, which will end up covering these spots reasonably well again. However, the result is not always satisfactory. In fact, an overgrown conifer hedge can be regenerated only up to a certain height. In many cases, a quick and easy solution is then rather to replace certain parts of the hedge with prefabricated hedge elements. In our webshop you will find all conifer varieties that we also offer as prefabricated hedges. They are then also available in different heights.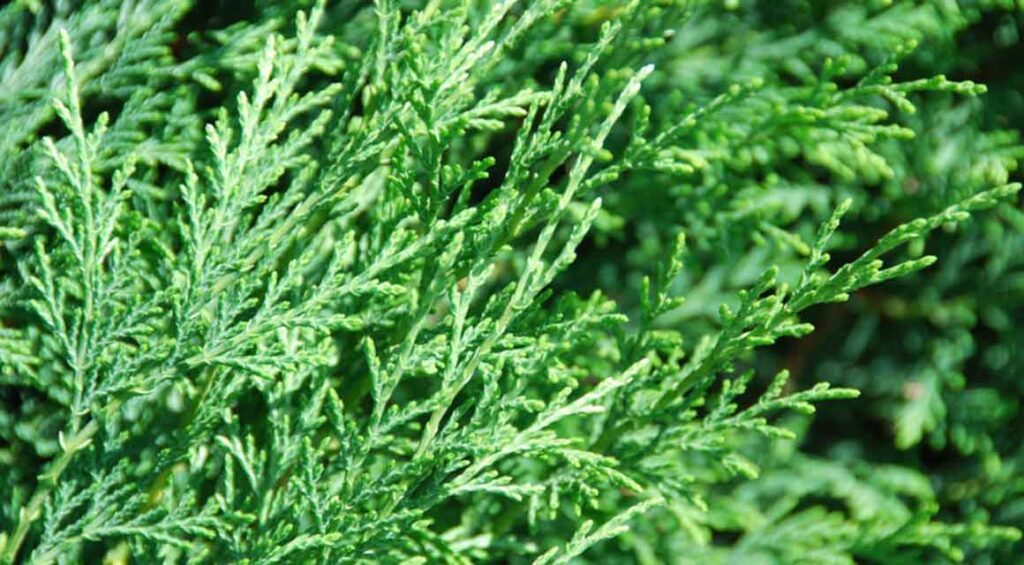 How to keep the condition of your conifer hedge optimal?

The very best thing, of course, to avoid overgrowth of your conifer hedge. This is also quite easy to avoid by trimming the hedge regularly. Most varieties of conifers should be pruned once or twice a year, as this is a good way to maintain the beautiful, compact shape. Leylandii conifers should even be pruned up to four times a year due to their rapid growth. A hedge of Leylandii conifers should therefore be pruned regularly so that it does not grow too tall.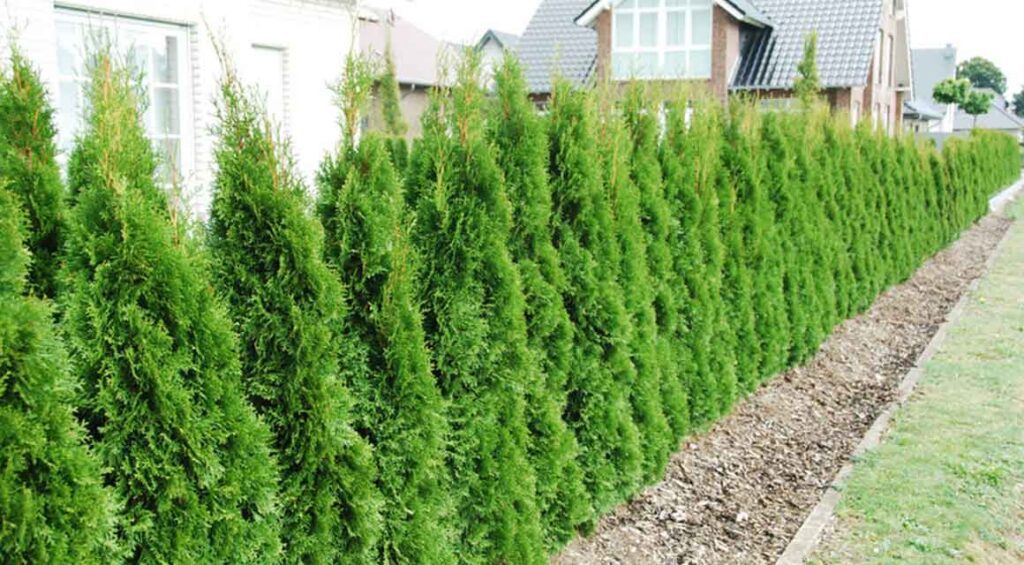 Replace conifer hedge

For whatever reason, has it failed to trim your conifer hedge regularly and as a result, your evergreen hedge is quite overgrown? Then you can try the tips for trimming your hedge that you just got in this article to make your hedge look respectable again. However, you should expect that this will not always work. After all, if you cut your conifer hedge back too much, then you may end up damaging the hedge as you trim it. Has your hedge already grown far too tall or too wide? Or have the different parts of the hedge become so overgrown that the hedge has become asymmetrical? Then we recommend you to replace your conifer hedge with a new hedge.
If you want to replace unsightly hedge parts, then the use of prefabricated hedge elements of the same height is the easiest and fastest solution. However, it is also possible to replace the whole hedge. You can then use a prefabricated hedge or even very young conifers, which will then have the height you want. Simply select exactly the plants that then also best suit you.