It's spring and although the weather still alternates between winter showers and summer days, it's already noticeable in the gardens that the warm season is coming again. It's time for a close-up of one of our most beautiful spring bloomers: the rhododendron.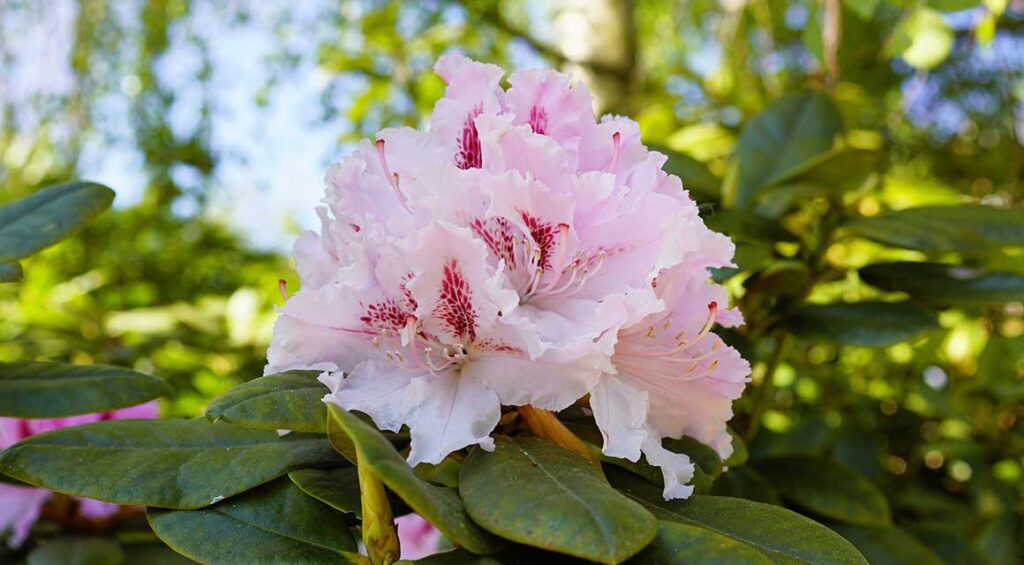 Green in winter, colorful in spring

Rhododendron is a beautiful, flowering hedge plant that is especially suitable for large gardens. This broad, evergreen shrub can easily grow several feet tall and is often used as a specimen plant in the garden. Although the large, dark green, leathery leaves are beautiful in their own right, rhododendron is more often planted for its beautiful and abundant flowers. Large buds grow on this plant early in the spring – depending on the species, flowering begins between April and June. The flowering period of the rhododendron often lasts about four weeks.
The different species of rhododendron differ not only in their flowering time, but also in the color of the flowers. Most rhododendron species have white, purple, or pink flowers. Examples include rhododendron 'Cunninghams White', rhododendron 'Roseum Elegans', and rhododendron 'Marcel Menard'. If you are looking for a rhododendron in a special color, you may be interested in the yellow rhododendron 'Horizon Monarch', or the peach-colored rhododendron 'Virginia Richards'. In our catalog, all rhododendrons are shown in their blooming season, so you can choose the flowers that you like the most.
Since different rhododendron species have a different flowering time of four weeks, some overlap while others alternate in their flowering time. When choosing a rhododendron hedge for your garden, this is definitely something to keep in mind. If you take all plants of the same species for your hedge, you will have a hedge that blooms profusely four weeks out of the year and is nice and green on top of that. If you choose different varieties of rhododendrons, you can extend the blooming season and have parts of your hedge bloom at different times.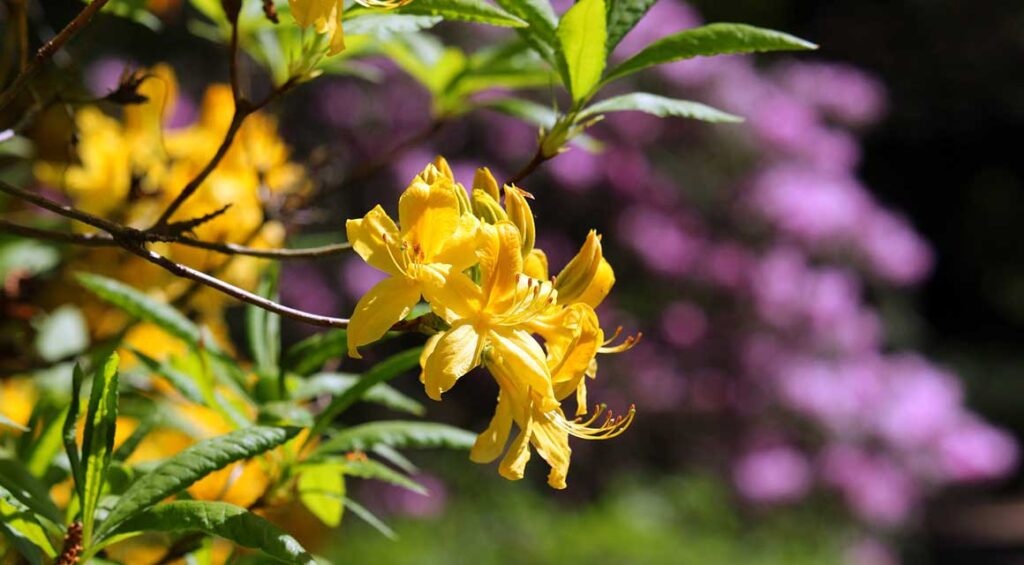 Rhododendron as a hedge

The rhododendron is an evergreen hedge plant that becomes very dense and can grow quite tall. It is therefore a hedge that offers a lot of privacy and also blooms beautifully. Nevertheless, it is not one of the most popular hedge plants in Europe. The reason is simple: it is a rather wide growing plant. To get the most out of a rhododendron hedge, you need a large garden. If you have a lot of space available, it is certainly worth planting the rhododendron in the garden, because it is a beautiful plant.
Of course, there are situations when the rhododendron is not the most suitable plant: for a topiary hedge, for example. The rhododendron has a rounded growth habit and is not easily forced into a tight shape. This includes the large leaves. Cutting these off to shape it is a waste. Conifers such as yew, thuja and mock cypress are better for a neat, formal hedge. Privet, beech and hornbeam are also easy to trim into a formal shape.
If you are thrilled with the large leaves but want a hedge plant that can grow a little narrower, some varieties of cherry laurel are better. A broad-leaved cherry laurel such as the cherry laurel 'Rotundifolia' has the same problem as the rhododendron, but a cherry laurel with an upright growth habit is a good alternative. For a smaller garden, for example, the cherry laurel 'Caucasica', the cherry laurel 'Etna' or the cherry laurel 'Genolia'® are very suitable. Although several species of cherry laurel, including the 'Caucasica', bloom, this flowering is not nearly as abundant as that of the rhododendron. So there you need to weigh what you want.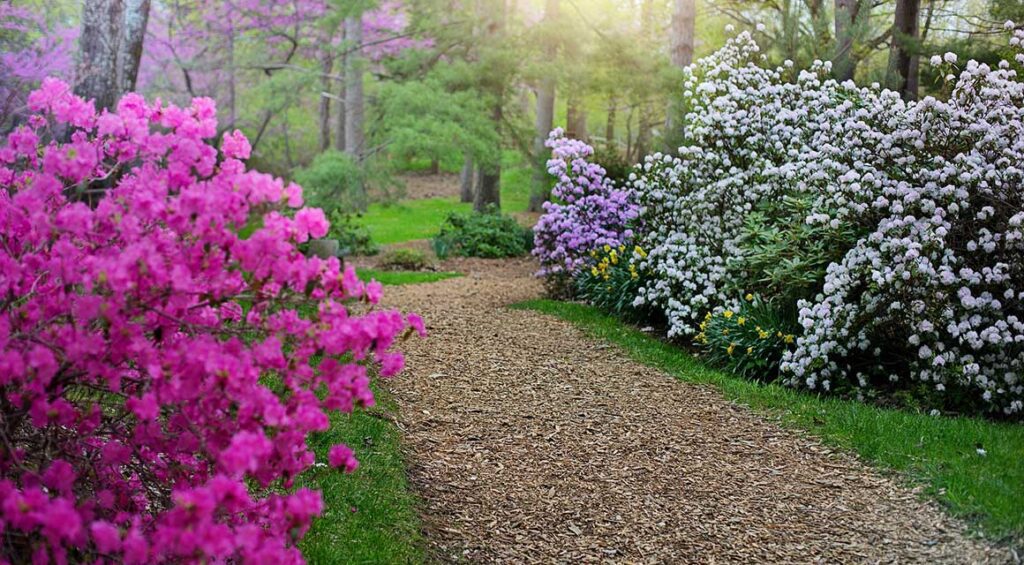 The care of the rhododendron

If you want to plant a rhododendron in the garden – either as a border plant, or as an impressive hedge – it is of course important to take good care of it. The rhododendron is not a native plant, but it is well adapted to the Central European climate. Additional protection in winter is not necessary. However, it is good to keep an eye on the type of soil it is in. Rhododendron prefers soil that is acidic and rich in humus. If your garden does not provide this, simply add some peat to the soil before planting.
Once the rhododendron has settled in, it requires little maintenance. Pruning is not really necessary with this hedge plant. Is the hedge getting too wide? Then you can cut the rhododendron back to the old wood. It will sprout again, but will skip a year of flowering. You can also cut off the dead flowers of the rhododendron. This is a pretty sight and encourages blooming for the next year. Of course, during longer dry periods, it can't hurt to give the hedge extra water.
All in all, the rhododendron is a beautiful hedge plant that blooms profusely in the spring. This broad-growing shrub is ideal for use as an ornamental hedge in a large garden, but can also be planted beautifully in a border of a smaller garden. With its colorful flowers, this evergreen hedge plant is definitely a real eye-catcher.
I have 30 years of experience and i started this website to see if i could try and share my knowledge to help you.
With a degree a Horticulture BSc (Hons)
I have worked as a horticulture specialist lead gardener, garden landscaper,  and of course i am a hobby gardener at home in my own garden.
Please if you have any questions leave them on the article and i will get back to you personally.