If you are looking for the ultimate spring feeling, then you will definitely be very happy about hedge plants that bloom in the spring. In fact, many garden owners particularly like it when there is a lot of color in their gardens. Especially in the popular, more informal gardens, you can think here for example of the cottage garden, there are actually always somewhere plants that are just sprouting or blooming. But even in classic gardens, a pretty spring bloomer can add variety. Therefore, we will gladly inform you about what hedge plants bloom in the spring and what properties these shrubs have.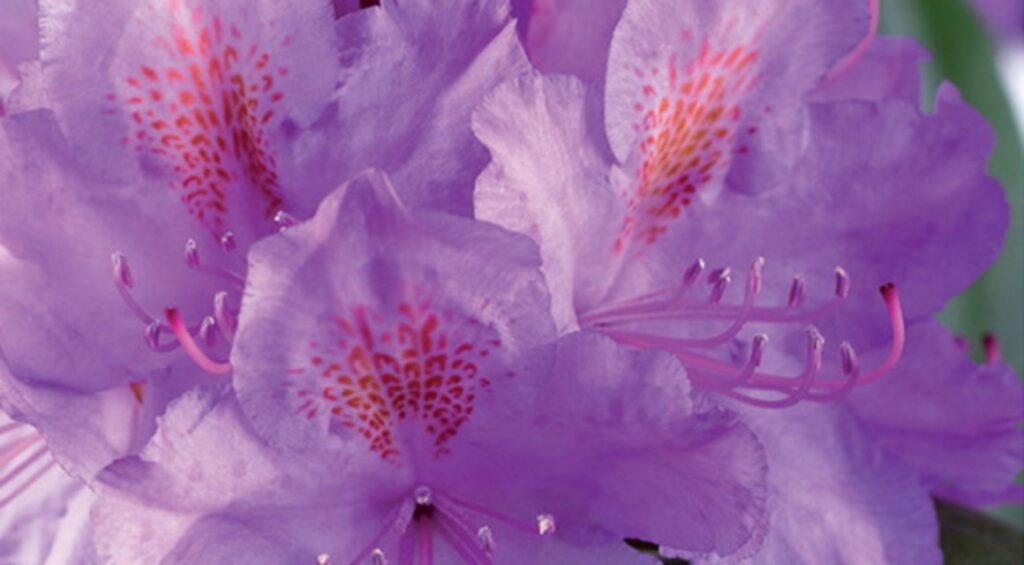 Rhododendron

The absolute champion among spring bloomers is, of course, rhododendron. This hedge plant is elegant and it has wonderful, lush flowers. The rhododendron is a shrub that always looks top-notch and does well in formal gardens. In this context, if you think of palace gardens, for example, it is quite common to discover some (or several) rhododendron shrubs there. The rhododendron can be used as a hedge plant, but it can also be used extremely well as a garden bed planting. By the way, the rhododendron is evergreen. Many flowering hedge plants are often deciduous, so with a rhododendron you kill two birds with one stone!
A rhododendron hedge ensures that your garden is protected from prying eyes at all times. Such hedges usually grow quite tall as well: a rhododendron hedge can reach 2 to 3 meters in height. This hedge plant is available in a variety of wonderful colors. Choose a hedge that has 1 to 2 different colors, or combine several plant varieties together, so that you have a real firework of colors in your garden every year. Rhododendron is evergreen and especially hardy: so it can handle cold winter days well. It can grow well in many garden soils, but you should plant it in sun or partial shade.
These spring bloomers can make wonderful hedges, but as individual plants they will naturally develop into pretty, decorative shrubs. Any garden owner looking for an attractive, colorful, and not-too-powerful spring bloomer should use a rhododendron in the garden, as rhododendrons are perfect evergreen hedge plants.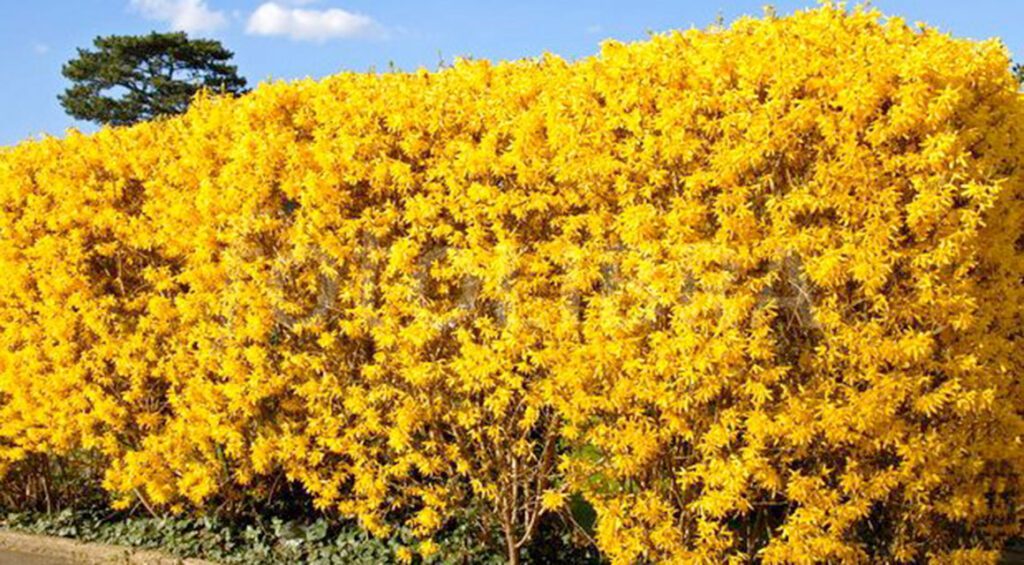 Forsythia 'Spectabilis

Another early blooming hedge plant is the wonderful forsythia 'Spectabilis'. In spring, the forsythia 'Spectabilis' gets lush, yellow flowers. As a single plant, this hedge plant is a real eye-catcher in your garden, but also as a hedge plant, Forsythia 'Spectabilis' is a real eye-catcher. This hedge plant also comes into its own wonderfully in a mixed hedge, which has an informal look. However, Forsythia 'Spectabilis' should be well cared for: this will keep the bloom always equally pretty. You should therefore prune this hedge plant once a year after flowering. You can then cut the forsythia back almost to the ground: this is because it stimulates budding.
However, a forsythia hedge will hardly provide privacy in your garden, unlike a rhododendron hedge. A forsythia is deciduous and it is especially pretty in the spring. Do you prefer a privacy hedge? Then take an evergreen hedge and plant the Forsythia 'Spectabilis' as a single plant in the garden, for example, also as a group of three. This will give you protection from prying eyes and the beauty of the forsythia will then also be shown off to its best advantage. Especially in a garden that has deciduous hedges, flowering shrubs should be used for variety.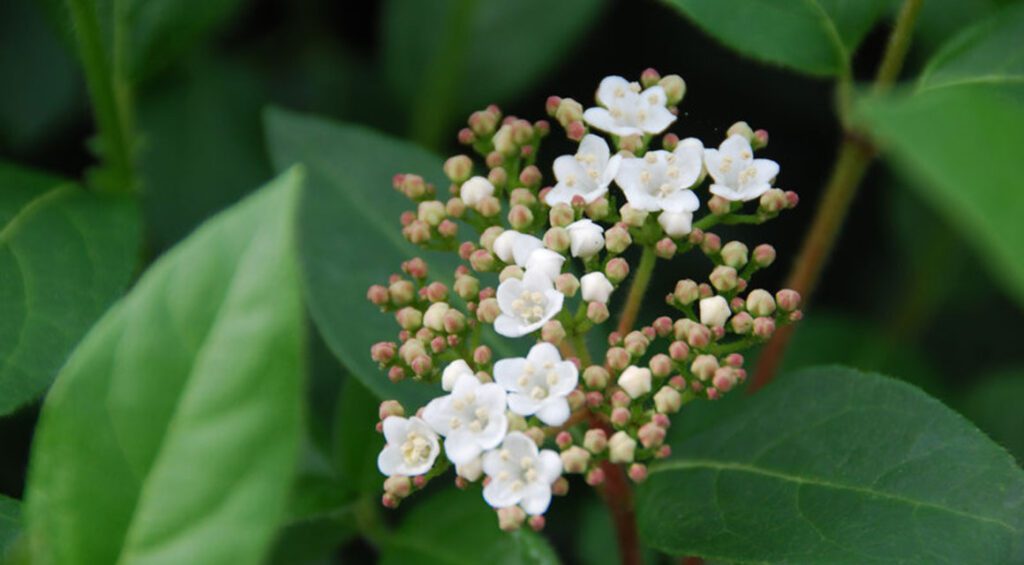 Viburnum or snowball

Another early flowering and evergreen hedge plant is the viburnum, also known as the snowball. The viburnum is most often used as a hedge plant, but it also comes into its own as a single plant in the spring when it is in bloom. The pink buds then quickly turn into wonderful white flowers. The berries that appear after flowering also give the viburnum an interesting appearance. With a snowball, your garden will never look boring. In winter, this hedge plant retains its green leaves, and as a result, a viburnum hedge also serves a rather plain protective function at all times.
However, a viburnum hedge will not be able to provide particularly much privacy due to the rather open growth of this hedge plant. Viburnum hedges, however, are especially pretty when left untrimmed, allowing them to develop flowers. A viburnum hedge is especially effective in an informal garden. In a more formal garden, however, a viburnum can provide much-needed variety as a single plant. The viburnum is an early bloomer, sometimes even blooming in the winter. Therefore, the viburnum can provide a pleasant, natural atmosphere in the garden even in cold periods.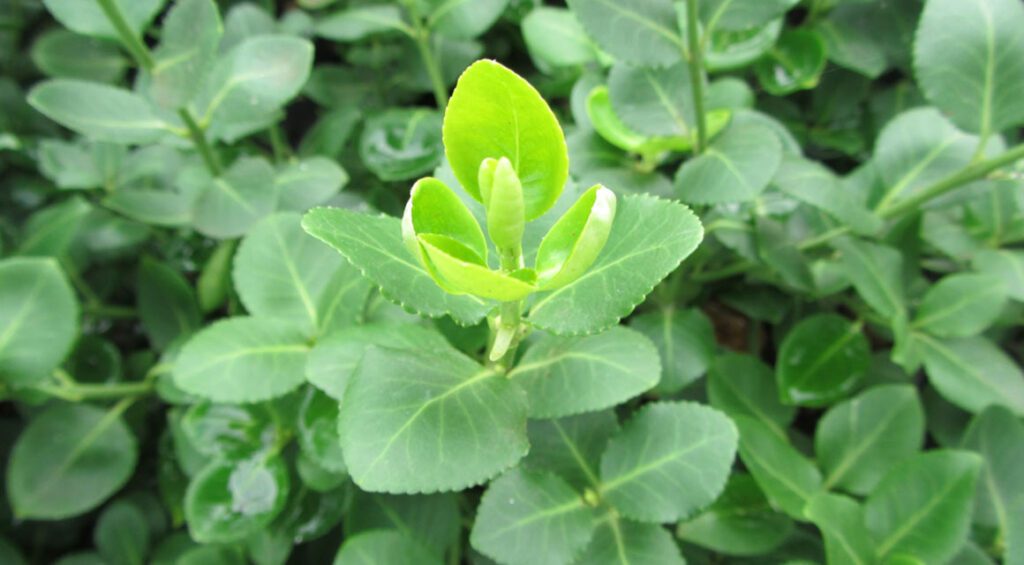 Other early bloomers

Of course, the already mentioned hedge plants are not the only early bloomers that we offer in our webshop. Some hedge plants bloom early, but rather inconspicuously. Here you can think, for example, of the holly, the copper beech, the hornbeam and the creeping spindle 'Vegetus'. These hedge plants do not have conspicuous flowers. So if you prefer more subtle early bloomers, these shrubs are ideal. Other hedge plants that bloom especially profusely in the spring then include copper rock pear, blackthorn, firethorn and field maple. Think carefully about which hedge plants best suit your garden.
I have 30 years of experience and i started this website to see if i could try and share my knowledge to help you.
With a degree a Horticulture BSc (Hons)
I have worked as a horticulture specialist lead gardener, garden landscaper,  and of course i am a hobby gardener at home in my own garden.
Please if you have any questions leave them on the article and i will get back to you personally.