In recent years, rhododendron has become more and more popular among gardeners as a hedge plant. Rhododendron has long been planted individually or in groups as an ornamental shrub. As a hedge plant, however, this shrub has been less well known. However, this now seems to be changing. Therefore, we would like to tell you about some of the advantages that this beautiful, flowering shrub has as a hedge plant.
As one of the few richly flowering shrubs, rhododendron is evergreen and retains its foliage in winter.
Rhododendron fits very well in formal and in less austere gardens.
Many rhododendron varieties are hardy. Most varieties will tolerate temperatures as low as minus 23 degrees.
Plant a rhododendron hedge with blooms in one or more beautiful colors.
These shrubs thrive in locations in sun, partial shade and shade. Even under trees rhododendron thrives magnificently.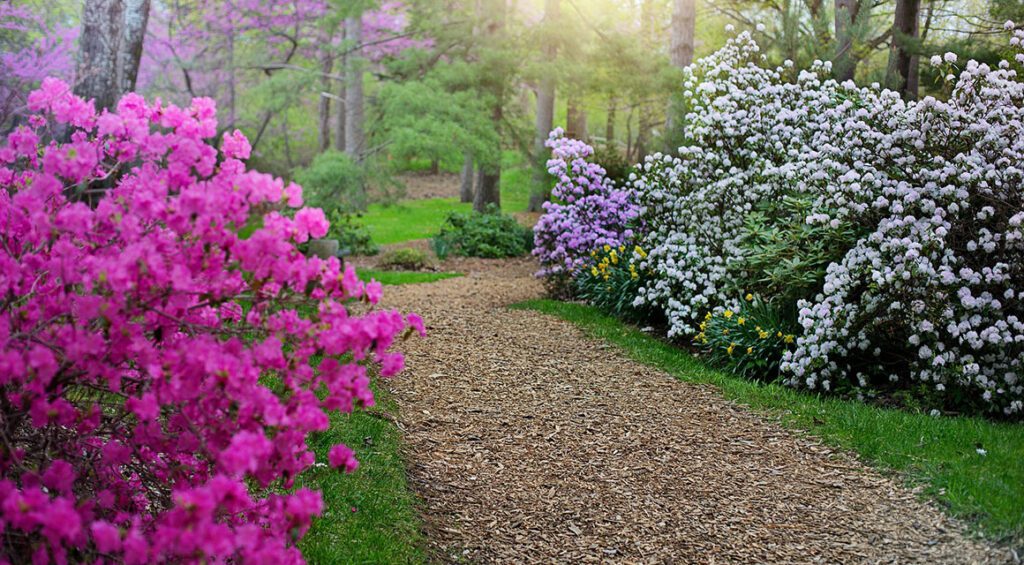 Evergreen spring beauty

Rhododendron is a versatile plant you can bring into your garden. This evergreen shrub blooms in spring with lush colorful flowers. It's a stylish way to add more color to your garden. Many hedge plants that feature lush blooms are deciduous. Because rhododendron is evergreen and retains its foliage, it adds a green touch to your garden year-round. Rhododendrons can be planted individually as specimen trees, or they can be planted as hedges. A rhododendron hedge will provide a green screen in your garden all year round. In this way, it is quite easy to create a hedge with a classic look.
Different varieties of rhododendrons have different flowering periods. If you combine different varieties, you will get a varied hedge that will bear flowers for a long time: you can then enjoy the rhododendron's flowering splendor from April to June. Of course, you can also plant a rhododendron hedge with only two colors, each alternating in the hedge. You have a free choice when it comes to combining colors. See what suits your garden style and what color suits your taste. Rhododendron shrubs are great for formal, as well as less severe garden styles. This makes the shrub versatile.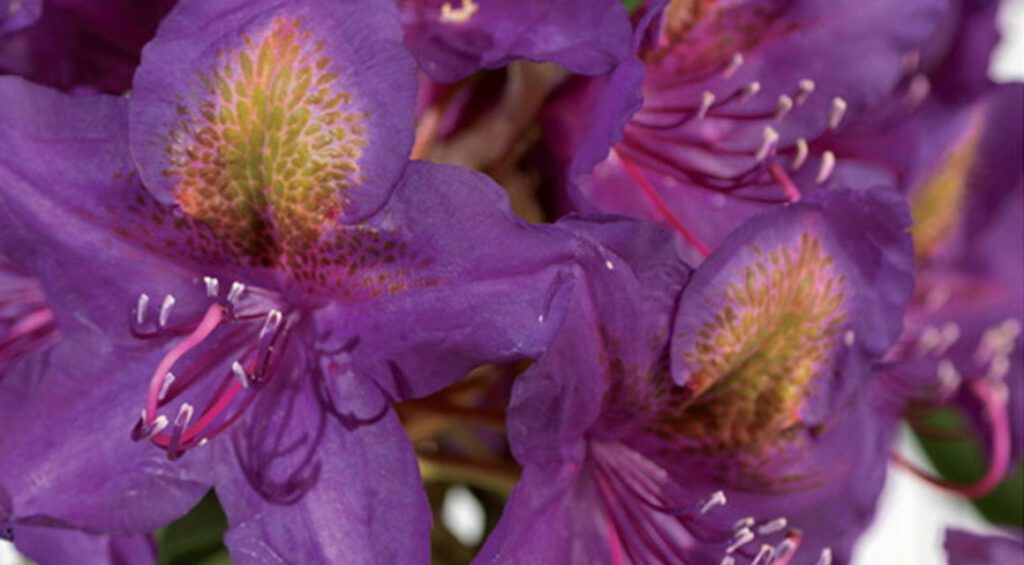 What kind of rhododendron are there?

In our webshop we have several varieties of rhododendrons. All varieties have dark green leaves that provide a beautiful background and contrast to the colorful flowers. Rhododendron flower colors vary from white and ivory to various shades of pink and purple. The flowers of the rhododendron 'Horizon-Monarch' are yellow. There are twelve different rhododendron varieties in our web store. Take your time and have a look at our different varieties and choose exactly the ones that best suit your garden.
One of the most popular rhododendron varieties is 'Marcel Menard', which features a beautiful dark purple flower. Do you prefer a lighter shade? In that case, the rhododendron 'Catawbiense Grandiflorum' is a good choice. Varieties with pink flowers include the rhododendron 'Europeania', 'Virginia Richards' and 'Scintillation'. The flowers of the rhododendron 'Red Jack' and 'Nova Zembla' have an intense red color. Do you prefer white or ivory flowers? Then choose rhododendron 'Cunninghams White', 'Gomer Waterer' or 'Madame Masson'.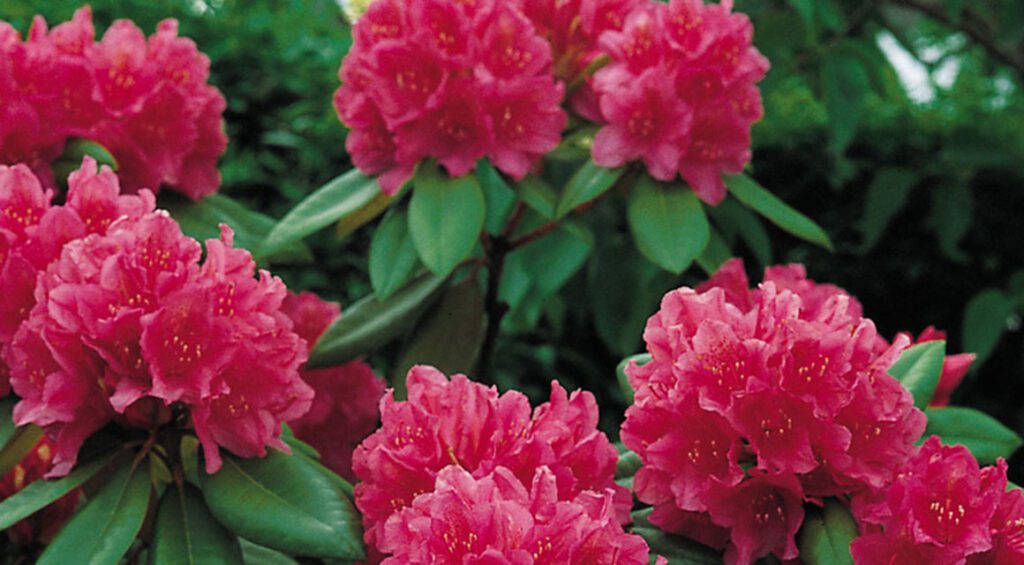 Pruning and care of rhododendron hedge

A rhododendron hedge is easy to maintain. If the shrub is not pruned, the result is a charming, free-growing hedge. Do you prefer a more compact hedge with a classic appearance? Then trim the hedge when it has faded. For this, it is best to choose a cloudy day when it looks like rain. This way you reduce the risk of losing too much moisture at the intersections. Always use clean, sharp pruning tools when cutting rhododendrons. Pruning after flowering stimulates the formation of new buds and branches.
This not only gives the hedge a more compact appearance, but also helps it bloom more profusely the next year. Fertilizing your rhododendron hedge is best done with organic fertilizer. Fertilizing is an important part of rhododendron care. Rhododendrons like acidic soils, so keep this in mind when choosing fertilizer. Special rhododendron fertilizer is available in stores that will make your hedge thrive especially well. Rhododendron develops best in well-drained, humus-rich, slightly moist soil.
Most rhododendron varieties are hardy. Some varieties, such as Rhododendron 'Red Jack' and 'Virginia Richards', can only withstand temperatures as low as minus 10 degrees. These varieties are therefore rather unsuitable for cold or very windy locations.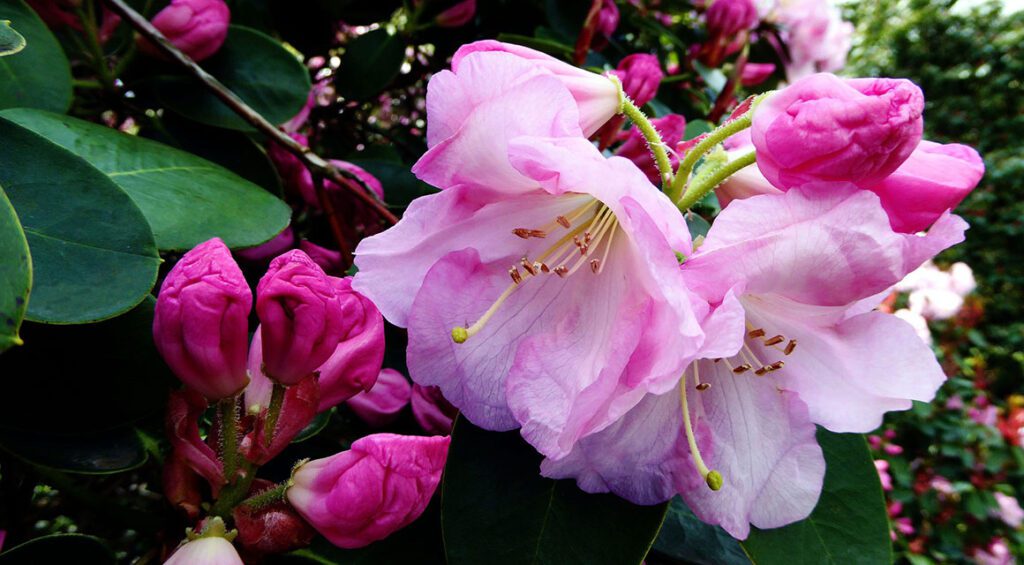 I have 30 years of experience and i started this website to see if i could try and share my knowledge to help you.
With a degree a Horticulture BSc (Hons)
I have worked as a horticulture specialist lead gardener, garden landscaper,  and of course i am a hobby gardener at home in my own garden.
Please if you have any questions leave them on the article and i will get back to you personally.