Times are particularly harrowing for the boxwood right now. On the one hand, the once popular hedge plant is plagued by troublesome diseases, one can think here of the boxwood mold, on the other hand, the boxwood borer eats European hedges completely bare. Therefore, boxwood replacement is more in demand than ever: evergreen hedge plants that look particularly similar to a boxwood. But which boxwood replacement resembles the boxwood the most?
Japanese holly 'Dark Green'®
Japanese holly 'Convexa
Japanese holly 'Green Hedge
Lonicera nitida (hedge myrtle)
Creeping spindle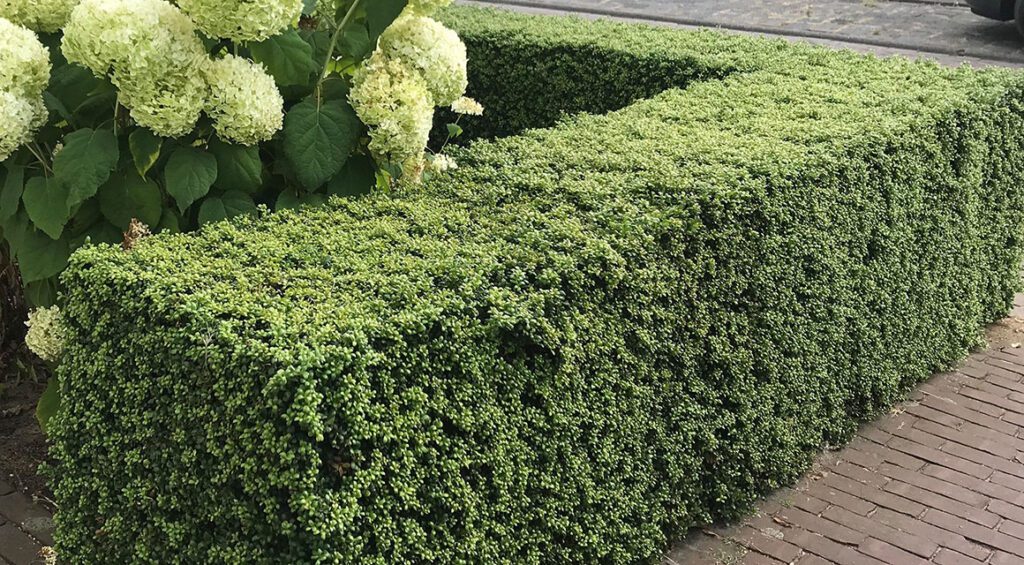 The buxus: unique?

We all know him: the boxwood. In recent times, this hedge plant has suffered many losses, but in the past, boxwood was one of the most popular hedge plants. It was not uncommon to find the evergreen shrub in ornamental gardens, where the boxwood was then found as a single plant, which was then cut into the most wonderful shapes. But also as a hedge plant you could often admire the boxwood. The well-kept, tight boxwood hedge was often used to give gardens a wonderful setting. Is the boxwood actually unique? Or are there boxwood substitutes that look quite similar to a 'real boxwood'?
There are some boxwood substitutes that look quite similar to a boxwood. These hedge plants are only evergreen: in fact, they also have the characteristics of having small leaves and strong branching. As a result, boxwood replacement can be used in the same way as the boxwood. Not every, evergreen hedge plant is suitable as a boxwood replacement. For example, the cherry laurel hardly resembles a boxwood. This hedge plant has large leaves and fast growth. This also makes the cherry laurel unsuitable for topiary. So a suitable boxwood replacement not only looks particularly similar to a boxwood, but it can then be used in the same way.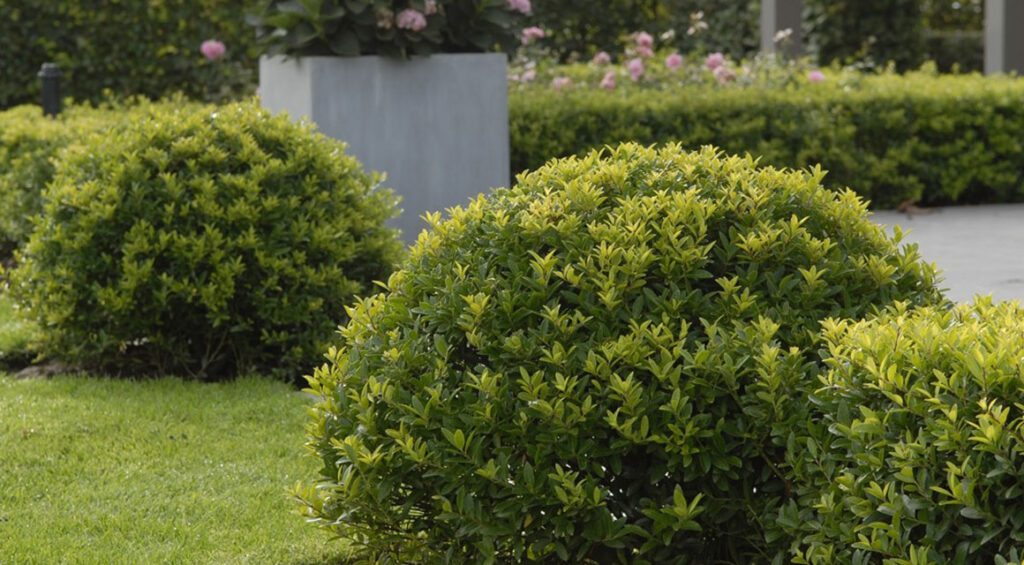 Japanese holly: the best substitute for boxwood

Although there are, of course, various boxwood replacement options, in the very first place we recommend Japanese holly (in Latin: Ilex crenata). Japanese holly comes in several varieties. Japanese holly 'Dark Green'®, 'Convexa' and 'Green Hedge' resemble boxwood in a very special way, but other varieties can also be wonderfully used as boxwood substitutes. However, a tightly trimmed hedge on Japanese holly still resembles a familiar boxwood hedge the most. Japanese holly 'Dark Green'® is particularly well suited to forming small or large hedges, as is Ilex crenata 'Green Hedge'. The Japanese holly 'Convexa' can be used mainly as a low, formal hedge.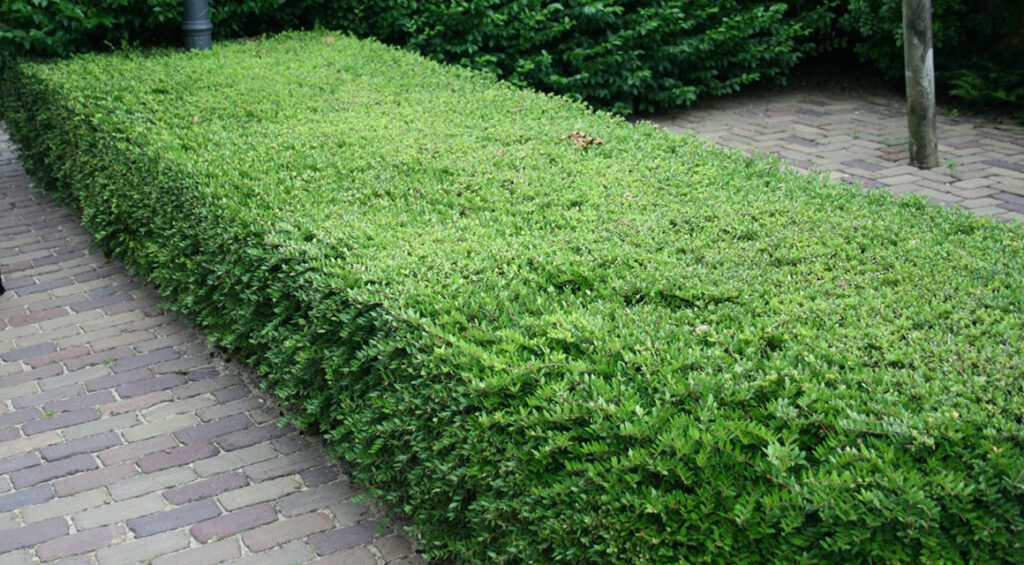 Lonicera nitida as a boxwood substitute.

A plant that is also often used as a boxwood substitute is Lonicera nitida. This hedge plant is also called hedge myrtle. However, the Lonicera nitida hardly resembles the normal hedge myrtle that is usually known: the Lonicera nitida does not get flowers and it also does not spread that fragrance that is so typical for the hedge myrtle. However, Lonicera nitida is an excellent substitute for boxwood: its small, shiny, green leaves and compact growth resemble a boxwood very clearly.
In England, Lonicera nitida is also called "poor man's box" or the poor man's box tree. This is due to the fact that the plant is inexpensive, but still looks similar to a boxwood. Englishmen who did not have enough money for a box tree, but still wanted to have a tightly trimmed hedge in the garden, at that time simply took a hedge myrtle. But even today the Lonicera nitida is often used. However, be aware that this hedge plant has a faster growth than the boxwood. Therefore, if you prefer a tight, formal hedge, then you should regularly maintain and trim this plant.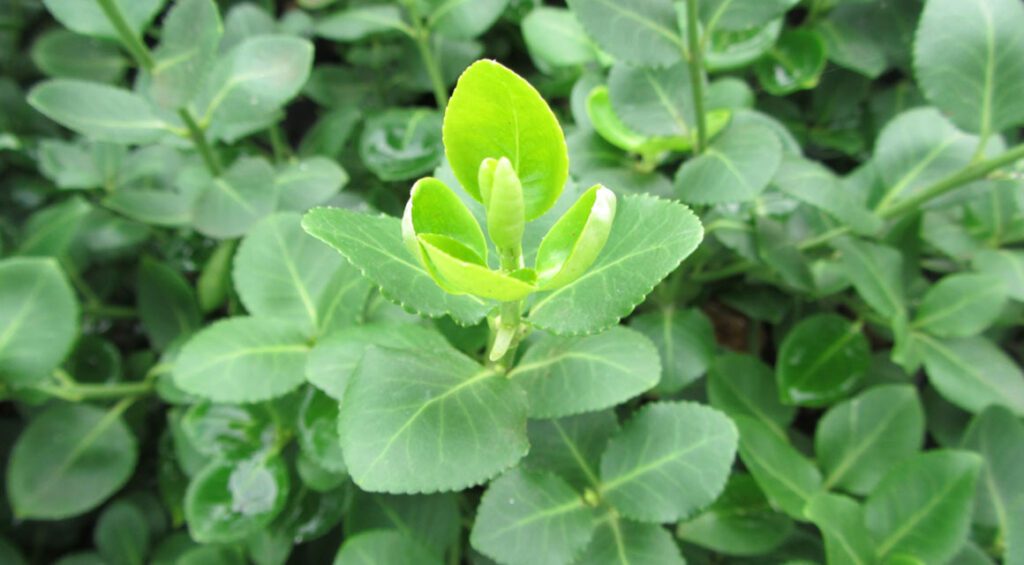 Is the creeping spindle a good boxwood replacement?

Creeping spindle is also regularly used as a boxwood replacement. Although the creeping spindle looks less like a boxwood than a Japanese holly, there are still many similarities. You can also prune the creeping spindle year-round, just like you would a boxwood. This evergreen, low-growing hedge plant is usually best for forming informal hedges, but creeping spindle can also be used as a tight, formal hedge. If you prune the creeping spindle regularly, then this will help the strong branching and the hedge will look beautifully maintained. The small, oval-shaped creeping spindle leaves also look very similar to boxwood leaves.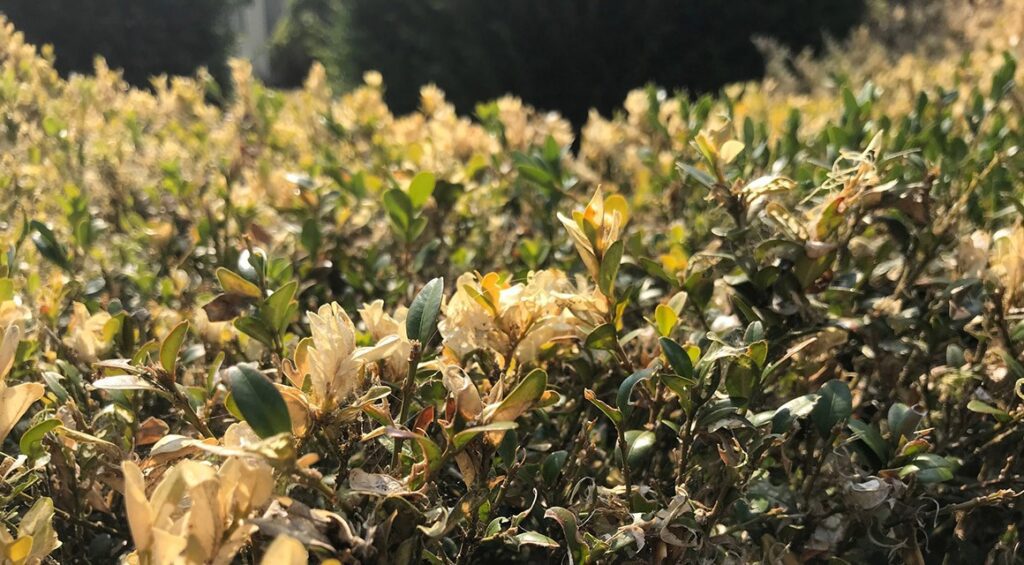 The boxwood borer is only interested in the sap of the boxwood leaves. However, this boxwood borer will be a thing of the past if you use boxwood substitute in the garden. Also, the two varieties of boxwood mildew, which harm the boxwood, will disappear by using boxwood substitute. So, it is recommended to use boxwood substitute if you want to keep boxwood diseases and pests out of your garden.
Of course, this does not mean that boxwood replacement can not get diseases at all. All hedge plants can, of course, face pests or certain diseases. Therefore, conifers can also get mold diseases. However, the fact is that most hedge plants are less sensitive than boxwood. In addition, the mold diseases and pests of other hedge plants can also be controlled much easier than a boxwood.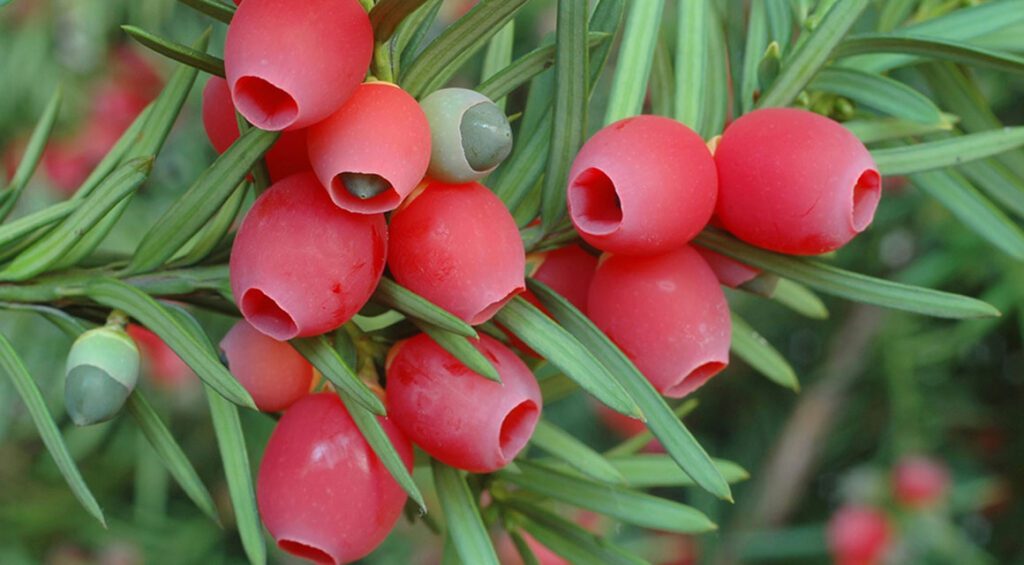 Are there other boxwood replacement options?

The boxwood replacement options we've discussed in this blog are hedge plants that look particularly similar to a boxwood. Of course, there are other hedge plants that can be used as boxwood replacements. Taxus is a good example. In fact, a tightly trimmed Taxus hedge can look just as urban as a boxwood hedge. Nevertheless, these two plants are hardly similar: the Taxus is a conifer and does not have round leaves, but needles. Nevertheless, you can create a similar atmosphere in the garden with a Taxus hedge than with a Buxus hedge.
Scented flower is also used from time to time as a boxwood substitute, although it has larger leaves and a more inconspicuous flower than the boxwood. If you want to be safe, and if you prefer a boxwood substitute that can compete well with the boxwood, then you should choose a Japanese holly variety or Lonicera nitida.
I have 30 years of experience and i started this website to see if i could try and share my knowledge to help you.
With a degree a Horticulture BSc (Hons)
I have worked as a horticulture specialist lead gardener, garden landscaper,  and of course i am a hobby gardener at home in my own garden.
Please if you have any questions leave them on the article and i will get back to you personally.