Firethorn, also known by its botanical name Pyracantha, we often see in public green spaces. But firethorn also makes itself very pretty in gardens. As a hedge plant, firethorn is very attractive. The different varieties of firethorn are robust shrubs that thrive even in difficult conditions. In addition, they have a high ornamental value. From the fragrant white flowers to the lush berries in many shades of yellow, orange and red, a firethorn is a beautiful sight all year round.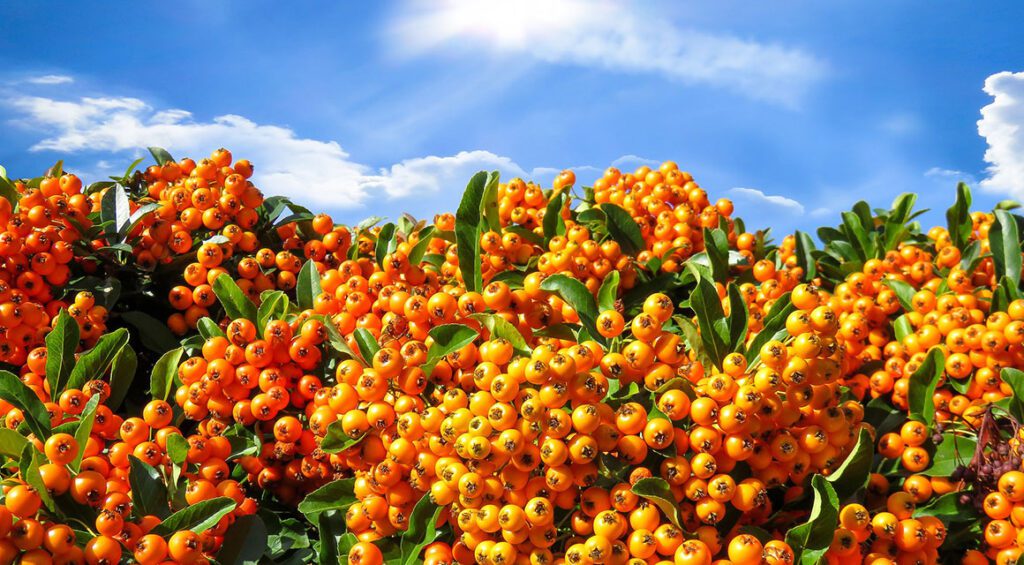 Firethorn as a hedge plant

Firethorn is excellent as a hedge. Its sharp thorns keep uninvited guests out of the garden. Whether it's burglars or the neighbors' dogs and cats, you won't have to worry about them with a firethorn hedge. However, firethorn is not only a functional, burglar-resistant hedge plant. It is also beautiful to look at. The white flowers in spring spread a pleasant fragrance in the garden and the orange to red berries that appear on the branches after flowering are a real feast for the eyes.
Firethorn is often planted with the help of a trellis on a wall or wall, which provides a beautiful effect. Firethorn is a real eye-catcher as a hedge, but also as a climbing plant. If you are looking for an evergreen hedge plant with thorns and beautiful, showy berries in the fall, firethorn is definitely worth considering. Another advantage of firethorn as a hedge plant is its hardiness. Firethorn is not easily susceptible to diseases and pests and thrives in most soils. It also tolerates pruning well, so you can plant it as a narrow hedge.
It is usually sufficient to prune firethorn a bit two to three times a year. Always wear protective clothing and garden gloves when doing so, so that you don't injure your arms and hands on the sharp thorns. Trim firethorn hedges on both sides. This will prevent the firethorn from overhanging.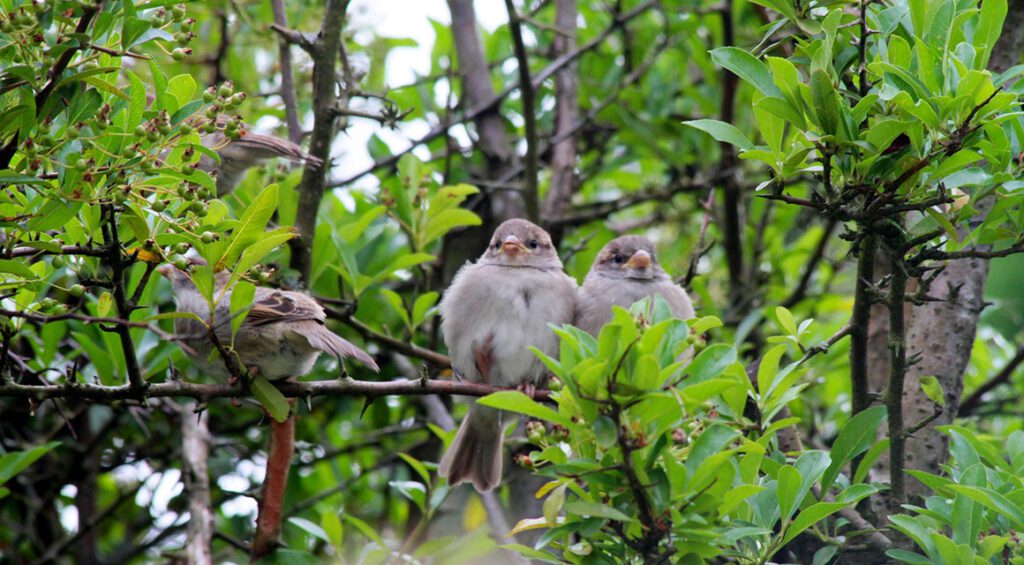 Firethorn as a bird friendly hedge

Pyracantha is ideal for bird-friendly hedges. Although the berries of firethorn do not find equal favor with all birds, our feathered friends like to use them to build their nests in the branches. The thorns provide excellent protection from cats and birds of prey. Small birds also use the firethorn as a meeting and gathering place where they feel safe. The flowers that appear on firethorn branches in the spring are also popular with butterflies and other beneficial insects such as bees and bumblebees. This makes firethorn a very wildlife-friendly hedge plant.
For any garden enthusiast looking for a hedge plant that will attract birds, butterflies and bees, firethorn is the ideal choice. Firethorn 'Orange Glow' is particularly suitable for a wildlife-friendly hedge, but other Pyracantha varieties are also popular with birds and insects.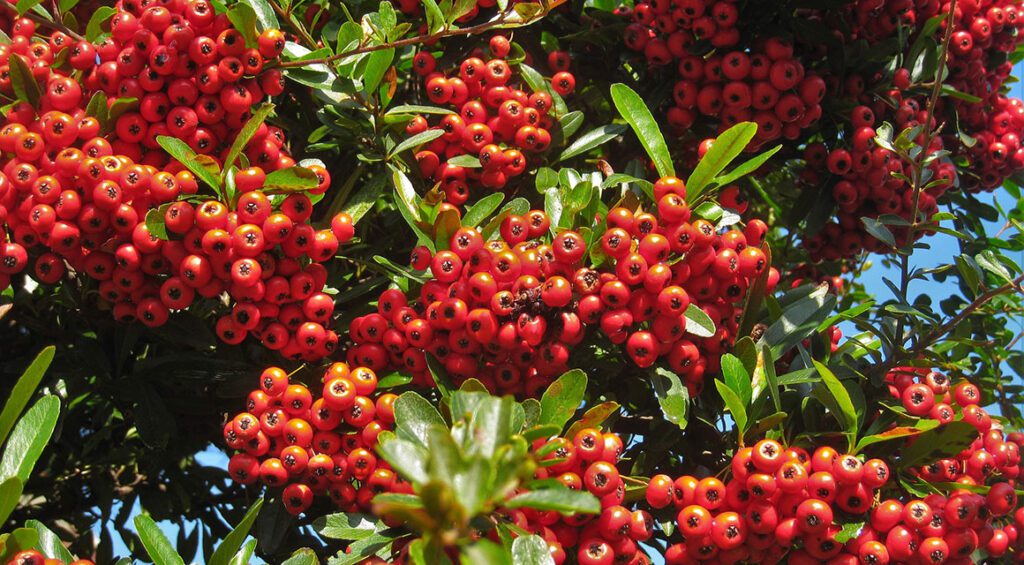 What kind of fire thorn?

There are several varieties of firethorn that are suitable for a hedge. For our webshop we have selected five different varieties of Pyracantha for you. Firethorn 'Red Column' gets red berries after flowering, which cling to the branches in thick, short-stemmed clusters. This hedge plant is most suitable for low hedges up to a height of one and a half meters. Pyracantha 'Red Column' is also an excellent protected nesting site for birds. The white umbrella clusters are very attractive to bees and butterflies in spring. Firethorn 'Red Cushion' is similar to 'Red Column' in many ways, but the former only reaches a maximum height of 80 centimeters.
Firethorn 'Golden Charmer' is suitable for hedges up to a height of one and a half meters. This evergreen hedge plant develops golden yellow berries in autumn. Together with the beautiful white flowers in spring, this gives your garden an extremely charming look. You can always see the firethorn 'Orange Glow' in gardens or public green spaces. There are many reasons why Pyracantha 'Orange Glow' is so exceptionally popular with gardeners. The lush orange berries in the fall will also transform your garden into a colorful paradise that doesn't lack elegance.
Firethorn 'Golden Charmer' is suitable for hedges up to a height of one and a half meters. The same applies to the firethorn 'Soleil d'Or'. This shrub grows dark yellow to light orange berries that hang from the branches in thick clusters. All varieties of firethorn thrive in both sunny and shady or semi-shady places.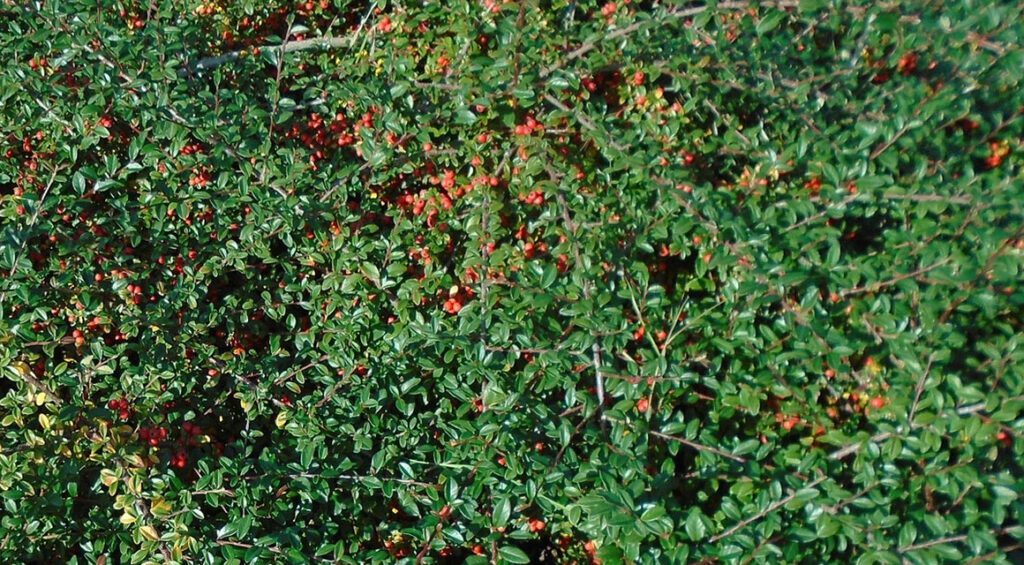 Care of a hedge of firethorn

Firethorn is a very low maintenance hedge plant. Despite the sharp thorns, trimming a firethorn hedge is not really difficult. However, always wear thick gardening gloves when doing so, so that the thorns do not injure you. The forearms should also be protected at least by thick clothing, through which the thorns can not penetrate. Also pay attention to sharp cutting tools: this will greatly facilitate the trimming of hedge plants. Annual fertilization with organic garden fertilizer will keep firethorn in good health. Fertilize firethorn best in the spring after the first pruning. This way it will quickly recover from pruning, which is always a stressful situation for the plant.
Are you looking for a bird-friendly and burglar-resistant hedge plant that will enrich your garden in many ways? Then firethorn is the hedge plant for you. You can order and buy the different Pyracantha varieties quickly and safely in our web store. Take your time to look around our webshop and choose the firethorn that best suits your garden style. Create a hedge of firethorn or use the shrub as a climbing plant. Many things are possible with firethorn. Want to learn more about hedge plants and our personalized customer service? Get in touch with us. Our garden experts will be happy to help you.
I have 30 years of experience and i started this website to see if i could try and share my knowledge to help you.
With a degree a Horticulture BSc (Hons)
I have worked as a horticulture specialist lead gardener, garden landscaper,  and of course i am a hobby gardener at home in my own garden.
Please if you have any questions leave them on the article and i will get back to you personally.