The fresh sea air is reason enough for many people to buy a house on the coast. However, for most hedge plants, this sea air is unfavorable, because there are few plants that can cope with the strong sea air. Moreover, the salt in the air can be fatal for many plants. Nevertheless, there are plants that can handle the salty sea air and salty garden conditions well. We are happy to inform you here about the best hedge plants for a coastal garden, so that you can find suitable hedges for a coastal garden. There are even evergreen hedge plants that are decidedly good for planting along the coast in the garden.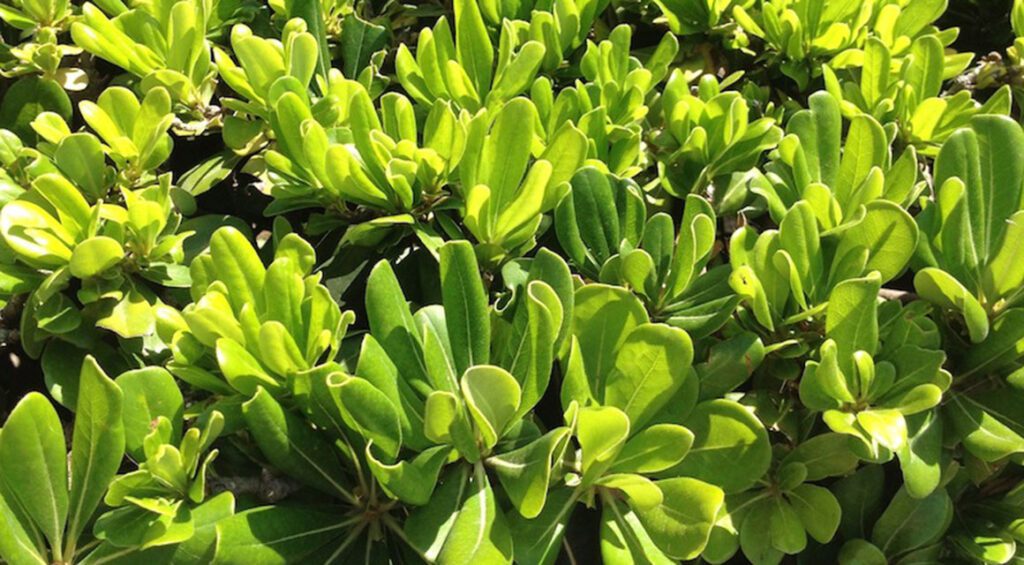 Especially suitable for the coast: the Griselinia littoralis.

Griselinia littoralis is not the most famous hedge plant, but for the coast it is the best option. This hedge plant is originally from New Zealand, which is surrounded by seawater. Because New Zealand has many coastal regions, the plants that grow there must be well storm resistant. And this is absolutely the case with Griselinia littoralis: it is evergreen, wind resistant and salt resistant. Should you know the Latin language, then the scientific name of this plant can already reveal that Griselinia littoralis can grow well near the coast. In fact, the word 'littoralis' means 'coming from the coast'. So the Griselinia is a true coastal plant.
A great advantage of Griselinia littoralis is also that it is not only particularly wind resistant, but it also has wonderful, shiny leaves. However, pay attention to where you want to plant Griselinia littoralis. Namely, it should not be planted in the shade. Otherwise, this evergreen hedge plant is only somewhat hardy, even though this is a hardy plant. But on the coast there are usually no strong sub-zero temperatures, nevertheless, the roots of Griselinia littoralis should be protected from frost, for example, with straw or with a fleece. After all, it would be a pity if your Griselinia hedge gets frost damage.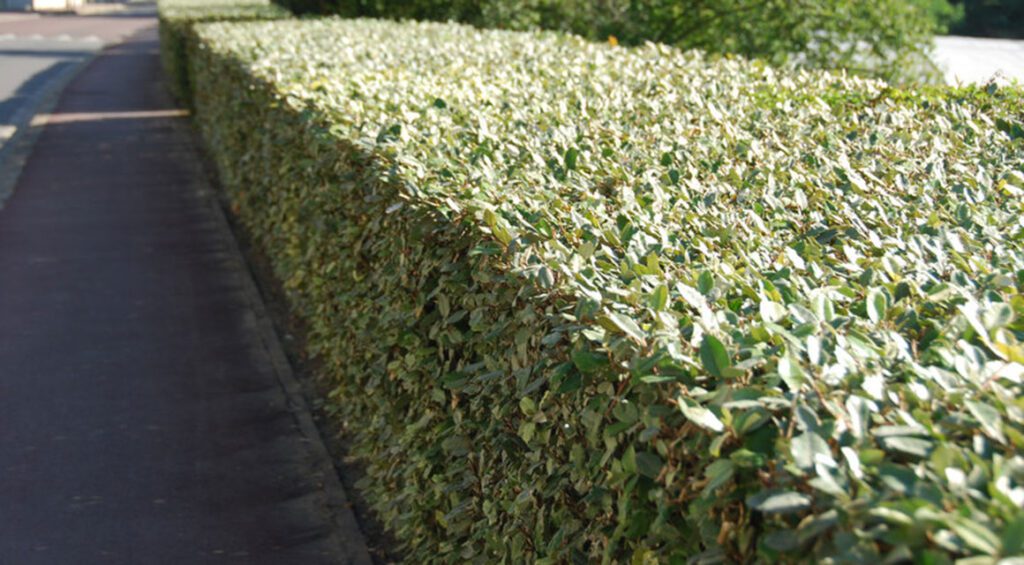 Other evergreen hedge plants for the coast

That Griselinia littoralis is a particularly suitable evergreen hedge plant for the coast does not mean it is the only option. Oil willow and wintergreen oil willow (Elaeagnus ebbingeii) also have wonderful, fresh, green leaves. In addition, they are also salt resistant. But there are more parallels with Griselinia: the oil willow is also frost sensitive. If the winter is mild, then they do not notice much. But if the frosty temperatures turn out to be much lower, then there is a possibility that the oil willow will still lose its delicate leaves before the new ones show up. So proper cold weather protection is important here.
Firethorn (Pyracantha) is at least as pretty a plant, although firethorn is rather less well known. The leaves remain on this hedge throughout the year. In addition, a firethorn is especially noticeable in the fall, when it gets a lot of orange, red and yellow berries. Firethorn hedges are also truly multifunctional, as the thorns on the branches make a firethorn hedge a burglar-resistant hedge. This is actually the case with holly (Ilex aquifolium) as well, although hollies are thick leaves that have sharp leaf edges. Holly and firethorn hedges are particularly resistant to salt and can be used well in coastal regions.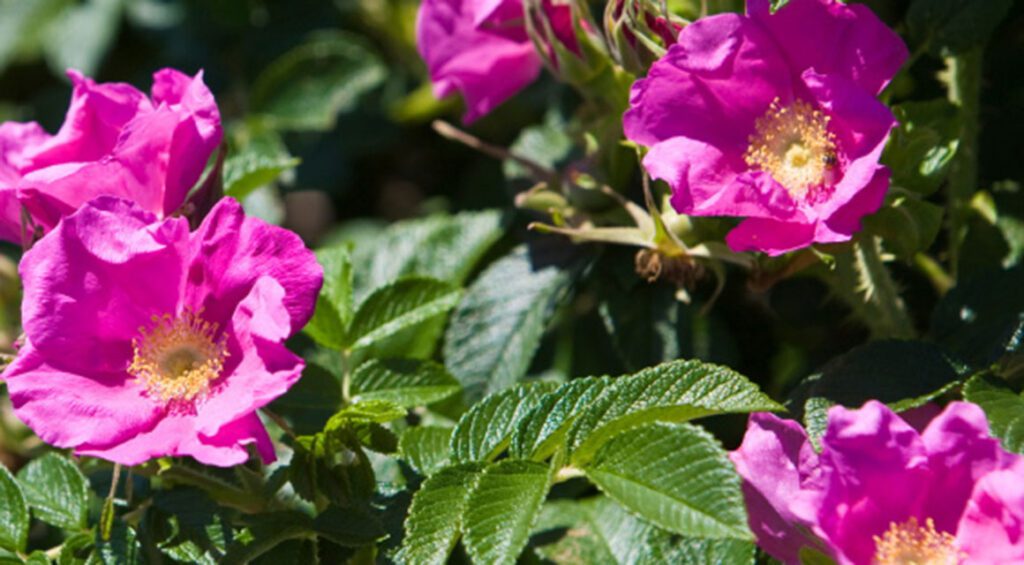 A flowering coastal garden

Do you prefer more flowering hedge plants so that the blooms add color to your coastal garden in the summer? That is also possible. However, you should only choose hedge plants for your garden that are salt-resistant. However, the potato rose or apple rose (Rosa rugosa) is particularly suitable. In addition, the thorns on the branches ensure that the potato rose can also be used well as a mixed, burglar-resistant hedge. Its pink or light purple flowers then provide a true explosion of color in the garden when the potato rose blooms between June and September. After blooming, its striking red rose hips are also a wonderful color.
Encroaching hawthorn (Crataegus monogyna) is also exceptionally resistant when it comes to salty sea air. In addition, it blooms quite beautifully and it can also be used well as a burglar-resistant hedge. A hawthorn hedge does not bloom for long (between May and June), but its large, white flowers are well worth seeing. The thorny branches are particularly sharp, so no human or animal will try to get through this hedge. The same is true for the blackthorn (Prunus spinosa). These are the differences: sloes bloom early (between March and May) and they are unsuitable for small gardens because of their extensive root system.
By the way, some hedge plants that are particularly often planted in the garden, such as yew or like cherry laurel, are a real insider tip when it comes to hedge plants for the coast. A yew hedge, for example, is particularly wind resistant, but not particularly salt resistant, you should already pay attention to this. So the range of hedge plants for a coastal garden is somewhat limited, but there is still enough choice to meet all your gardening needs. For example, what do you think about a prefabricated hedge?
I have 30 years of experience and i started this website to see if i could try and share my knowledge to help you.
With a degree a Horticulture BSc (Hons)
I have worked as a horticulture specialist lead gardener, garden landscaper,  and of course i am a hobby gardener at home in my own garden.
Please if you have any questions leave them on the article and i will get back to you personally.